PODCAST: Filling the Sink – all episodes
From culture and sport to news and current affairs, 20-minute podcasts on all things Catalan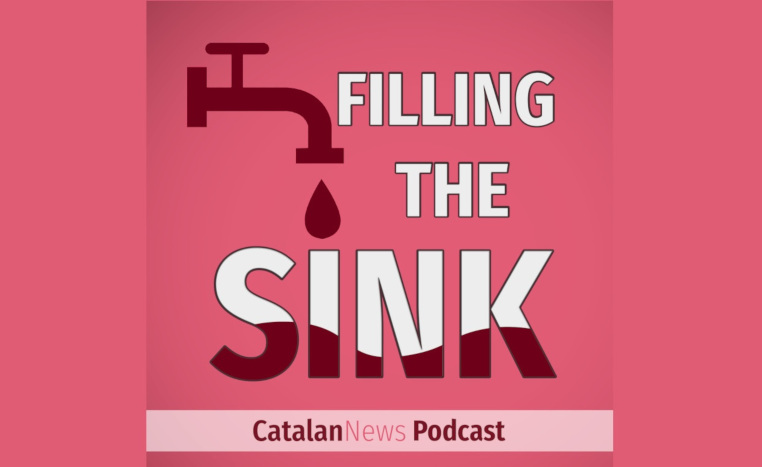 Little by little the sink fills up…
Filling the Sink is a weekly podcast on all things Catalan. The Catalan News team brings you chat, interviews, and features on everything from food to football, culture to current affairs. No need to worry if you don't know much about this corner of land nestled between the Pyrenees and the Mediterranean. As they say in Catalonia, "de mica en mica, s'omple la pica" – little by little, the sink fills up.
Find out more and listen to all episodes below.
Episode 129: Cruising for a bruising? – Barcelona's cruise ship debate rumbles on
Barcelona is Europe's busiest cruise port, with around 800 cruise ships carrying more than 3 million passengers a year, but such passenger ships are in the spotlight. We discuss the cruise industry's economic impact, environmental issues and its role in the debate on tourism, with some voices in favor and against.
Episode 128: Local elections 2023 – tight races throughout Catalonia
Catalonia goes to the polls on Sunday, May 28, with voters in almost 1,000 municipalities set to choose the new makeup of their city and town councils and ultimately their new mayor. Cristina Tomàs White and Guifré Jordan join Lorcan Doherty to look at some of the most hotly contested council battles, including an unprecedented four-horse race for mayor in Barcelona.
Episode 127: Bruce Springsteen – Born in the USA, adored in BCN
Bruce Springsteen has legions of fans all around the world but 'The Boss' has an undoubted special connection with Barcelona and its people. Filling the Sink captures the atmosphere at the Olympic Stadium before, during and after the gig as Springsteen and the E Street Band kick off their European tour.
Episode 126: The Negreira affair – FC Barcelona and the referee payments scandal
FC Barcelona look set to win their first league title since 2019 but off the pitch the club has been engulfed by a scandal over payments to a former refereeing official. A court investigation into the so-called Negreira affair began in March, but club president Joan Laporta believes Barça is a victim of a smear campaign.
Episode 125: Libraries of Catalonia – architectural wonders and hidden gems
To mark the Sant Jordi weekend, Filling the Sink explores some of Catalonia's beautiful libraries and the hidden gems in the collections within. We visit Catalonia's very own 'Library of Alexandria', the Biblioteca de Catalunya, and discovers its secrets with library director Eugènia Serra. We also chat with Josep Brunet at the oldest public library in Barcelona, Biblioteca Pública Arús, and learn about the freemason and anarchist who founded it.
Episode 124: From sketch to screen – the Catalan artists designing Hollywood's favorite animated movie characters
The Barcelona-based award-winning Grangel Studio has worked on some of the biggest animated feature films of the last decades, from The Prince of Egypt and Madagascar to Kung Fu Panda and the Oscar-winning Guillermo del Toro's Pinocchio. We visit the studio and find out how ideas are shaped in Catalonia for Hollywood's top filmmakers to enjoy.
Episode 123: Picasso – How should the artist be remembered 50 years on?
Cristina Tomàs White and Cillian Shields join Lorcan Doherty to chat about the artist's formative years in Catalonia. Maria Choya shows us around Barcelona's Picasso Museum. Artist María Llopis discusses Picasso's toxic relationships with women.
Episode 122: Barcelona's Civil War bomb shelters, 85 years on
Cristina Tomàs White visits a Civil War bomb shelter and meets Manel Bachs, a 90-year- old who still remembers fleeing underground when the air raid sirens warned of Franco's Nationalist forces approaching along with their Nazi German and fascist Italian allies. Gerard Escaich Folch gets a surprise when he talks to Ana Sánchez, the photographer behind the exhibition '1,322 Barcelona air raid shelters' at La Model prison.
Episode 121: One of a kind – Cerdanya Hospital, Europe's first cross-border health center
Nestled high in the Pyrenees lies a unique European experiment – Cerdanya Hospital, jointly financed and governed by Catalonia and France, and caring for patients on both sides of the border. Managing director Xavier Conill explains how the hospital operates and the particular challenges it faces, from registering births and deaths in the right country to attracting staff and patients from both jurisdictions.
Episode 120: Major cyberattacks in Catalonia – how, why, and what happens next
On March 5, 2023, a cyberattack wreaked havoc on Hospital Clínic, one of Barcelona's leading public hospitals, causing surgery and appointments to be cancelled and forcing staff to work with pen and paper. Filling the Sink discusses how ransomware attacks work and why public institutions are increasingly being targeted.
Episode 119: Maria Branyas – the oldest person in the world
In January 2023 US-born Catalan woman Maria Branyas became the oldest verified living person in the world and on March 4 she celebrated her 116th birthday. To mark the occasion, Guifré Jordan revisits an interview he did with Maria in 2019.
Episode 118: Gender-based violence – a survivor's story in a changing society
Ahead of International Women's Day, Filling the Sink tackles gender-based violence in Catalonia, including a survivor's story, an interview with Catalan feminism minister, Tània Verge, high-profile sexual assault cases, such as the one involving footballer Dani Alves', and Spain's 'only yes means yes' consent law.
Episode 117: Stories of Ukrainian refugees and Russian dissidents in Catalonia – one year on
One year on from Russia's full-scale invasion of Ukraine, Filling the Sink hears stories from Ukrainian refugees and Russian dissidents who have fled to Catalonia. A fashion designer tries to keep her brand going plus work in one Costa Brava hotel provides a lifeline for three Ukrainian women.
Episode 116: Carnival time! – food (and food fights), parades and parties
Carnival is a big deal in Catalonia – a hedonistic week of music, dance, dressing up, copious amounts of food and general revelry before Lent. Filling the Sink travels to two coastal towns famous for their carnival shenanigans – Vilanova i la Geltrú and Sitges. Expect food fights and raucous parades! Lorcan Doherty gets the lowdown from Catalan News' very own Carnival King and Queen, Gerard Escaich Folch and Cristina Tomàs White.
Episode 115: Skiing in the Catalan Pyrenees – guide to slopes and sustainability conundrum
This week Filling the Sink heads to the slopes with a guide to skiing in the Catalan Pyrenees. But hold on, with the climate emergency and ongoing drought, does it make sense to be going? Guifré Jordan travels to Cerdanya to hear both sides of the debate, with La Molina's Marta Viver, and Marcel Sangenís, from the Stop the Winter Olympics group.
Episode 114: Movie director J.A. Bayona – from Barcelona to Hollywood
Lauded by Steven Spielberg and Guillermo del Toro, Barcelona-born J.A. Bayona is the director of movies like The Impossible, A Monster Calls and Jurassic World: Fallen Kingdom. On the red carpet at the 2023 Gaudí Awards, Bayona chats to Filling the Sink about the ups and downs of his career to date, and his upcoming movie Society of the Snow.
Episode 113: CANADA – the Catalans making music videos for stars like Rosalía and Dua Lipa
Lope Serrano, CANADA Co-Founder and Creative Director, and Alba Barneda, Global Head of Production, chat about their meteoric rise from making videos for their mates to becoming one of the pop world's go-to video producers. They share anecdotes about their creative process and what to do when something goes drastically wrong. Spoiler alert - sometimes, it turns out better!
Episode 112: Orwell, the Civil War and more – homage to writers who made Catalonia home
George Orwell, Pablo Neruda, Gabriel García Márquez are just some of the 20th Century's greatest writers who for a time called Catalonia home. Tadhg Prendiville from Barcelona Literary Tours takes Cillian Shields on a trip around the city, while Cristina Tomàs White and Lorcan Doherty discuss the international poets, novelists and journalists who came to Catalonia – some during the Civil War, some fleeing dictatorships in South America, and others, simply for the adventure.
Episode 111: Catalan connections – high-speed rail guide, night train rumors, cross-border links
Guifré Jordan joins Lorcan Doherty for this guide to Catalonia's high-speed rail connections. Cristina Tomàs White takes a trip to Paris from Barcelona with SNCF. Plus Romain Payet, co-founder of Midnight Trains, on why he is intent on bringing international night trains to Catalonia soon, and Adrià Ramírez, head of the PTP group lobbying for better public transport.
Episode 110: New Year – 2022 in quotes and a look ahead to 2023
Bon any nou! Guifré Jordan and Gerard Escaich Folch join Lorcan Doherty to see what 2023 in Catalonia has in store, from politics and the economy to society, culture and sport. Catalans are set to vote in at least two elections, museums will mark significant anniversaries of Picasso, Miró and Tàpies, and FC Barcelona are to up sticks from the Camp Nou to the Olympic Stadium for a season.
Epidose 109: Solidarity at Christmas – Charity drives, fundraisers, food banks and toy appeals
Christmas is a time of celebration, of family and friends, of giving and receiving gifts, but it can also be a very lonely and very expensive time of year. Gerard Escaich Folch and Cillian Shields join Lorcan Doherty to look at some of the ways people in Catalonia are giving back this Christmas, including a Red Cross campaign that aims to make sure that no child goes without presents.
Episode 108: Local elections lowdown – mayoral battles and how foreigners can vote
Catalonia goes to the polls next May 28 for the local election but foreigners eligible to vote need to be registered much sooner. We give a lowdown on who has the right to vote and how to register. Also, we offer an overview of the vote less than six months before polling stations open and we find out about a mayor who has won in his town 11 times in a row.
Episode 107: Abortion – the law and the reality in Catalonia
The team discuss abortion in Catalonia – what the law says, how it could change, and what the reality is like on the ground. Activists Silvia Adalvert and Selene Alberich outline improvements in access and care they would like to see, while one woman, Júlia, shares her experience of seeking an abortion in Catalonia.
Episode 106: Fátima Ofkir - the young Catalan woman serving a life sentence in Oman
In the summer of 2017, Fátima Ofkir, then 18 years old, made a big mistake. The young Catalan woman was arrested in the Sultanate of Oman, accused of drug trafficking. She is currently serving a life sentence in prison but desperately wants to return to her home country.
Episode 105: Casa Orsola – a symbol of Barcelona's gentrification debate
Casa Orsola in Barcelona's Eixample neighborhood has become a symbol of the city's struggle with gentrification, as long-term renters find themselves priced out of their homes.
Episode 104: So long, sedition – What will criminal code reform mean for Catalan and Spanish politics?
In 2019, nine Catalan pro-independence leaders were found guilty of sedition for their roles in the independence push of 2017. Now, Spanish prime minister Pedro Sánchez has announced that the crime of sedition will be struck from the penal code – a decision set to have a huge impact on Catalan and Spanish politics.
Episode 103: Not so wild - Catalonia's wild boar problem
Catalonia has a pig problem. Numbers of Sus scrofa, the Eurasian wild pig, have shot up in recent years and so too has the potential for conflict with humans. Cristina Tomàs White and Guifré Jordan join Lorcan Doherty to discuss the causes, effects, and possible solutions to the spiraling wild boar population. Plus, we go searching for boar in the Collserola mountains and get the thoughts of residents there.
Episode 102: Feeling the pinch – lowdown on inflation, bills and shopping tips
After a decade of low inflation and low interest rates, price hikes following the Covid-19 pandemic and Russia's war in Ukraine have left many feeling the pinch. We discuss inflation trends in Catalonia and offer some tips on how to keep your shopping and energy bills down.
Episode 101: Foodie favorites – a guide to (genuine!) Catalan grub
Less paella and sangria and more esqueixada and escalivada – Lorcan Doherty is joined by Cillian Shields and Gerard Escaich Folch to chat about traditional Catalan food. Attendees at Barcelona International Community Day tell us their favorite Catalan dishes and we visit Sants Market in Barcelona and talk to stallholders about the kinds of food that locals and visitors buy.
Episode 100: Bottoms up! - Barcelona's cocktail bars in world's top 10
Flamboyant drinks and clandestine bars, Barcelona's cocktail scene has stepped up its game, overthrowing London and New York at the World's 50 Best Bars ranking. Filling the Sink is celebrating its 100th episode with cocktails! Join us as we visit the bars featured in the top ten of the list for 2022: Paradiso, in first place, Sips in third spot, and Two Schmucks, at number seven. We hear from Gianluca Basso, manager at Paradiso; Marc Alvarez, Sips's co-owner; and Pom Modeste, manager at Two Schmucks.
Episode 99: Government collapse - endgame or new start for independence camp?
Almost a decade of collaboration among the main pro-independence parties ended on October 7 when members of Junts per Catalunya voted to exited the coalition. After years of inspiring huge mobilizations, how did the independence movement get here, and what comes next? Alejandra Angulo Alonso is joined by Catalan News editor Guifré Jordan to talk about the new single-party government in Catalonia formed by the left-wing, pro-independence Esquerra Republicana, governing solo with support from just 33 seats of the total 135 in the Catalan parliament.
Episode 98: The unfinished MidCat pipeline – a solution for Europe's energy crisis?
We delve into the MidCat project, an unfinished pipeline that would bring gas from Africa to Europe via Catalonia, as a potential solution to ease the continent's dependency on Russian imports – yet, France is skeptical and that makes the project difficult to come true. We hear from Joan Puerta, vice president of Catalonia's Engineers Association's energy committee, and Carol Coll, activist from the environmental group Plataforma Resposta al MidCat.
Episode 97: Independence referendum 5 years on - what happened, its legacy, movement in limbo
October 1, 2017 was a day like no other in Catalonia. An independence referendum took palace despite Spain's ban and its police cracking down on voters. How did events unfold and how much of a game changer was the vote for the independence movement and for Catalan politics? We talk about it with experts Toni Rodon and Dani Cetrà. This podcast also includes timeline of the day, and word from all parties in the current parliament, both for and against independence, on what they thought off the vote and what it means in today's political context.
Episode 96: The Barcelona patient - the extraordinary case of a functional HIV cure
Known as the Barcelona patient, a 75 year-old-woman who has been able to control HIV for 15 years without the help of antiretrovirals made headlines worldwide this summer when her case was presented at the 24th International AIDS Conference. We talk about these unique findings with Dr. Josep Mallolas, the head of Hospital Clínic's HIV-AIDS unit, and discuss the state of HIV research in Catalonia.
Episode 95: Drought - current state, impact on society, and sunken towns emerging
Intense heat and little rain have caused reservoirs to empty, impacting agriculture and hydroelectric production. Alejandra Angulo Alonso is joined by Guifré Jordan and Cillian Shields to discuss the widespread impacts of the drought in Catalonia. We visit Sant Romà de Sau, where an 11th-century church, usually hidden by the Sau reservoir, has emerged from the water. We also speak with Àngel Font, a former resident of the old village now reappearing above the water.
Episode 94: Back to school with many changes after educational reform
Teachers and students are back in school again with significant changes compared to last year, after a recent wave of strikes, protests, and heated debates within the education sector. Alejandra Angulo Alonso is joined by Cristina Tomàs White and Gerard Escaich Folch to discuss the new changes and take a look at the future challenges of the Catalan education system. We visit a local school and speak with teachers and parents about what's new this academic year.
Episode 93: Cava and beyond - Catalonia's beloved sparkling wine
The story of cava spans generations of winemakers, but today Catalonia's mostly exported sparkling wine is facing new challenges. We discuss the history of cava, the differences between this and other sparkling wines, as well as the impact of climate change and supply chain disruptions during the 2022 harvest season, as well as visiting two very special wineries.
Episode 92: Universal Basic Income - Catalonia's Pilot Plan
Alejandra Angulo Alonso is joined by Cristina Tomàs White to discuss this ambitious social experiment that will give people an unconditional monthly payment for two years. We also hear from social scientist, Bru Laín, on the specifics of Catalonia's scheme, while professor Jurgen De Wispelaere from the Stockholm School of Economics in Riga gives us an overview of other countries' experiences with UBI trials.
Episode 91: Culture Shocks - Meals, intimacy, and other Catalan habits
Whether you're new to Catalonia or a local about to move abroad, tune in for some advice and funny stories on coping with culture shock. Alejandra Angulo Alonso is joined by Cillian Shields and Gerard Escaich Folch to talk about the different stages of culture shock and how to deal with it when you first arrive in Catalonia.
Episode 90: Catalan Rumba - a genre full of history
When it comes to music genres in Catalonia, there is hardly a more iconic one than Catalan Rumba, born in the Romani communities of Barcelona. Alejandra Angulo is joined by Cristina Tomàs White and Gerard Escaich Folch to talk you through Catalan Rumba's origins, main figures, and current state. All this and more while playing great hits!
Episode 89: Catalonia's oldest train line threatened by climate change
Storms, rising sea levels, and political disputes have put the future of Catalonia's - and Spain's - oldest train line at risk. Will the famed R1 Maresme railway survive the rapid effects of climate change? Alejandra Angulo is joined by Cristina Tomàs White and Gerard Escaich Folch to discuss the line's long history and future.
Episode 88: 1992 Olympics - the event that changed Barcelona forever
The 1992 Summer Olympic Games are the sporting event that put Barcelona on the world map and changed the city forever. Alejandra Angulo, Cillian Shields, and Guifre Jordan take a nostalgic look back at the sporting memories, the opening and closing ceremonies, and the architectural legacy of the epic Summer Olympics of 1992, in the month of its 30th anniversary.
Episode 87: UNESCO World Heritage Sites – cultural and architectural gems of Catalonia
Catalonia boasts many UNESCO World Heritage Sites, including an ancient Roman amphitheater, prehistoric rock paintings, and the largest collection of Romanesque art in Europe. From the works of Gaudí to the Poblet Monastery, Alejandra Angulo and Cillian Shields take you on a journey to these amazing places, inside the Catalan capital and beyond.
Episode 86: Mass Tourism – debate reopens as visitors return to Catalonia after pandemic
The sharp influx of visitors has once again sparked mixed opinions among locals and within the city council. Is Catalonia, and especially its capital, ready to survive the boiling summer?
Episode 85: Joan Miró - the Catalan who painted the stars
A painter and a sculptor, an anti-fascist and proud Catalan, rooted in the earth and gazing at the stars. Cillian Shields and Lorcan Doherty chat about the life and works, and the unique imagination of Joan Miró, one of the giants of twentieth century art.
Episode 84: Castells – Catalonia's amazing human towers
Not for the faint-hearted, castells are human towers that can reach up to 10 stories high – that's 10 groups of people stacked on top of each other! Cristina Tomàs White and Guifré Jordan join Lorcan Doherty to delve into 'el mon casteller', the world of human towers.
Episode 83: Pa-tum Pa-tum Pa-tum – inside Berga's wild medieval rave
Fire-breathing dragons, dancing giants, music, drums, fireworks... for five days every year thousands of people pack the narrow streets of Berga for a party like no other – La Patum! Guifré Jordan and Gerard Escaich Folch go along to witness the spectacle and chat to Cristina Urrea and Cristina Farràs from the Guita Grossa group, Xavi Prat, head of the Tabal drum group and Albert Rumbo, historian... and giant!
Episode 82: Catalonia's 'Indians' – contested legacy of colonial past
Gerard Escaich Folch travels to the Costa Brava town of Begur where Anna Castellví from the Xarxa de Municipis Indians explains the architectural, social, and cultural influence these merchants had. Their slave trade links are explored by Martín Rodrigo, professor of contemporary history at Pompeu Fabra University in Barcelona. Singer Neus Mar sings a havanera by the sea in Calella de Palafrugell.
Episode 81: Summer 2022 – Music festivals, festes majors and more!
We give the lowdown on what's happening in Catalonia this summer, from the major music festivals to the local festes majors and lots, lots more. This summer festival special episode includes exclusive interviews and live music and chat from Catalan artists The Tyets and Le Nais.
Episode 80: Record breakers and history makers – Barça Femení and fans
First 91,553. Then 91,648. Twice this season the fans of FC Barcelona Femení broke the world record attendance for an official women's football match. We chat about the sporting and social phenomenon that is the Barcelona women's team with players and fans, plus a look at Xavi's impact on the men's team and the renovation plans announced for Camp Nou.
Episode 79: Trash talk – is Catalonia's recycling system working?
From innovative collection strategies and local neighborhood drop-off points to massive industrial-scale processing plants, we take a look at the journey the trash we produce goes on. Plus, innovative ways to get people to recycle more, including music jingles in Catalonia and Taiwan, and a quiz on what rubbish goes in which bin.
Episode 78: Girona in bloom – Temps de Flors flower festival
Spring has sprung and Catalonia is in bloom. Nowhere more so than the historic city of Girona, which this time of year is transformed into a riot of color and life for the Temps de Flors flower festival. Catalan News explores the artistry on display around the city and hears what visitors make of it, as well as getting a picture of the floral sector in Catalonia.
Episode 77: Catalangate – Spain's spyware surveillance operation in the spotlight
Filling the Sink discusses the ins and outs of Catalangate, Spain's alleged espionage operation – investigated by Citizen Lab and reported by the New Yorker – of over 65 Catalan pro-independence politicians, activists, and their close associates. We look at the legal and political fallout and hear from four of those targeted.
Episode 76: Alcarràs – Catalan cinema bears fruit on the international stage
Carla Simón's intimate homage to small-scale family farming won the Golden Bear at the Berlinale, the first Catalan movie to do so. Filling the Sink chats to cast members at the premiere in Lleida and Judith Colell, president of the Catalan Film Academy, explains how the success of Alcarràs in Berlin can benefit the next generation of Catalan filmmakers.
Episode 75: Sant Jordi celebrations and bookshops battling online giants
Sant Jordi, or Saint George, is the patron saint of Catalonia, and his feast day, April 23, is a celebration of love, roses and romance, and books and literature too. Lorcan Doherty is joined by Guifré Jordan and Angus Clelland to chat about what makes this day so special for Catalans. We visit independent bookstores in Barcelona to hear how they are surviving and even thriving, despite competition from online retail giants.
Episode 74: Keeping the faith – religious youth (and Easter cakes!)
With Catalonia becoming ever more secular, especially among younger generations, we hear from four people bucking that trend: Nagia, a Muslim; Gagandeep, a Sikh; Dolma, a Buddhist; and Gisela, a Catholic. Plus, never mind Easter eggs, Lluís Estrada Canal of Pastisseria Canal explains everything you need to know about mones de pasqua, Catalonia's traditional Easter cakes and chocolate figurines.
Episode 73: Food, glorious food! Mediterranean diet and veggie trends
Filling the Sink visits Alimentaria – one of the world's biggest food and drink trade fairs – to learn about the fabled Mediterranean diet and discover the latest veggie, vegan and flexitarian trends, including in-vitro meat and plant-based charcuterie.
Episode 72: Cost of living crisis – Ukraine war fuels price hikes and protests
We hear from truckers and taxi drivers protesting against soaring fuel costs, find out how rising energy prices are hurting manufacturers and ask what actions authorities are taking to tackle the crisis. Cristina Serradell, director of international trade at Catalonia Trade & Investment, explains how Catalan businesses and global supply chains are adjusting.
Episode 71: Ukrainian refugees – first steps of a new life in Catalonia
As thousands of Ukrainian refugees take their first steps towards building a new life in Catalonia, we hear about the efforts being made to help them settle in, by the authorities and by ordinary people too. Guifré Jordan travels to Guissona in western Catalonia, a small town with a significant Ukrainian population. He chats to volunteers Romaniya Dzhus and Ignasi Ribera, mayor Jaume Ars and secondary school teacher Jordi Ticó. Gerard Escaich Folch meets Irina, a Ukrainian living in Catalonia, and her childhood friend, Alexandra, a refugee who fled Ukraine with her two daughters.
Episode 70: Catalan in schools – reasons behind language immersion and why it's in jeopardy
Catalonia has had an educational policy of linguistic immersion for over 30 years, ie teaching is done through Catalan. Gerard Escaich Folch and Guifré Jordan join Lorcan Doherty to explain how the system works, the rationale behind it, and why it could now be in jeopardy. We hear from Ana Losada, spokesperson for School for Everyone and head of the Assembly for Bilingual Schooling; Albert Bayot Fuertes, the Girona representative of the Catalan Graduate Teachers Association; and Anna Rosés, a Catalan teacher at Escola Pia Sarrià-Calassanç in Barcelona.
Episode 69: Changed lives - four stories to mark two years of Covid
Marking two years of the pandemic, four stories from people whose lives changed dramatically. A long Covid patient, a person with a rare disease, a doctor on the front line, and a Michelin-starred chef who had to reinvent his business explain to what extent their lives are now different due to the virus.
Episode 68: Ukraine war impact in Catalonia – protests, donations, refugees
Since Russian president Vladimir Putin ordered a large-scale military invasion of Ukraine, Catalonia – especially its 25,000-strong Ukrainian community – has reacted with daily protests, a massive humanitarian aid effort and by welcoming refugees. We hear from Ukrainian, Russian and Catalan voices on the impact the war is having on people living here. Lorcan Doherty is joined by Guifré Jordan and Cillian Shields.
Episode 67: Cannabis clubs and weed farms – Catalonia, Europe's marijuana hotbed
Gerard Escaich Folch visits a cannabis association in Barcelona and chats to blogger Javier Díaz and Patrícia Amiguet, president of the Federation of Catalan Cannabis Associations. Cristina Tomàs White speaks to Mossos d'Esquadra officer Joan Carles Granja about why Catalonia is the "epicenter of Europe's illegal marijuana market," and learns about the legal situation of cannabis from Joan Bertomeu, a lawyer at specialist firm Brotsanbert.
Episode 66: Digital Nomads – the remote workers making Catalonia home (for a while)
What makes Barcelona one of the top spots for people who want to combine work and travel? UX designer Nathan Dolan shares why he chose to set up in the Catalan capital. Núria Bernat from Coimpact Coliving tells us about creating a community space for digital nomads in the city. Plus a look at the legal and tax implications for digital nomads in Catalonia, with tips from tax lawyer Alejandro Guayta.
Episode 65: Calçots and calçotades – Catalonia's onion craze
From the outside, calçots may appear to be just a simple, humble vegetable, but for Catalans, they are the centerpiece of the calçotada – big, social barbecues that are hugely popular during the winter and early spring. Cristina Tomàs White and Cillian Shields travel to Valls, the center of the calçot universe, to discover the traditional way to cook – and eat! – calçots and report their findings back to Lorcan Doherty.
Episode 64: Pyrenees-Barcelona Winter Olympics 2030 – to bid or not to bid?
Catalonia is divided over a potential bid to host the 2030 Winter Olympics in the Pyrenees and Barcelona, with wildly differing opinions on climate and sustainability, sporting facilities, development and infrastructure, and costs. Cillian Shields and Guifré Jordan join Lorcan Doherty to discuss what the bid might look like and the political issues that could threaten its stability.
Episode 63: Bofill, Bohigas and more – the architects who sculpted contemporary Catalonia
Cristina Tomàs White and Gerard Escaich Folch join Lorcan Doherty to remember two giants of Catalan architecture that passed away recently: Ricardo Bofill and Oriol Bohigas. Guifré Jordan visits Bofill's workshop in Sant Just Desvern. Stefanie Herr and Lorenzo Kárász from Guiding Architects Barcelona take us on a tour of 22@, the former industrial zone in Barcelona that's been transformed into a design and innovation hub.
Episode 62: Going underground – exploring the hidden world of subterranean Barcelona
Ghost metro stations, air raid shelters, abandoned shopping centers, and huge water storage facilities lie beneath the city streets. Guifré Jordan and Cillian Shields join Lorcan Doherty, with contributions from local historian Josep Contel, tour guide Manuel Marina, and architect Rosina Vinyes.
Episode 61: Saturation point? – Development versus conservation on the Catalan coast
It's a debate that's raged for decades in Catalonia: how best to balance new urban development and conservation along the coast. Agustí Serra, the government's director of urban planning, and Dirk Ewers from International Friends of the Costa Brava talk to Cristina Tomàs White while Gerard Escaich Folch travels to Sitges and speaks to councilor Eduard Terrado and Daniel Gracia, manager of Tomás Gracia Constructions.
Episode 60: The NIE nightmare – foreigners forced towards dodgy dealings to get ID cards
Residency red tape is all too familiar for foreigners moving to Catalonia, but an increasingly broken system is forcing many to pay over the odds to obtain the requisite documentation. Cristina Tomàs White and Cillian Shields join Lorcan Doherty to investigate what is going on with NIE (Foreigner Identity Number) and TIE (Foreigner Identity Card) appointments.
Episode 59: 20 years of the euro
Exactly 20 years ago, euro coins and banknotes came into circulation, on January 1, 2002. We hear the opinions of Pedro Aznar from Esade Business School and Xavier Ferrer from the Catalan Economists' Association on whether the euro has been good for Catalonia. Shoppers out and about in Barcelona tell us what they remember about the old currency.
Episode 58: Catalonia's flourishing craft beer scene
Catalonia may be known for its cava but it's actually home to over 100 craft beer breweries making over 1000 different craft beers. Guifré Jordan and Cillian Shields join Lorcan Doherty to take a look at the industry, which is going from strength to strength while still keeping its sense of close-knit community.
Episode 57: Sagrada Família – one step closer towards its (tricky) completion
The Sagrada Família is an icon of Barcelona. Tourists flock to Antoni Gaudí's basilica in their millions every year, but not everyone in Barcelona is so enamored with it. Discover the symbolism and hidden meaning behind the facade of the awe-inspiring piece of architecture, and why a part of its plans to build a stairway threatens the eviction of up to 3,000 people.
Episode 56: Sixth wave – Covid certificate FAQs, travel rules, Omicron and Xmas forecast
Catalonia's Scientific Advisory Committee chair Dr. Magda Campins on future restrictions and booster jabs. Lorcan Doherty, Cristina Tomàs White and Guifré Jordan discuss the profile of a sixth wave patient, the latest travel rules, and FAQs from residents and tourists on the use of Covid certificates in cafes, bars, and restaurants.
Episode 55: Catalan language under threat? - school and streaming woes
Catalan is a vibrant, living language with 10 million speakers and a history stretching back to the Middle Ages, but statistics show a decline in use, and language activists say it needs more protection, not least in classrooms and on online streaming platforms. Elin Haf Gruffydd Jones, president of the European Language Equality Network, and Òscar Escuder, president of Plataforma per la Llengua (Platform for the Language), give their views on the social, political, and technological challenges.
Episode 54: Barcelona Zoo – research or recreation, conservation or captivity?
Founded in 1892, Barcelona Zoo is part of the fabric of the city. But what should its role be in the 21st century? The zoo's director, Antoni Alarcón, and zookeeper Núria Moreno Gutiérrez, argue that zoos are essential for protecting biodiversity, but animal rights activist Rosi Carro of the ZooXXI group says that more action on agreed changes are urgently needed. Norbert Bilbeny, ethics professor at the University of Barcelona gives his view of how the relationship between humans and animals should be. Cristina Tomàs White and Gerard Escaich Folch join Lorcan Doherty to discuss the past, present and future of the zoo.
Episode 53: Four-day week and working from home – the post-Covid future of work?
The Covid-19 pandemic completely changed the world of work. Working from home became the norm for many, but is it here to stay? And has the time come for an even bigger change: after 100 years of Monday to Friday, is it time for a four-day working week? Guifré Jordan and Aina Martí join Lorcan Doherty to discuss the future of work and Xavier Güell, Managing Director of CBRE Barcelona, explains how offices are changing.
Episode 52: Anime, manga, sushi and sake – Japanese culture in Catalonia
Cillian Shields visits Manga Barcelona, a celebration of the world of Japanese comics and animation attended by over 122,000 people. Marc Pérez from the El Racó del Manga podcast gives his thoughts on why Catalans are so enamored with the land of the rising sun. Guifré Jordan explains to Lorcan Doherty how his generation was the first to grow up watching anime in Catalan.
Episode 51: Pros and cons of living in Catalonia – international community has its say
The Mediterranean climate, good food, beaches, not to mention excellent health care and public transport: what's not to like about living in Catalonia? Well, how about high rents, low salaries, and hellish bureaucracy, some of the issues highlighted by Filling the Sink listeners and attendees at Barcelona International Community Day, who tell us the good, the bad, and the funny side of moving to Catalonia from abroad.
Episode 50: Europe's energy crisis – what's behind your soaring electricity bills?
A look at how prices are determined, what actions governments are taking, and the effects of energy poverty in Catalonia.
Episode 49: Covid-19 – the endgame? Measures eased and nightclubs open again
With almost three-quarters of the population fully vaccinated and less than 100 people in ICU – down from nearly 600 at the beginning of August – almost all of Catalonia's Covid-19 restrictions have been lifted, meaning Cillian Shields can take a trip to Razzmatazz, one of Barcelona's biggest clubs, as it reopens for the first time in 19 months.
Episode 48: Four years in exile – Puigdemont and the other Catalan pro-independence leaders
The arrest of former Catalan president Carles Puigdemont on the Italian island of Sardinia in September was the latest twist in the four-year saga of the exiled Catalan pro-independence leaders. Puigdemont's lawyer, Gonzalo Boye, explains why he's certain that Spain's extradition attempts will not be successful.
Episode 47: Devils, dragons and a golden goat – Catalan myths and legends
Catalonia has a rich tradition of myths and legends, full of strange characters and mysterious creatures. Cillian Shields and Alan Ruiz Terol join Lorcan Doherty to ask where these stories come from, what they tell us about the past, and what relevance they have in today's world.
Episode 46: Superblocks and tactical urbanism – who owns Barcelona's streets?
We visit a so-called superblock in the Sant Antoni neighborhood to see if cars, bicycles, electric scooters and pedestrians can co-exist, and recount the fascinating urban history of Barcelona, from the ancient Roman walled city to Ildefons Cerdà's 19th-century expansion plan.
Episode 45: Parlem català? – Learning Catalan, at home and abroad
Filling the Sink listeners and Catalan News readers from around the world explain how and why they joined the more than 9 million people that speak Catalan. They also reveal some of their favorite words, such as somiatruites, or daydreamer, which literally translates as omelette-dreamer!
Episode 44: Catalonia's National Day - history, symbols, independence rallies
Catalonia celebrates its National Day on September 11, known in Catalan as La Diada. We talk about the history behind the date – a military defeat in 1714 – and the symbols used to mark the day. We look back on the last decade of massive pro-independence demonstrations that have taken place on National Day, and their impact on Catalan politics.
Episode 43: Harvest time! A taste of the world of Catalan wine
September in Catalonia is harvest time - la verema – when grapes are picked to go from vine to wine. Winegrower and co-owner of the Celler Can Roda winery, Enric Gil, explains the challenges posed by climate change and how this year's crop is shaping up after a difficult harvest last year. Enric Bartra from INCAVI, the Catalan Institute of Vine and Wine, on what makes Catalan wines stand out on the world stage and the remarkable growth of organic wines in Catalonia.
Episode 42: A whole new ball game – cricket, Gaelic football and American football in Catalonia
Cillian Shields and Lorcan Doherty discuss how these three sports - not traditionally associated with Catalonia - are going from strength to strength. Local Catalans in Sitges are being bitten by the Gaelic football bug, the citizens of Barcelona have voted to invest in a new cricket ground, and Catalan American football teams are dominating the Spanish league and setting their sights on Europe.
Episode 41: Val d'Aran – the Pyrenean valley with a distinct history, culture and language
On the northern side of the Pyrenees, surrounded by high mountain peaks, lies the beautiful Val d'Aran, the Aran valley, one of Catalonia's most distinct areas. Its geographic isolation has helped foster and protect its unique culture, including the Aranese language, a dialect of Occitan.
Episode 40: Catalan cuisine – superstar chefs and Michelin-starred restaurants
A celebration of Catalonia's rich and innovative gourmet culture, from the pioneers who led the gastronomical revolution that shook the world decades ago, to younger chefs opening new restaurants. In this episode, we interview Carme Ruscalleda, the most decorated female chef, and take our listeners inside a temple of Catalan gastronomy: the Alkímia restaurant.
Episode 39: Fruit pickers and street vendors – migrants' struggle for decent work
Many migrants coming to Catalonia from lower-income countries find themselves doing precarious summer work, such as harvesting fruit in the fields around Lleida, or selling goods on the streets of Barcelona and other cities. Serigne, Papalaye, and Lamine recount the reality of their situation and their struggle for the right to decent work.
Episode 38: Supercomputer and particle accelerator – cutting edge research in Catalonia
From black holes to climate change to Covid-19, Barcelona Supercomputing Center and ALBA Synchrotron are two high-tech research facilities that are key to the country's contribution to the global scientific effort to enhance our understanding of the world around us and address the challenges of the 21st century.
Episode 37: Fifth Covid wave - causes, restrictions and FAQs
Catalonia is in the midst of its fifth wave of the coronavirus pandemic. Faced with record numbers of daily cases and rising hospitalizations, the government has introduced a 1am to 6am curfew for the worst-hit towns and cities, including Barcelona, affecting some 80% of the population. UPC researcher Enric Alvarez considers the reasons behind this dramatic rise in transmission, especially among young people, and whether it could have been predicted or avoided.
Episode 36: Expanding Barcelona Airport - economic necessity or environmental folly?
A new satellite terminal and a runway extension. That's what AENA, the company that manages Barcelona Airport, says is needed if it is to be an international hub. Catalan society and local authorities are divided on the issue, with business leaders arguing it is essential for the economy, while environmentalists warn against the destruction of the Llobregat delta and increased carbon emissions.
Episode 35: After pardons for independence leaders, what comes next?
June 23, 2021, saw the release of nine Catalan politicians and activists in jail for their roles during the 2017 independence push, after they received pardons from the Spanish president. But what comes next? Talks are set to resume but the two sides remain very far apart, with the Catalan government pushing for an amnesty and agreed referendum, while Spain remains firmly opposed. With Marc Sanjaume-Calvet, professor of political science at the Open University of Catalonia.
Episode 34: Housing crisis – soaring rents and eviction epidemic
Soaring rents in Catalonia – especially in the capital Barcelona – have pushed housing to the top of the social and political agenda. Evictions, sometimes with a heavy police presence, are commonplace, despite a moratorium for vulnerable people during the pandemic. We hear the stories of three women in Barcelona affected by the crisis and take a look at the legal battle over Catalonia's rent cap law.
Episode 33: A guide to visiting Catalonia this summer, despite Covid
A look at where to go and what to do in Catalonia this summer. All the rules and regulations for entering Spain from abroad as well as the Covid measures in place on arrival. Cillian Shields and Guifré Jordan join Lorcan Doherty to chat about summer plans and tourist itineraries, including everything from adventure sports to wine tasting. They discuss what is open for tourists in Barcelona and, after a devastating summer last year, ask what hopes the tourism industry has for recovery.
Episode 32: Barça Femení and women's football – treble success and fight for fairness
Barcelona women's football team have had a record-breaking season, conquering all before them and doing it in style. Defender Laia Codina tells us the impact she hopes this will have on and off the field and we reflect on the wider issues facing the game as the league turns professional after a bitter struggle.
Episode 31: Taxis vs Uber – Barcelona, hotspot of the conflict in Europe
Barcelona's taxi associations are not happy with Uber's return to the city after a two-year absence, but the ride-railing app insists that the two groups should work together. We hear from both sides and also from Pieter Van Cleynenbreugel, a law professor at the University of Liège in Belgium, who explains what impact the conflict in Barcelona is having at an EU level.
Episode 30: Montserrat – the mystic mountain with a 700-year-old boys' choir
Montserrat is a natural wonder, a rocky mountain range that rises from the plains of central Catalonia. It's a holy place, home to La Moreneta, the Virgin of Montserrat, and a Benedictine Abbey with a history stretching back one thousand years. Alan Ruiz Terol visits the Escolania de Montserrat, a 700-year-old boys' choir, and chats to Lorcan Doherty about what makes this place so special, for Catalans and visitors alike.
Episode 29: Catalonia's new pro-independence government - what to expect
Three months on from polling day, Catalonia's new pro-independence government is taking shape. Pere Aragonès has been elected the 132nd president of Catalonia and will lead a coalition of Esquerra Republicana and Junts per Catalunya. Marc Sanjaume-Calvet, professor of political science at the Open University of Catalonia joins the podcast to discuss the make-up of the new administration, its priorities and the challenges ahead.
Episode 28: Independence campaigns in Scotland and Catalonia – siblings or distant relatives?
Pro-independence parties in Scotland and Catalonia have enjoyed success in recent elections, but how much do the movements have in common and where do they go from here? With contributions from Esquerra Republicana MEP Jordi Solé, Scottish National Party MP Gavin Newlands and University of Glasgow Lecturer in Politics Robert Liñeira.
Episode 27: Covid-19, Summer '21 and the end of the state of alarm
The state of alarm comes to an end after more than six months. There's no more curfew, bars and restaurants can open until 11pm and travel in and out of Catalonia is allowed again, but what will the summer look like?
Episode 26: Last orders - Barcelona bars and restaurants' pandemic struggle
Cafe culture and eating out are at the heart of the Barcelona lifestyle, but the Catalan capital's bars and restaurants - all 9,000 of them nearly - have had a tough year trying to survive amid the Covid-19 pandemic.
Episode 25: A wind farm off the Costa Brava - the debate is on
Catalonia needs to transition from 20% to 50% renewable energy by 2030 to meet its climate change goals but plans for an offshore floating wind farm in the Gulf of Roses have been met with opposition from environmentalists and businesses reliant on tourism.
Episode 24: Sant Jordi's Day – books, love and roses
April 23 is one of Catalonia's most important dates of the year, when the country celebrates its patron Sant Jordi in unique style, buying books and roses as gifts for their loved ones. Writer, publisher and director of the Institut Ramon Llull, Iolanda Batallé Prats, joins Guifré Jordan and Lorcan Doherty to discuss what makes Sant Jordi such a special day and explains how Catalan literature is going from strength to strength. Acclaimed Catalan writer Marta Orriols reads from her novel Learning to Talk to Plants.
Episode 23: The truth about Catalonia's witches and witch-hunts
Centuries ago, the Catalan Pyrenees were a cradle of witch-hunts in Europe, with hundreds or even thousands of marginalized women accused and convicted of causing storms, killing children, and poisoning cattle with witchcraft. Sònia Casas from the Barcelona-based history magazine Sàpiens joins Alan Ruiz Terol and Lorcan Doherty as they attempt to separate fact from fiction when it comes to the story of witch-hunts in Catalonia.
Episode 22: How religious is Catalonia today?
In the space of a generation, the religious landscape of Catalonia has changed utterly. The number of atheists, agnostics and non-religious has skyrocketed as the influence of the Catholic Church has waned since the transition to democracy. Dr Mar Griera, the director of ISOR (Research in Sociology of Religion) at UAB, explains the reasons behind Catalonia's rapid and intense secularization. We also take a look at some of the Easter traditions that are still going strong.
Episode 21: The crown in crisis – corruption scandals rock the Spanish monarchy
Spain's royal family has been rocked in recent years by wave after wave of scandal and controversy. The former king, Juan Carlos I, fled to the United Arab Emirates last August amidst ongoing corruption investigations. In this episode, Sylvain Besson on Juan Carlos' $100m Swiss bank account and Albert Calatrava, one of the writers of The King's Armor (L'Armadura del rei), which examines how Spain has protected its scandal-ridden monarchy for the past four decades. Plus a look at the rise and fall of the monarchy's popularity in Catalonia and whether there could be a republic in the future.
Episode 20: First Catalan nanosatellite in space - small step, giant leap or a load of hot air?
As Catalonia launches its first nanosatellite, science writer and educator Joan Anton Català Amigó joins the Filling the Sink team to talk all things space. Catalan Digital Policies minister Jordi Puigneró defends the formation of the Catalan Space Agency, Alan Ruiz Terol takes a visit to Montsec Observatory and Astronomical Park in western Catalonia and Dr Carolina Arnau Jimenez tells Cristina Tomàs White how the European Space Agency's research at the Autonomous University of Barcelona could pave the way for humans to voyage to Mars in the future.
Episode 19: Covid-19 – impact one year on and hopes for the future
Exactly twelve months on from the declaration of the state of alarm and first lockdown, a look at the social and economic impact of the pandemic and the latest figures and measures. Salvador Macip, from the University of Leicester gives his view on the vaccine rollout, the new variants, and the easing of measures in Catalonia compared to the UK.
Episode 18: Gender inequality - at work, at home and during the pandemic
Ahead of International Women's Day on March 8, we take a look at the ongoing fight for gender equality and how the pandemic has affected women more than men in Catalonia. We focus on the gender pay gap, work-life balance, gender-based violence, unemployment, and other challenges ahead. Plus, the stories of four women working in traditionally male-dominated jobs.
Episode 17: The wizard, the vampire and the curse – Dark tales from Barcelona's Old Town
Medieval herbalists, occultist signs, missing children, blood and bones, angry monks and letters from owls. The lines between fantasy and reality are blurred in these three tales from Barcelona's Old Town about an ancient wizard, Astruc Sacanera, the Vampire of Raval, Enriqueta Martí, and the curse of the Liceu, the city's iconic opera house.
Episode 16: Rapper Hasel jailed and riots on streets - freedom of speech debate spills over
On February 16, the Catalan rapper Pablo Hasel was arrested at the University of Lleida after being sentenced to two years and nine months in jail for two cases of glorifying terrorism and insulting the Spanish crown in his tweets and lyrics. Hasel's arrest has led to widespread protests in cities and towns across Catalonia and Spain, with dozens of arrests and injuries following clashes between demonstrators and police, and reignited the debate around the boundaries of freedom of expression.
Episode 15: Catalan election - winners, losers, and what's next
The Catalan election is over, but who will lead the next government? And will this be a turning point for the independence movement? Episode 15 of Filling the Sink brings you everything you need to know about the election winners, the biggest losers, and what lies ahead.
Episode 14: Catalonia's booming videogame industry
Barcelona is a global hub for game developers. With Catalonia accounting for more than half of the industry's earnings in Spain, Filling the Sink hears from several figures in the gaming community about its successes and its challenges.
Episode 13: Catalan election – the runners and riders
It's election time. Episode 13 of Filling the Sink has got everything you need to know about the parties, the polls and the permutations. Will the independence bloc retain a majority in parliament? Will the far right enter the chamber for the first time? Which party will top the polls and what will the next government look like? And, with only 5.3 million entitled to vote in Catalonia, home to around 6.2 million adults, who should have a say in a democracy?
Episode 12: The climate crisis threatening Catalonia
Forest fires, floods, rising temperatures and sea levels: Catalonia is vulnerable to climate change. One year on from Storm Gloria, we look at the effects global heating is already having, with a special report from the Ebre delta.
Episode 11: Brexit – Listener questions answered (and more)
Don't know your TIE from your NIE? Or how you can prove residency? Bradley de Abreu from Age in Spain answers questions from British Catalan News readers. And we hear from Catalan businesses and universities on the impact of Brexit.
Episode 10: Coronavirus – vaccine rollout, research, and latest measures
Leading researcher Dr Bonaventura Clotet on the need for a pan-coronavirus vaccine, the threat of the variant discovered in Britain, and some of Catalonia's contributions to the global scientific effort. Plus a look back on the "day of hope" that saw 89-year-old Josefa Pérez make history by becoming the first person in Catalonia to receive the Pfizer vaccine.
Episode 9: 2021 – a look ahead
A preview of what's in store for Catalonia in 2021 including the vaccine rollout and elections on February 14, as well as a look back on the last twelve months.
Episode 8: Christmas in Catalonia
Who needs Santa Claus? In Catalonia, kids hit a wooden log with sticks until it poos out presents. Learn about the Tió de Nadal and many other Catalan Christmas traditions—some excrement-related, some not—in this special festive edition of Filling the Sink.
Episode 7: Catalonia's late eating habits - time for a change?
Have you ever tried to book a table for 7pm at a restaurant in Catalonia? Or gone to do some shopping in the early afternoon? You might well have run into a little trouble. We explore the origins of this late schedule, and whether it can change.
Episode 6: BCN and tourism – a love–hate relationship
Barcelona has a love–hate relationship with tourism, vital for many jobs and businesses but a bane for many residents. Episode 6 of Filling the Sink asks if the current tourism model is broken and what can be done to fix it.
Episode 5: Barça – A Catalan Icon in Crisis
FC Barcelona is one of the world's biggest football clubs. To its supporters, it's more than a club, 'més que un club'. But what's behind the current malaise, both on and off the pitch?
Episode 4: Open Wounds – Dealing with the Francoist Past
Historical memory, or how to deal with the legacy of the Spanish Civil War and the Franco dictatorship, is the subject of episode 4 of Filling the Sink.
Filling the Sink is filling its basket with rovellons, camagrocs and trompetes de la mort as we go foraging for mushrooms in the Pyrenees.
Episode 2: Covid-19 in Catalonia – a snapshot
A reflection on the first eight months of living with the pandemic and a look at what the Covid data tells us about Catalonia and Europe.
Episode 1: Halloween v Castanyada
In the red corner, the undisputed champion of autumnal holidays in Catalonia, it's La Castanyada. And in the blue corner, the challenger. It's got costumes, it's got candy, it's Halloween. Which should be celebrated on October 31 in Catalonia? The debate is on.