PODCAST: Taxis vs Uber – Barcelona, hotspot of the conflict in Europe
Uber is back in the Catalan capital as are the protests against it, with legal battles resonating across EU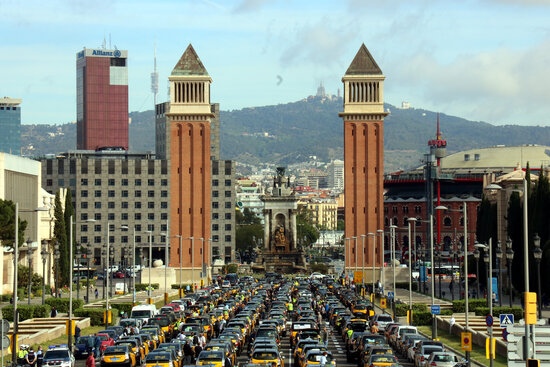 The ride-hailing app Uber is back in Barcelona after a two-year absence. It's had to change its business model to comply with Catalan regulations, but many taxi drivers are still not happy and have taken to the streets in protest. Press play below to listen or subscribe on Apple Podcasts, Google Podcasts or Spotify.
Amid blaring car horns, Alan Ruiz Terol talks to demonstrators calling for a public app to compete with the likes of Uber and catches up with a former Cabify driver with mixed feelings. Yuri Fernández, Uber's spokesperson in Spain, argues that his company and taxi drivers should work together.
Pieter Van Cleynenbreugel, a law professor at the University of Liège in Belgium, tells Cristina Tomàs White the impact the conflict in Barcelona is having at a European level.
Presented by Lorcan Doherty.
Listen to more episodes of Filling the Sink below.