PODCAST: After pardons for independence leaders, what comes next?
Catalan government will push for amnesty and referendum when talks with Spanish executive resume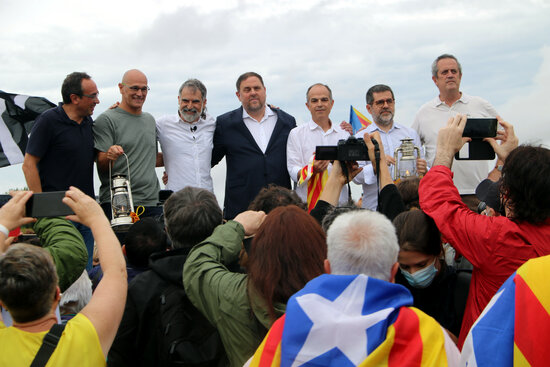 On June 23, 2021, after three and a half years behind bars, nine Catalan politicians and activists in jail for their roles during the 2017 independence push were released after receiving pardons from the Spanish president.
As well as looking back on that historic day and the lead up to it, on episode 35 of Filling the Sink we'll also be discussing what lies ahead, with a return to negotiations between the Spanish and Catalan governments on the horizon. Press play below to listen or subscribe on Apple Podcasts, Google Podcasts or Spotify.
Alan Ruiz Terol joins Lorcan Doherty to discuss why, within the independence camp, the pardons have been given a lukewarm reception, seen as a half measure falling well short of the general amnesty that they have been calling for.
Marc Sanjaume-Calvet, professor of political science at the Open University of Catalonia, explains why the Spanish executive took this decision to pardon the independence leaders, and the impact the move could have on Spanish politics as a whole.
This week's Catalan phrase is "Per Sant Joan, el primer bany," meaning that Saint John's Eve, June 23, is the time for the first swim of the year.
Listen to more episodes of Filling the Sink below.