PODCAST: Maria Branyas – the oldest person in the world
To mark her 116th birthday, Filling the Sink revisits a 2019 interview with the self-proclaimed Catalan Super Granny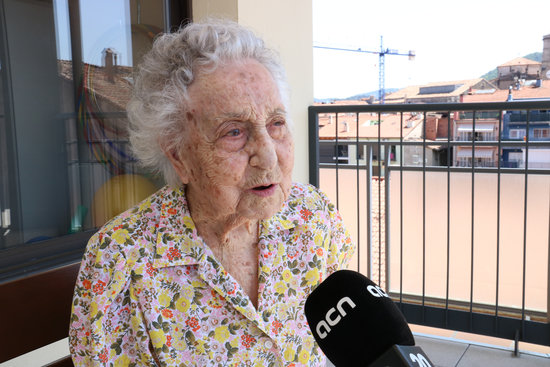 In January 2023 US-born Catalan woman Maria Branyas became the oldest verified living person in the world and on March 4 she celebrated her 116th birthday. To mark the occasion, Guifré Jordan revisits an interview he did with Maria in 2019. Press play below to listen or subscribe on Apple Podcasts, Google Podcasts or Spotify.
Sam Green, an American filmmaker who recently travelled to Catalonia to record with Maria for his documentary The Oldest Person in the World, tells us why he thinks people find the subject so captivating.
This week's Catalan phrase is "és de l'any de la picor." Literally "it's from the year of the itch," it refers to a plague in Catalonia in 1471 and is used to describe something very old.
Presented by Lorcan Doherty.
Get in touch with the podcast team: fillingthesink@acn.cat
Listen to more episodes of Filling the Sink below or find out more here.