PODCAST: Fruit pickers and street vendors – migrants' struggle for decent work
The reality of summer work in rural Lleida and the street sellers who set up shop in Barcelona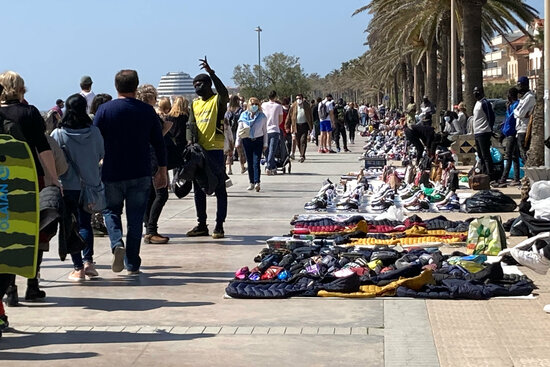 Many migrants coming to Catalonia from lower-income countries find themselves doing precarious summer work, such as harvesting fruit in the fields around Lleida, or selling goods on the streets of Barcelona and other cities. Press play below to listen or subscribe on Apple Podcasts, Google Podcasts or Spotify.
Serigne Mamadou, a seasonal worker from Senegal, Llibert Reixach, from the Fruita and Justícia Social seasonal workers' rights group and Jaume Pedrós of the Unió de Pagesos farmers union give their perspectives on whether the situation for fruit harvesters has improved since last year, when Covid-19 outbreaks and images of workers sleeping rough hit the headlines.
Xènia Palau visits the Top Manta shop and factory, set up by the street vendors' union as a way to provide legitimate work and sell their own brands of clothes and shoes. Papalaye and Lamine explain the challenges of working as a street seller (or manter in Catalan after the blankets where they display their wares) and the success and strength of the shop and union.
Cristina Tomàs White and Guifré Jordan join Lorcan Doherty to put these stories in the wider context of immigration, racism, the economy, policing and social policy.
This week's Catalan phrase is 'amb una sabata i una espardenya,' literally, with a shoe and an espadrille, which is a type of traditional Catalan rope-soled summer shoe. It means to get by with what you've got.
Listen to more episodes of Filling the Sink below.