A pandemic, political instability, and climate change: a look back at a gloomy 2020
An overview of the year from a Catalan perspective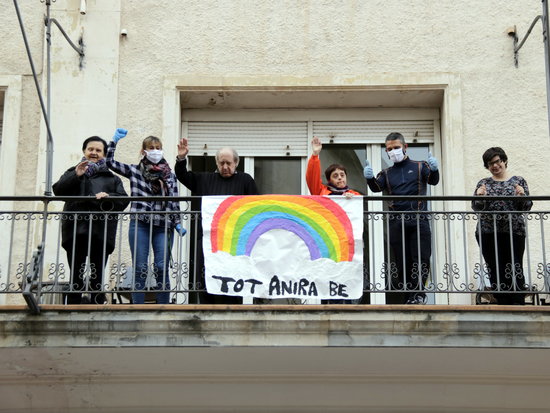 2020 has been one for the history books—a year people will both long remember and long to forget.
From Storm Gloria to a devastating pandemic, the contentious relationship between the Spanish and Catalan executives, and the events that precipitated the upcoming early election, here we take a look at the past year from a Catalan perspective:
Environmental issues
Even before the pandemic hit, 2020 was already off to a rough start with a power plant explosion near Tarragona followed in short succession by one of the worst storms to hit Catalonia and other parts of Spain in recent times, Storm Gloria.
Here in Catalonia, where a handful of people lost their lives, the storm caused extensive damage over 5 days. Wreaking havoc mainly in areas along the Mediterranean coast, authorities estimated it would cost tens of millions of euros to repair.
Southern Catalonia, which is especially vulnerable to climate change due to its low elevation and location by a sea that is warming at a rate 20% faster than the world average, was particularly hard hit. Home to the Ebre river delta rice paddies, thousands of hectares were swamped by seawater putting the area's unique flora and fauna at risk.
But little did we know things would soon take a turn for the worse.
Covid-19, changing society as we knew it
Although the news that someone residing in Catalonia had tested positive for coronavirus first broke on February 25, not even two weeks after the Mobile World Congress was canceled, it took authorities and society as a whole another few weeks to fully grasp the severity of the situation.
Igualada, where cases first spiked, was placed on lockdown on March 12, but only days later would the rest of Catalonia be under strict home confinement orders too as Spanish president Pedro Sánchez invoked a state of alarm. Residents were under lockdown for almost 2 months before regulations began to be eased.
It is probably impossible to overstate the overarching impact the public health crisis has had this year. The level of human loss alone is staggering: nine months later, Catalonia's death toll stands at over 17,000, according to funeral homes, and almost 400,000 confirmed Covid cases. Many of those most affected were care home residents, who some complain were forgotten and left behind by authorities.
The pandemic severely overwhelmed the public health system, especially during the early months of the crisis, forcing authorities to resort to hiring medical students and retired workers. Sports venues and hotels were also turned into makeshift hospitals in record time in an attempt to keep up with the influx of patients. Catalonia, which before Covid-19 struck had around 600 beds for patients in critical condition, had a total of 1,529 people in ICU care at the peak of the crisis.
Beyond this, the lockdown and other restrictions needed to keep the pandemic in check dealt a severe blow to an economy heavily reliant on tourism. Exports dropped by 17% over the first six months of the year and Catalonia's GDP suffered a "historic slump" not seen since the Spanish Civil War.
With businesses shutting down and unemployment and furloughs ballooning, authorities have struggled to keep up with welfare benefits and other measures to relieve increased financial distress, exposing cracks in the country's social safety net.
One of the many sectors that has found itself in dire straits is the creative industry. Indeed, performances as we once knew them, in front of large audiences, are antithetical to this year's health and safety requirements. Empty venues, balcony shows—including those by the Stay Homas, Catalonia's lockdown sensations—and concerts streamed online were commonplace throughout 2020, a year even in which artists were under even more pressure than usual.
Meanwhile, as people spent almost 2 months under strict lockdown followed by eased but ever-present restrictions, reports of mental health issues and gender-based violence went up, while elective surgeries and routine health checks healthcare workers rely on to detect other illnesses were either postponed or canceled.
Society as a whole has created a new sense of what is normal. Early this year few would have imagined our reality was about to be so severely disrupted, and yet, months later, daily death and case counts, wearing a face mask, and restrictions limiting gatherings, movement, and businesses have been normalized—even more so after another raft of measures were put in place in the fall to attenuate the throes of the pandemic's second wave, aided this time with a de-centralized state of alarm.
Though the end of Covid-19 is still far off, now there is, perhaps, a greater sense of hope than ever before as the EU-wide inoculation campaign began on December 27, with 89-year-old Josefa Pérez making history in l'Hospitalet de Llobregat as the first person to receive the Pfizer vaccine in Catalonia.
Politics: an ousted president, an election, and the independence issue
Catalonia has also been on a rocky political road this year, which culminated in president Quim Torra being barred from public office by Spain's Supreme Court for disobedience in a case relating to hanging yellow ribbons in solidarity with the jailed independence leaders from public buildings during an electoral period, followed by parliament speaker Roger Torrent calling an early election for February 14, 2021. This comes after months of ongoing disagreements between pro-independence coalition partners JxCat and ERC.
Meanwhile, the conflict regarding Catalan independence, including the fate of the jailed and exiled 2017 referendum organizers, remains at a standstill despite an unprecedented meeting between the Spanish and Catalan cabinets last February. What was intended to be a first in a series of talks was, like countless other events planned throughout 2020, cut short due to the pandemic.
Unsurprisingly, the health crisis itself has been another important source of contention between both executives, and multiple disagreements have arisen surrounding measures and the authority to implement them.
2020 was also the year former king Juan Carlos left Spain amidst controversy relating to, among other things, illicit credit cards and offshore accounts. The monarchy, which is not very popular in Catalonia even under Juan Carlos' son Felipe VI, was met with protests on every visit.
End of an era for FC Barcelona
On top of being a globally disastrous year, the 2019-2020 season was also one to forget for football fans in Catalonia.
FC Barcelona's men's team's 12-year title-winning streak came to an end in a year culminating in a painful 2-8 defeat in the Champions League quarterfinals against Bayern Munich. This shook the club's foundations and Barça almost lost superstar Leo Messi, eventually prompting president Josep Maria Bartomeu to step down.
Only Barça's women's team had a good season, winning their first league in five years—the other major men's team, RCD Espanyol, ended up relegated to the second division of Spanish football for the first time in almost three decades.
Lives lived
A year of loss all around, some of Catalonia's most beloved figures also passed away in 2020. These include the likes of: