Poll: 2 in 3 Catalans would vote for republic over monarchy in referendum
Across Spain 40.9% favor republic versus 34.9% for the status quo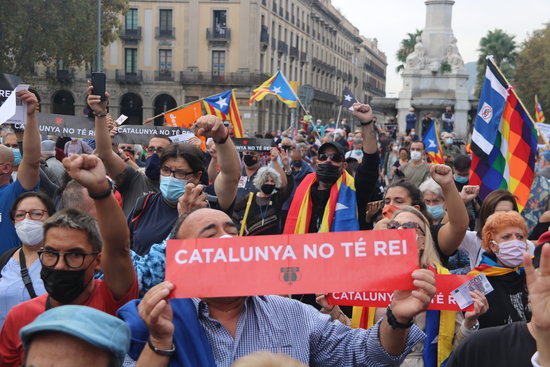 Two in three Catalans would vote in favor of a republic, if a referendum on the monarchy was held in Spain.
The results come from a survey published on Monday by the sixteen media outlets who make up the recently established Platform for Independent Media.
The poll was conducted by 40dbES, based on 3,000 interviews throughout Spain, including 500 in Catalonia.
It is the latest in a long line of surveys that show low levels of support for the monarchy in Catalonia.
At 66.5%, the amount of people who reject the monarchy is 25 points higher in Catalonia than the Spanish average of 40.9%.
Across Spain, 34.9% would say they would not vote for a republic, 20 points higher than the percentage of people supporting the monarchy in Catalonia, at just 14.6%.
Of all the self-governing regions in Spain, the monarchy has the lowest level of support in Catalonia. On a scale of 0 to 10, those surveyed in Catalonia gave the monarchy a score of 2.5, while in Spain the score was 4.3.
Among the various institutions mentioned in the survey, Catalonia gave the worst approval rating to the Catholic Church, 2.3 out of 10.
Low support for king and former king
The Catalans also gave a low rating of 3.6 to King Felipe VI, versus a 5.8 rating from the whole of Spain. The Spanish king was greeted with protests on a brief visit to Barcelona last week.
Former king, Juan Carlos I, currently in the UAE amid allegations of corruption, has a 1.9 rating in Catalonia, while in Spain it is 3.3.
Satisfaction with the monarchy in general in Catalonia is 2.9 and in Spain 4.6. In fact, almost half of Catalans, 47.9%, gave the monarchy a rating of 0 or a 1.
Across Spain, support for the monarchy to remain in place is higher among voters of right-wing parties, while a republic has the support of the vast majority of voters of left-wing Podemos and 55% of Socialist party voters. A Republic is also the preferred option for young people, while the monarchy is the preferred system for those over 55 years of age.
In Catalonia, 68.4% believe a referendum on the monarchy is necessary, as opposed to 18.5% who believe it is not. In Spain, support for a referendum is at 47.8% compared to 36.1% against the idea.