Gloria recovery continues six months after storm wreaked havoc
Extreme weather in January claimed four lives in Catalonia and caused widespread damage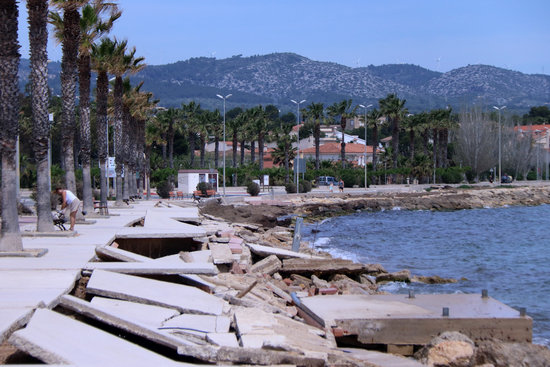 Six months on from the destruction caused by Storm Gloria, repair work and sediment removal in the worst affected areas continues.
The storm claimed four lives in Catalonia and caused widespread damage as it brought extreme weather for five days from January 19 to 23.
Many areas saw over 400mm of rain fall during the course of the storm, with the heaviest downpour recorded at Lliurona in the north of the country, 516mm.
The winter storm also brought heavy snowfall and although areas in the Pyrenees saw the highest amounts, such as the 1.5m that fell in Ripollès, many lower lying areas were also hit.
Gusts of wind of up to 144kph were recorded, with January 21 the day with the highest average wind speed across Catalonia for over 10 years.
The entire coastline was battered, with wild sea conditions and waves 5-7m high throughout the two worst days of the storm, in many cases causing damage not seen for decades, according to the Catalan Territory and Sustainability Department.
Part of the Ebre river delta in the south of Catalonia flooded, destroying rice fields, while rivers across the country burst their banks.
Works to repair damages and remove sediment are underway again, after being delayed due to the coronavirus pandemic.
The storm caused tens of millions of euros of damages, with emergency repair work in the Ebre delta, for example, coming with a price tag of some 3.5 million euros.