Catalan president to be ousted as Spanish court upholds disobedience verdict
Supreme Court confirms Quim Torra's disqualification for hanging signs in favor of jailed pro-independence leaders on public buildings during electoral period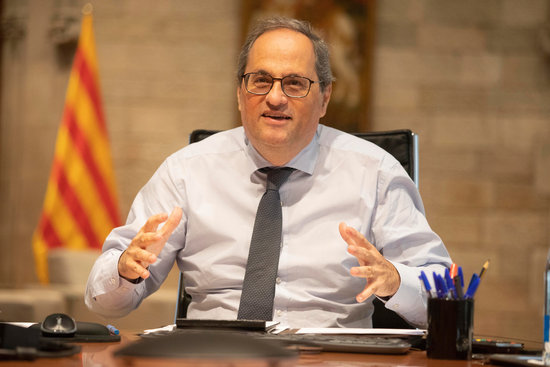 Spain's Supreme Court confirmed on Monday that Catalan president Quim Torra should be removed from office as he is guilty of disobedience for displaying signs in solidarity with the jailed pro-independence leaders on public buildings during an electoral period last year.
In dismissing Torra's appeal, the top court upholds a previous verdict banning the Catalan head of government from holding public office for 18 months — the second time in three years that a Catalan president is sacked.
Later in the afternoon, the Catalan High Court enforced Torra's disqualification and ordered vice president Pere Aragonès to move forward in replacing him. By 5 pm, Torra had been personally notified of the ruling.
The decision is set to anger pro-independence supporters in Catalonia, who will all but certainly see the ruling as Spain's umpteenth attempt to undermine their political aspirations by prosecuting their leaders.
A snap election could be called in the coming weeks, as Catalonia's two ruling pro-independence parties have pledged that Torra will only be replaced by vice president Pere Aragonès during an interim period.
A political outsider who had held no public office until becoming an MP for the newly formed Junts per Catalunya (JxCat) ticket in the December 2017 Catalan election, Torra was proposed as president by his immediate predecessor and JxCat leader, Carles Puigdemont.
Only a few months earlier, Puigdemont had been sacked by the Spanish government following a referendum and a failed declaration of independence. In order to avoid prison like his colleagues, Puigdemont sought refuge in Belgium, but was blocked from being sworn in despite winning a subsequent election.
Since coming to power in May 2018, Torra has said that his biggest wish is to see Puigdemont return as president and for his political comrades to be released, which is why he has hung banners and yellow ribbons in solidarity with them from the government headquarters in Barcelona.
Yellow ribbon trial
The president was tried for failing to comply with an Electoral Board order to remove symbols deemed "partisan" on time in the run-up to the Spanish general election at the end of April, 2019.
Torra initially refused, before eventually replacing the banner for one defending freedom of speech, but not until after the deadline he was given to remove the yellow ribbon banner had passed.
In court, the president argued that the electoral board "had no right to issue an order" for him to remove the banner.
Torra went on to admit in court that he had "disobeyed" Spain's electoral authority by failing to remove the symbols, but added that "complying with an illegal order was impossible." He denied that the expression 'political prisoners' that featured on the banner was partisan, arguing that "it is a way of speaking permitted by freedom of speech."