Leader of Jarabe de Palo band Pau Donés dies at 53
Rock singer suffered from cancer from 2015 and released his last album two weeks before passing away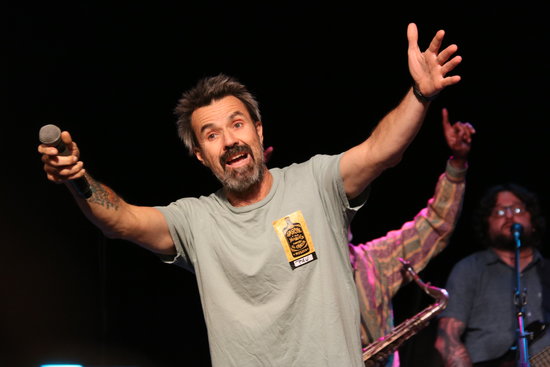 The leader of the rock band Jarabe de Palo, Pau Donés, died at 53 on Tuesday, as announced by his family.
He had suffered from colon cancer since 2015 and, while he announced he had no trace of the illness in 2016, Donés's cancer returned in 2017.
Due to the disease, he announced he would stop playing indefinitely in 2018, but the following year, he was already working on his new album 'Tragas o Escupes,' which was released on May 27, 2020, barely two weeks before he passed away.
Jarabe de Palo
Donés was the leader of the Catalan rock band Jarabe de Palo, whose first album included probably its most immortal and successful hit, 'La Flaca' (1996).
Two years later, 'Depende' was another success, and 2003's 'Bonito' was another of the band's classics.
Legacy
Ever since Donés announced he was going through cancer in 2015 at 48, he became an inspirational figure in Catalonia and Spain in the fight against the disease.
He performed in two concerts to raise funds for cancer research in December 2019.
In an interview with the Catalan News Agency, also in December last year, he spoke about his new life in California, where he moved after announcing he would stop playing.
Donés explained he was spending more time with his daughter, taking salsa classes and surfing.
"Life is not only music. I used to live for music and for the other things. And what was I doing for my home? Earning money in order to pay bills," he said.
"The future does not exist for me, and I live very well without a plan for the future and expectations of those plans."
"Surviving the disease gives you a certain experience, and this is always an element of control, in the sense that you can measure your state of mind and your fears, and live with a certain calm," he also said in the interview.
Donés also talked about 'Humo' (2017), one of his darkest songs. "It was a very one-off song, but I could also write it now, because either you want it or not, cancer patients are not close to death, it is above us. It is an illness that can kill you, and can awaken any day."