Pro-independence parties to register amnesty bill for jailed leaders on March 15
Proposal to exculpate acts from 2013 to be submitted to Spanish congress after Catalan election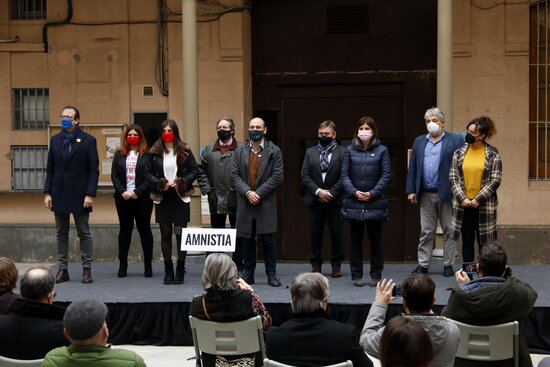 After months of discrepancies and lack of unity, the three main pro-independence parties have announced a joint action seeking to release the Catalan jailed leaders.
On Monday, Junts per Catalunya (JxCat), Esquerra (ERC) and CUP political forces, along with civil groups in favor of a Catalan republic, presented an amnesty bill which will be submitted to the Spanish Congress on March 15, after the February 14 election.
They aim to exculpate all acts with political intention linked to the "democratic struggle for Catalonia's self-determination" since January 1, 2013, including cases affecting jailed and exiled leaders, but also others involving hundreds of individuals, including officials, businesspeople, activists and mayors.
Asking for an amnesty to all those entangled in judicial procedures due to their role in the independence push has been one of the few consensus that JxCat, ERC and CUP have recently reached.
They believe it is the fairest way to get the jailed leaders' sentences shortened, although it is very unlikely that they will find the support of enough legislators in Madrid. Alternative ways to reduce the decade-long sentences include the Spanish government pardoning the nine individuals behind bars and a reform of the sedition crime in the criminal code, which the Socialist-led cabinet is already working on.
Yet, these two alternatives would only have an automatic impact on those serving prison sentences, but not on those exiled to avoid Spain's justice or those pending a trial or verdict.
Amnesty bill
The bill aims to exculpate events related to the "preparation, organization, call, funding, favoring, promotion, execution and holding" of the November 9, 2014 unofficial independence vote and also of the October 2017 referendum.
Pro-independence lawmakers have also included referendum-related protests in the street after October 2017.
The crimes included in the proposed legislation are those of rebellion, sedition, against public order, breach of official duty, falsification, misuse of public funds, disobedience and unauthorized disclosure of classified information.
Dejudicialization of a political conflict
During the event in which the bill was presented, JxCat's candidate in the upcoming election, Laura Borràs, said that they are aiming to correct the "biased interference" of justice in a political issue.
As for ERC's Marta Vilalta, she said that amnesty is "the first step" to dejudicialize politics and build a democratic solution to a political conflict.
Natàlia Sànchez, a CUP MP, welcomed the "broad commitment" achieved by the independence camp over the amnesty.