Catalan government calls for coronavirus relief fund from Spain
Vice president requests €4 billion from Spanish government to cover health costs and help rebuild economy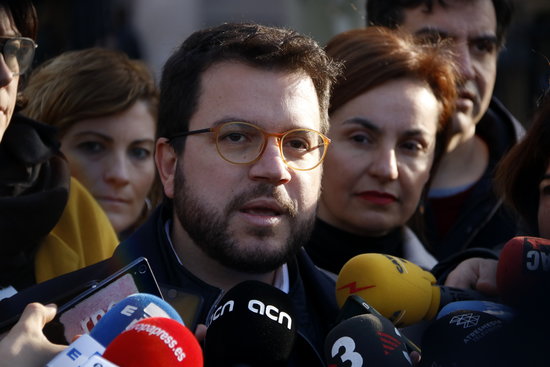 The Catalan government has called on Spain to create a Covid-19 relief fund for regions to finance all direct spending on the coronavirus and revitalize the economy once the country is ready to get back on its feet.
With this, vice president and economy minister Pere Aragonés has requested a transfer of €4 billion from the central government directly to Catalonia.
Aragonés explained that Catalonia will ask for €2 billion to cover the expenditure on the health services arising from the coronavirus, and a further €2 billion to maintain economic and recovery policies.
The ERC figurehead will raise the proposal in a meeting on Monday with the Spanish and the rest of the regional governments and demands that the money be in no case a loan, but a direct transfer that does not generate debt. Aragonés also called for the elimination of the deficit limit.
Larger GDP drop for Catalan economy
The figures for Catalonia have not yet been released, but the Catalan government estimates that GDP will fall 8.8% this year in the worst-case scenario, with the unemployment rate skyrocketing from 10% to 18%.
Aragonès, announced the estimations on Thursday, shortly after the GDP drop in Spain was known, and called it a "historic slump" not seen in Catalonia since the Spanish Civil War (1936-1939).
"We hadn't seen a fall of this magnitude in recent decades," the vice president claimed.
Even the less pessimistic estimates suggest that this year the Catalan economy will shrink by at least 7.6% and the unemployment rate will go up to 17%.
However, the government also predicts a strong recovery next year, with GDP rising somewhere between 5.1% and 6.5%, with the jobless rate between 14.2% and 15.9%.