Spain in state of alarm due to coronavirus from Saturday
Pedro Sánchez announces the measure after the rate of infected in Spain continues to grow exponentially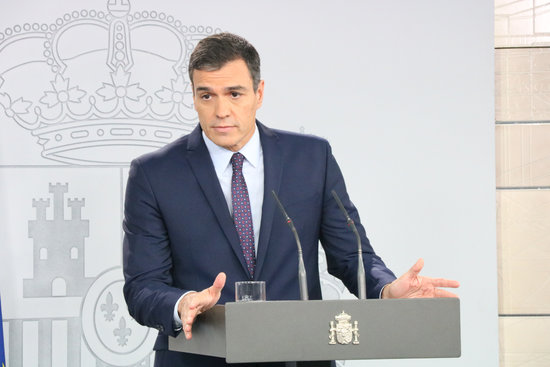 The Spanish government has declared a state of alarm in the country from Saturday, following the exponential growth of confirmed coronavirus cases in the country.
The state of alarm will see authorities limit the free movement of people throughout the territory of Spain and take all steps required to guarantee the supply of food to all areas of the country.
In Spain there are now over 4,000 confirmed cases, while the latest available figures show more than 300 covid-19 patients in Catalonia.
The state of alarm will be in place for 15 days. This is the second time during democracy in Spain that the state of alarm has been declared.
Measures involved in the state of alarm can include the government prohibiting the movement of people or vehicles at specific times, practice searches of all kinds of goods, intervene with and temporarily take over industries and factories, limit or ration the use of services or the consumption of basic necessities, and issue the necessary orders to ensure the supply of the markets.
The first time a state of alarm was enforced in Spain since the Constitution came into force in 1978: to "normalize the essential public service of air transport" on December 4, 2010, after air controllers across the country went on a strike without notice.
Pedro Sánchez says that the Spanish government will mobilize all sort of resources tomorrow, Saturday, "to better protect the public health," including civil and military resources as well as public and private ones.
The Socialist leader urges citizens to "avoid contact" and recommends staying home, calling such safety measures "heroism."
"We will stop this virus together," he added. The specific measures for the state of alarm will be announced on Saturday.