Mental health, the forgotten symptom of the pandemic
Professionals urge more investment from government into sector as 28% of population suffered from anxiety in first wave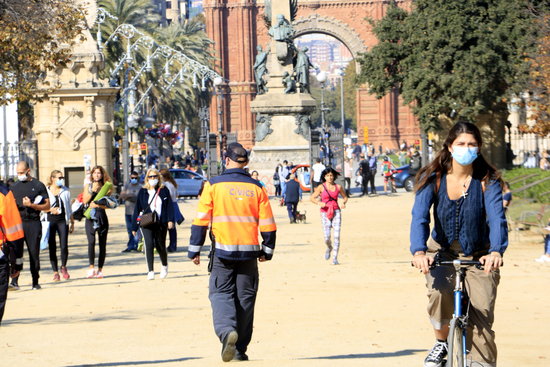 The coronavirus and the lockdowns that have ensued have had large impacts on the mental wellbeing of the general population.
Alba Vergés, the health minister, in parliament on Thursday predicted that during this second wave "the demand on mental health will be large."
Due to this, the health department states they are elaborating a plan to account for more demand in the coming months.
This comes after the WHO announced in October that most countries did not have the capacity to deal with the oncoming mental health crisis due to the consequences of the pandemic and confinements.
Rafael Penadés, a psychologist and member of the Psychologists' Association COPC, said in an interview with Catalan News that studies showed that the second wave has already seen higher levels of anxiety amongst the general populations than the first.
During the first wave 16.5% and 28.8% of the general population suffered from depression and anxiety respectively.
Unemployment
The uncertainty of the past few months has been compounded by the current socio-economic situation. In October, the levels of unemployment in Catalonia were the highest they have been in four years.
Penadés explained that, compounded with the other effects of the pandemic, "people who have lost their jobs, or are in a position in which they might lose their job" are particularly at risk as this could worsen pre-existing pathologies.
Lack of diagnoses
Moreover, mental health professionals worry that people's problems are going undiagnosed.
"For fear of infection people have not gone to the health system and they will end up arriving later and with more intensity." warns psychologist Jordi Blanch, the Catalan government official in charge of mental health policies.
Organizations cry out for support
Due to this, the foundation Salut Mental Catalunya urged the government this past month for more investments and better coordination to fight the aftermath of this global crisis.
Forum Salut Mental, an organization composed of more than 1000 mental health entities, at the same meeting urged for more detail of the government's plan regarding the mental health sector.
Healthcare sector
Health care workers have also been disproportionately affected by Covid-19's impacts.
25% of medics are considering quitting due to the impact of pandemic on their physical and mental health.
Help available
These growing levels of anxiety have forced some action in the Catalan mental health sector. In Barcelona, a suicide helpline was set up in August which received 130 calls within its first month of opening.
If you or someone you know is struggling it is important to reach out for professional help, below you can find links for resources and support:
Activitat per la salut mental - list of all support groups in Catalonia: http://activatperlasalutmental.org/lactivat/el-circuit-activat/grups-dajuda-mutua/
Barcelona suicide helpline: 900 925 555
Barcelona Network of English-speaking therapist: http://www.barcelonanest.com/
Forum Salut Mental - all the entities that make up the charity: https://forumsalutmental.org/ca/entitats
Salut Mental Catalunya - highlights different types of help available: https://www.salutmental.org/que-fem/acompanyament-a-les-persones/