Three vaccines, three curfews, new president, pardons for leaders: 2021 in Catalonia
Past twelve months marked by pandemic, but Catalan election, riots, and Leo Messi's departure also highlights of year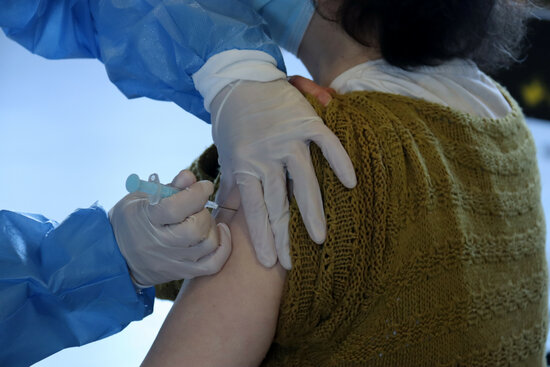 It's been another eventful year in Catalonia. 2020 was marked by the pandemic and the ensuing health and economic crises, but 2021 struck a slightly more optimistic note, as the world began to bounce back from those extremely difficult situations.
We now understand the nature of the Covid-19 virus slightly more in 2021 than we did in 2020, although this must be nuanced with the fact that new variants always have the potential to disrupt our society in ways that we thought were behind us.
From the ups and downs of the evolution of the pandemic, to the turbulent world of politics, let's look back at some of the biggest stories of the past year that defined what 2021 was in Catalonia.
January 9-11 - Storm Filomena
Parts of Catalonia were hit with up to 60cm of snow, as Storm Filomena also brought power cuts for thousands, disrupted travel, and freezing temperatures as low as -34.1°C in one unofficial weather station in the Pyrenees.
February 14 - Catalan Election
The Catalan election, called after the removal of former president Quim Torra from office, was originally scheduled for February before parties agreed to postpone it to May due to coronavirus fears. However, legal technicalities in the agreement to push the vote back three months meant that it had to be held in the winter amid the third wave of the pandemic.
Polling staff wore full personal protective equipment and were offered Covid tests, and in the end, the election had the lowest turnout since Catalan elections were held, at 51.2%.
The Socialist party just about edged victory in an extremely tight vote, but combined, pro-independence forces were able to extend their parliamentary majority and for the first time, surpassed half of the ballots (51.16%). ERC got slightly more votes than Junts per Catalunya, meaning ERC were now in the driving seat to lead the independence movement in Catalonia.
February 16 - Pablo Hasel protests
Just days after the election was held, Lleidan rapper Pablo Hasel was arrested and imprisoned after being sentenced to serve over two years in prison for the content of lyrics and tweets that were deemed to be "glorification of terrorism" as well as slandering the crown and Spanish law enforcement.
The arrest and imprisonment sparked over a week of protests, unrest, and clashes between demonstrators and police reminiscent of the riots that were seen in 2019 when the leaders of the independence referendum were sentenced to lengthy prison terms.
March 27 - 5,000 attend concert
In the early stages of the vaccination campaign, 5,000 people attended a concert for the first time in a year with no social distancing. Love of Lesbian performed in Barcelona's Palau Sant Jordi as part of a trial to see if cultural events could go ahead in a safe manner. All fans in attendance took antigen tests on the day of the gig and everyone wore face masks as well. In the end, no evidence of transmission was detected at the concert, and the cultural events we have been able to enjoy since have often replicated these same conditions.
May 9 - State of alarm ends
In late 2020, the Spanish government announced a 6-month state of alarm, which let regional authorities put pandemic restrictions in place that would, without the exceptional measure, have infringed on fundamental rights and freedoms. After 195 days, the second pandemic state of alarm came to an end, and with it, the nightly 10 pm curfew that had been in place in Catalonia.
At the same time, establishments such as bars and restaurants were then able to extend their opening hours into the evening and overnight our society and health crisis management plan looked very different, resembling something slightly closer to pre-pandemic normality.
May 21 - Aragonès named president
After months of talks after February's election and one earlier failed bid, Pere Aragonès was finally named 132nd president of Catalonia. The Esquerra Republicana politician was sworn in three days later to become the first head of government from the ERC party since the return to democracy.
The pro-independence force set up a cabinet with Junts party despite its never-ending discrepancies over the way ahead in their common goal of a split with Spain.
May 27 - Three convicted for 2017 terror attack
In May, three men linked to the cell that carried out the 2017 terror attacks on Barcelona's La Rambla boulevard and in Cambrils were sentenced to prison sentences of between 8-53 years. The decision from Spain's National Court brought an end to the legal procedures following the 2017 attack that resulted in 16 people losing their lives, pending potential appeals.
June 23 - Independence leaders pardoned
After much campaigning and deliberation, the Catalan leaders sentenced for their roles in the 2017 independence referendum were given pardons by the Spanish government and were able to walk free from their cells. The nine politicians and activists had spent a total of three and a half years in prison, and were allowed to leave as the Socialist-led Spanish cabinet wanted to foster social reconciliation after years of political division.
August 8 – Messi and Barça part ways after 21 years
Leo Messi was reduced to tears on August 8, when he unexpectedly faced a goodbye press conference, where Barça and the best player in the world parted ways with apparently none of the sides wanting it. FC Barcelona's weak financial situation and salary cap in La Liga frustrated keeping the Argentinian star, who ended up moving to Paris Saint Germain.
September 1 – most tolls lifted
The night of August 31 into September 1 was one that witnessed very unique celebrations: drivers across the country partied in tolls of the AP-2, AP-7, C-33 and C-32 motorways as they became free after half a century. Decades of protests resulted in authorities terminating most toll concessions.
September 8 - Barcelona airport expansion plans shelved
The debate over expanding Barcelona airport has lasted months, if not years, and came to a head this year when the airport authority's five-year budget allocation plan was about to move into a new cycle, meaning plans needed to be confirmed or shelved for at least another half-decade. Eventually, Spain decided that the €1.7 billion plans to extend a runway and build a satellite terminal would not go ahead, lacking political consensus, and surrounded by environmental concerns.
September 11 - National Day rally
In 2020, pro-independence supports could only take part in decentralized celebrations of Catalonia's National Day, but this year, a large-scale march through Barcelona was organized once again. Between 108,000-400,000 people, depending on the source counting the numbers, marched from Plaça Urquinaona down Via Laietana and across toward the Estació de França train station. However, the turnout was undoubtedly lower than the peak of the mid-2010s.
September 15 - Dialogue table resumes
The Catalan and Spanish governments resumed talks over the independence issue in September. The dialogue table, part of the agreement between the Socialists and ERC to facilitate the formation of the current Spanish administration, met in September for only the second time and first since the pandemic began, and agreed to favor "progress over deadlines." Yet, no more public meetings have been held yet and Junts, junior government partner in Catalonia, is reluctant to continuing with the talks.
September 23 - Puigdemont arrested
Carles Puigdemont, the president of Catalonia at the time of the 2017 push to split from Spain, was arrested on the Italian island of Sardinia in late September. In late 2017, fearing arrest, he left Catalonia and eventually ended up in Belgium, where Spanish authorities had tried for years to have him extradited unsuccessfully. Yet, with European arrest warrants still active, and the status of his immunity as an MEP going back and forth in European courts, Italian police detained the referendum leader the weekend he attended a cultural event in Sardinia. He was later freed, with Italian courts eventually provisionally suspending the extradition process against him.
October 8 - Nightclubs reopen
With pandemic indicators low, nightlife was allowed to reopen their indoor spaces after being shut for almost the entirety of the pandemic. Nightclubs were one of the last sectors affected by restrictions to help curb the spread of the virus, and with their reopening, very few measures were now in place affecting Catalan society in early October. Yet, in late December, they were forced to close again.
November 23 – Spanish language quotas in Catalan schools imposed
Catalan language and the decline in its use has concerned many in 2021 – and a Supreme Court decision to impose a 25% Spanish language quota in all Catalan schools has contributed to the concerns. For four decades, Catalonia has implemented a Catalan language immersion system in classrooms to make sure all children learn the language – taking into account they will also learn in Spanish because it is the main language in society –. The court's decision poses a risk to this system, but the Catalan government has so far ignored the magistrates.
December 8 - Sagrada Família gets new star
What will go on to become the Sagrada Família's second tallest tower once the iconic basilica is complete, the Virgin Mary tower, was finally finished late in 2021. The feast day of the Immaculate Conception served as the perfect day to light the star that sits atop the tower.
December 20 - New measures as pandemic situation worsens
A new coronavirus strain emerging in November complicated life for us all very quickly. Just before Christmas, the Catalan government announced a tightening of measures in order to deal with the emergence of Omicron, including closing nightlife, reinstating the curfew – the third in the year after one affecting some towns in summer –, and capping social gatherings at 10. Only at the early stages of this sixth wave of the pandemic, we have already seen record highs in many pandemic metrics, including new daily cases, 14-day incidence rate, outbreak risk, and others.
While primary care centers are increasingly busy, vaccinations have contributed to avoid hospitals coming to a standstill. Indeed, 76.3% of the whole population are fully jabbed, with a quarter having received the booster shot.
December 23 – Soaring electricity prices
The cost of electricity began to soar in July, when a record high price dating back to 2012 was broken – and since then, new all-time highs have been in the headlines almost weekly. The latest one, on December 23, when electricity skyrocketed to €383MWh, eight times more than twelve months before and contributing to an also record-high inflation. Low natural gas reserves, as well as an overreliance on more polluting electricity sources incurring hefty CO2 emissions rights are largely behind this increased market volatility.