New Covid measures: 10-person gatherings, curfew, closure of nightclubs and capacity limits
Catalan government announces new restrictions as Omicron fuels surge in cases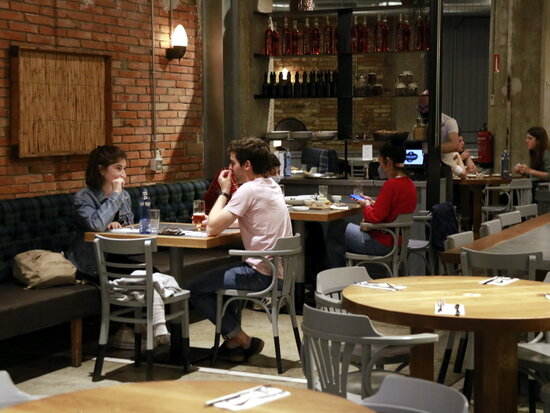 Catalan authorities announced new measures on Monday evening in an effort to stop the relentless spread of Covid-19.
Gatherings will be limited to 10 people, there will be a curfew from 1 am to 6 am in municipalities with over 10,000 inhabitants and an incidence rate of over 250, the nightlife sector will be forced to close, and new capacity limits will be put in place: 50% in indoor seating areas of restaurants and 70% in gyms, cultural venues, and stores.
As the cap on gatherings and curfew limit individual rights and freedoms, the request to implement them must be approved by the High Court. If given the go-ahead, they will come into effect with the other measures on Thursday at midnight and remain in place for at least 15 days.
"We are worse off now than we were exactly a year ago," said government spokesperson Patrícia Plaja, adding that it was essential for people to limit social interaction. According to her, if measures are not put in place, "the effects will be more damaging for public health than restrictions will be on the economy."
And although the vaccination campaign has reduced the odds of requiring extensive medical care, the sheer spread of the virus due to the Omicron variant has led to increased pressure on the health care system, which will no longer test close contacts. There are currently over 300 Covid-19 patients in ICUs across Catalonia, occupying around a third of their capacity.
Covid-19 in Catalonia
As of December 19, 2021, official figures, released daily on this website, state there have been 1,123,573 confirmed Covid-19 cases (PCR tests and others including antibody tests), and a total of 24,306 people with or suspected to have had the virus have died.
6,190,005 residents have been given the first dose of the vaccine, 78.1% of the total population. Out of those, 5,383,760 have also been administered a second dose (68.1% of the total population). 6,028,115 residents are considered to be fully immunized (75.8%), while 1,425,122 have received boosters.
Under 65s who have already had the virus are only required to have the first dose, and others have received a single-dose jab. Therefore, the % of two doses administered and % fully immunized do not match.