Why Puigdemont has been arrested and why previous attempts to extradite him failed
Belgian and German courts have never accepted handing former president in to Spain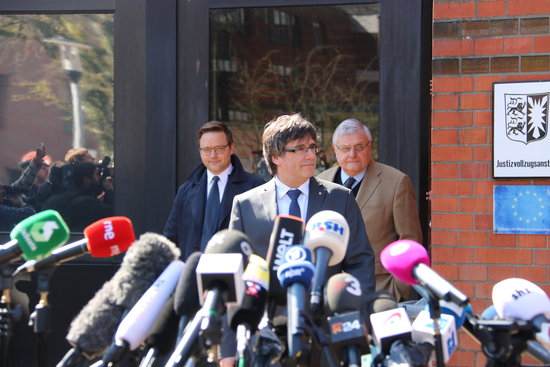 Schleswig-Holstein, Germany, March 25, 2018. Carles Puigdemont, in exile for five months after the 2017 independence push, is arrested and an extradition procedure begins with high hopes for Spain's judiciary after a failed attempt previously in Belgium.
Yet, months later, Germany's courts reject handing the politician in on Spain's Supreme Court's terms – in a nutshell, this is the story of only one of the three failed attempts to extradite Puigdemont so far.
Another episode of this four-year battle between him and the courts in Madrid began on Thursday night when the former Catalan president was arrested on the Italian island of Sardinia.
What was Puigdemont doing in Sardinia?
Puigdemont travelled to Sardinia from Brussels, his residence since October 2017, on Thursday afternoon to visit the Adifolk folklore and cultural event taking place in the Catalan-speaking city of Alghero. The former Catalan president was due to meet with the head of the autonomous region of Sardinia.
At the airport, he was met by Italian law-enforcement officials who brought him into custody. On Friday afternoon he is likely to be provisionally released but will have to remain on the island of Sardinia while judges deliberate on his case.
Why was he arrested?
This is far from clear. Spanish judicial sources say the EU arrest warrant against Puigdemont is active at the moment. However, Puigdemont's defence argues that when Spain's Supreme Court issued a request for clarification on warrants to EU courts in March to know how to proceed after several defeats, the arrest warrant was suspended.
Will he be extradited now?
On Friday afternoon, he was brought to the Court of Appeal of Sassari, which had the authority to decide whether he remains under arrest and what the next steps will be, if any, on his extradition procedure.
The former Catalan president Carles Puigdemont will be provisionally released – "probably" on Friday – pending a final decision from the court. This is according to his defence after the hearing on the politician ended on Friday afternoon.
The ex-president was accompanied by his lawyer, Gonzalo Boye, and a team of Italian lawyers, who have no doubts that he will be released. They will file an urgent request to the EU General Court in order to seek his release.
Why are Puigdemont's lawyers so convinced that he will be released?
On July 30, the EU court, pending a final decision, confirmed the suspension of Puigdemont's immunity as a Member of the European Parliament (MEP), as voted in the chamber in early March – this is the latest ruling on the matter but not its final one.
Yet, magistrates in Luxembourg argued that undoing the suspension of his immunity was not necessary as they had not "seen enough probability" that he could be detained anywhere in Europe.
Puigdemont and the other pro-independence MEPs are not exposed to "irreversible and serious harm," the court said on July 30.
In the same judge's decree, magistrates considered that the arrest warrant against Puigdemont was suspended when Spain raised its question to Luxembourg in March and suggested that the politician would be able to request his immunity to be provisionally returned again if he were detained at any time. Now, the former president's defence wants to trigger it.
But is his extradition request active or not?
While Puigdemont's defence and the EU court think it is not, the Spanish Supreme Court, the one issuing it, says it is, despite magistrates are at the moment waiting for the response of the EU court to their March 2021 request for clarification on the arrest warrants.
Gonzalo Boye said that if Spain has "lied to the European General Court," it will have to "face the consequences."
What do the Catalan and Spanish governments say?
The Catalan cabinet says his arrest is "irregular" since his arrest warrant was suspended. They think this is more evidence of Spain's "repression."
In an official statement delivered on Friday afternoon, Catalan president Pere Aragonès said that the arrest has "shown that the Spanish authorities have acted unfaithfully towards the European justice."
"It's also clear," Aragonès added, "that this doesn't help the negotiation process." The Catalan president met with the Spanish president in mid-September to kick off a new era of the dialogue table between both governments to try to solve the independence conflict.
Meanwhile, the Socialist-led executive in Madrid believes the detention "is due to an ongoing judicial procedure that is applied to any EU citizen."
"Puigdemont has to face the action of justice exactly in the same way as any other citizen."
Why Spain has been unable to extradite him so far in four years?
Because neither the Belgian nor the German courts have accepted it.
In December 2017, Pablo Llarena, the judge in charge of his case in the Supreme Court withdrew his first EU arrest warrant on Puigdemont and other exiled leaders Lluís Puig, Toni Comín, Clara Ponsatí and Meritxell Serret – he feared Belgium's judiciary would reject an extradition request for some or all the crimes he had put forward.
In spring 2018, his second attempt also failed with Belgium rejecting to hand over Puig, Comín and Serret on the grounds of "formal" errors in the request. In parallel, Germany considered that of Puigdemont. In the end, they rejected handing him in for rebellion and only did for misuse of funds. Llarena did not accept this and withdrew his arrest warrant and also that of Ponsatí, whose procedure was still in process. He also withdrew that of former MP Marta Rovira, who had exiled to Switzerland a few months earlier.
In October 2019, Llarena made a third attempt –although this time not for Serret or Rovira–, in the wake of the prison sentences for those leaders who stayed after 2017. Yet, when Puigdemont, Comín and Ponsatí were accepted as MEPs following the EU election in early 2020, their procedures were frozen by Belgian and Scottish judiciaries.
When the three had their immunity as MEPs lifted in March 2021, Llarena requested clarification to the EU court on how to issue EU arrest warrants in order to avoid being defeated again. Whilst this is still being considered by the top court in the Union, discrepancies have arisen on whether at the moment the extradition requests are active or not.
But why is Puigdemont wanted by Spain's judiciary?
He was the Catalan president in 2017 and the person who decided to go ahead with an independence referendum despite Spain not authorizing it. During his last day of mandate before being sacked by the Spanish government, on October 27, 2017, independence was declared in parliament.
Three days later, he was included in a criminal case put forward by the public prosecutor for the independence push, but while this lawsuit was announced, the very same day it was learned that he had gone into exile in Belgium.
At the moment, he is indicted in the same criminal case that led to the conviction of nine other independence leaders for the 2017 events, and the charges he faces include rebellion and misuse of funds, which could carry a number of years behind bars. Yet, his trial has not taken place because he is abroad.