No evidence of Covid-19 transmissions at 5,000-strong concert one month on, say organizers
Results of experimental Love of Lesbian gig could have implications for future events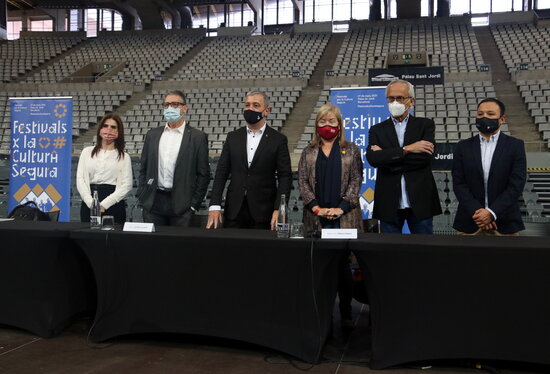 Exactly a month ago, 5,000 people attended a Love of Lesbian gig at Barcelona's Palau Sant Jordi—the first large concert in over a year.
And although spectators were not required to remain seated or socially distanced, they did have to provide proof of a negative antigen test and wear FFP2 masks as part of an experiment conducted by Festivals per la Cultura Segura and Hospital Germans Trias i Pujol.
A month later, and after tracking the number of Covid-19 cases amongst the 4,592 concert-goers who gave their consent to share this information, the pilot test organizers have determined that the gig was not a superspreader event in results that could have implications for future Covid-time festivals in Barcelona and beyond.
All in all, only 6 people tested positive within two weeks following the concert—the equivalent of an incidence rate of 131 cases per 100,000 inhabitants when at the same time, Barcelona's overall rate was 259.5.
Of these 6 cases, medical professionals have been able to establish that 4 were not infected at the March 27 event, while the origin of the other 2 remains unknown. Because of the strict health and safety measures in place during the concert, however, they believe they are unlikely to have gotten the virus there.
According to festival Cruïlla director Jordi Herreruela, one of the event's organizers, they "can now see the light at the end of the tunnel."
"There will be events this summer," Heruela affirmed. "These will take place with safety measures and with the assistance of medical professionals," he said, although he did not specify whether they would be held in the exact same manner as the Love of Lesbian concert.
Hospital Germans i Trias doctor and AIDS researcher Josep Maria Llibre agrees. "Everything will speed up from now on," Llibre stated, arguing that from a scientific perspective, as long as similar health and safety measures are put in place, gigs as big as the one a month ago or even bigger should be able to take place.
Catalan culture minister Àngels Ponsa confirmed that the government has already received requests from various organizers to host future events, but that the health and culture departments were still working on a framework to make them possible over the summer.
"We still do not have certain methodological details or know how to eventually lower the cost of mass antigen tests, but we are convinced that we will be able to," she said.