Seventh night of protests against jailing of rapper Pablo Hasel
A few dumpsters burnt down in Barcelona but intensity of march lower than first days of rallies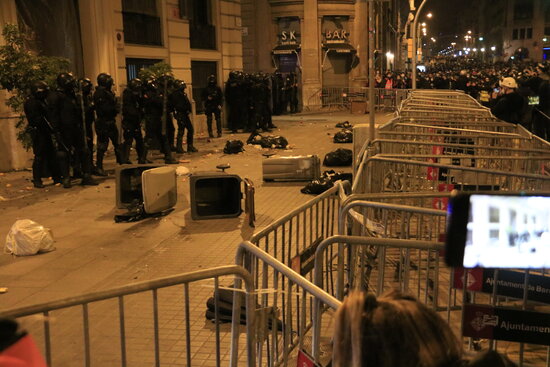 For the seventh night in a row, protests were called on Monday in support of the rapper Pablo Hasel, jailed last Tuesday for glorifying terrorism and for slander against the Spanish monarchy, police, and other institutions.
The pro-independence protest network the Committees in Defense of the Republic (CDR) led marches in towns and cities across Catalonia at 7 pm, including at the Arc de Triomf in Barcelona, and Girona's plaça Primer d'Octubre, where 200 people gathered in a march without incidents.
Barcelona demonstration
In the Catalan capital, around 500 demonstrators, fewer than other days, marched under the rain from Arc de Triomf to Parc de la Ciutadella, and then to Via Laietana.
Once outside the Spanish police station in that avenue, some threw objects such as a cocktail Molotov and glass bottles to the police guarding the building. Subsequently, the Catalan police urged them to stop throwing objects or otherwise they would launch an operation to disperse them.
Afterwards, some rally-goers reached the Eixample district and built some barricades to prevent the police from reaching them. A handful of dumpsters were burned down in Girona street, but fewer than in the first nights of protests.
At around 9.20 pm, protesters reached Gran Via avenue, where the police began a 'carrousel' - a technique to disperse crowds by driving at speed toward the group.
Demonstrators believe the musician's right to freedom of expression has been violated by sentencing him for the content of his songs and tweets. Other demands of the mainly young protesters include ending police violence as well as creating greater economic equity after a year of pandemic-related frustrations.
Police handling of riots in spotlight
A 19-year-old woman in Barcelona lost an eye to a foam bullet fired by an officer on Tuesday, during the first night of protests, and on Saturday, the Mossos d'Esquadra police charged into protesters after cornering them on Barcelona's Gran de Gràcia street.
Both events have sparked much criticism among human rights organizations, such as the Irídia group, who said the action in the Gràcia district put people "clearly at risk" because it created crowds – the NGO said some people ended up injured after the police operation.
Meanwhile, the interior minister, Miquel Sàmper, said no injuries were reported due to the incident in Gràcia and added that "only for one minute was a minimal use of force employed."
He added that the Mossos' operation aimed to avoid the vandalism and looting reported in the past few days: "The riots and what we have witnessed this week are not the right to demonstrate."
Six nights of unrest
The protests held every night since Tuesday, when Pablo Hasel was arrested in Lleida, have followed a similar pattern by beginning non-violently before eventually descending into clashes between demonstrators and police officers.
Some protesters have set dumpster barricades on fire, as well as a handful of cars and motorcycles, and thrown objects at the police, who have responded by charging at them and firing foam bullet rounds. Dozens of people have been injured in these skirmishes and many others have been arrested.
On Saturday night the Mossos d'Esquadra arrested seven people in Barcelona, five for looting and two others for public disorder.
Who is Pablo Hasel?
Pablo Rivadulla Duró, or Pablo Hasel as he is more commonly known, is a rapper from the Catalan city of Lleida who was arrested on February 16 to serve time behind bars after being found guilty of glorifying terrorism and slander against the monarchy in his songs and tweets.
How long Hasel will end up spending in prison is not yet clear as he has other ongoing legal issues, but he has been sentenced to two years and nine months for the two separate cases for which he is currently in jail.
The rapper's imprisonment has reignited the debate on freedom of expression in Spain and its so-called 'gag law' as many of Hasel's sympathizers argue it is not enforced fairly.
Follow our live updates here: