Independence leaders walk free following Spain's pardons after 3.5 years in prison
Nine politicians and activists had been found guilty of sedition for leading Catalonia's referendum push in 2017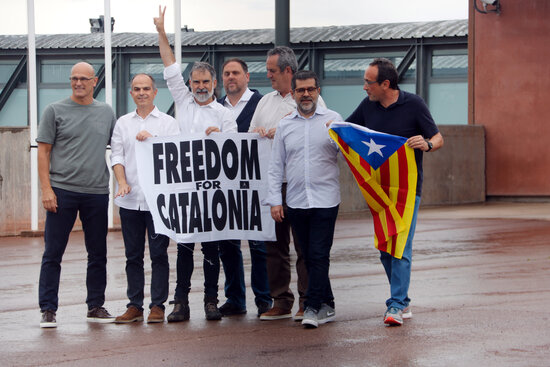 Nine independence leaders in Catalonia walked free from prison on Wednesday after the Spanish government pardoned their remaining sentence invoking the need to foster social reconciliation after years of political division.
The nine politicians and activists spent around 3.5 years behind bars, including a lengthy pre-trial detention. They were found guilty of sedition for leading Catalonia's referendum push and attempt to declare independence from Spain in the fall of 2017.
While pardons fall short of the independence movement's demands for a general amnesty and a self-determination referendum, the Catalan government has welcomed them as a measure that will help ease the pain caused by the "unfair" sentencing.
The nine leaders left the penitentiary centers of Lledoners, Puig de les Basses, and Wad-Ras on Wednesday at noon, having spent up to 1,346 days in prison, out of their sentences ranging from 9 to 13 years.