Authorities blame one another for ditched airport expansion as environmentalists celebrate
Business sector calls on Catalonia and Spain to not "lose investment" worth €1.7bn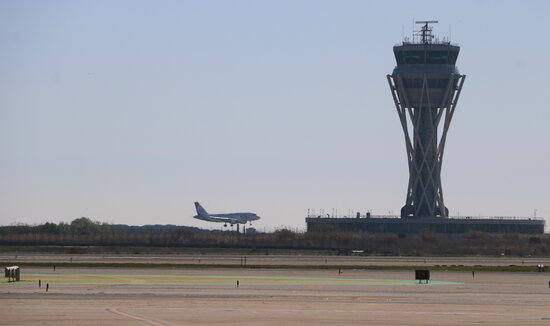 Catalan and Spanish authorities have blamed one another for the ditched plans to expand Barcelona's airport – environmentalists, on the other hand, have welcomed the decision.
After months of controversy and opposition from some locals and environmental groups, Spain's transport minister, Raquel Sánchez, announced on Wednesday evening that the project was suspended, citing lacking support from Catalan authorities.
"The deal has been broken over a lack of trust. Moving forward with a project of such magnitude is impossible without full support from the Catalan government," Sánchez said on Wednesday. "Great projects require great consensus at an institutional level."
"Once again, the Spanish government doesn't deliver on its promises to Catalonia," retorted the Catalan vice president, Jordi Puigneró soon afterward. "How are we not supposed to want independence?"
President Aragonès also accused Spain of "blackmail," adding that they "never" were truly willing to invest in Catalonia. On Thursday, he added: "They can't make us choose between investments and preserving our natural heritage."
"The way out is to have the management of the airport transferred to the Catalan administration."
Also on Thursday, Spain's cabinet member insisted that "it is the Catalan government who has broken the consensus and who has changed its stance."
Both Sánchez and Aena, Spain's public company in charge of managing airports, have said that if the project is not approved by the end of September, the plans will now be postponed for five years until the next five-year Aena investment program begins in 2026.
She also suggested that there will not be any extra public spending in Catalonia to use the amount now frozen.
Agreement and split within a month
The Catalan and Spanish governments agreed to expand the facility on August 2, including building a new satellite terminal and extending one of the existing runways.
The plan also foresaw connecting the Barcelona - El Prat airport with those of Girona and Reus, in the north and south of Catalonia, respectively, with a high-speed railway line.
Yet, on September 3, Aena's final plan for the expansion, which explicitly made mention of construction in the La Ricarda lagoon nature reserve area, was revealed – while Spain said this was already in the August 2 deal, Catalonia said this was not true, demanded explanations, and called for an amendment to the planned expansion.
The day after, the Catalan executive sent a "shared" message that it would not endorse any proposal to expand Barcelona-El Prat Airport that "destroys" the adjacent La Ricarda lagoon.
On Tuesday this week, environmental groups called for a protest on September 19, and the Catalan government spokesperson anticipated that some cabinet members could attend. This move was one of the reasons mentioned by Spain's transport minister for suspending the project.