What next in independence leaders' extradition cases after latest EU court ruling
Myriad interpretations of nuanced decision but Belgium's stance on expected new arrest warrants still unclear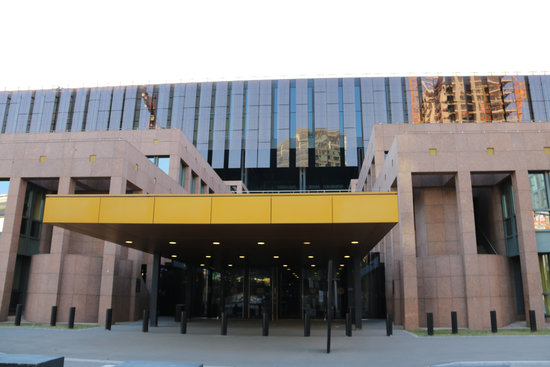 The extradition cases of the four Catalan independence leaders who went to Belgium in exile right after the 2017 independence push is still ongoing over five years on, and while the European Court of Justice ruling on the matter on Tuesday marks an important step in the story, it guarantees that the issue will go on for a significant amount of time, rather than delivering a conclusive statement to close the case one way or another.
In a very nuanced decision, pundits, political parties and institutions have made interpretations of all kinds, sometimes coming to contradicting conclusions, ranging from former president Carles Puigdemont and the independence camp claiming victory to the Spanish government and unionist bloc saying the exiles are now closer to be extradited.
Here's a quick question and answer with the very basics to understand where we are and what may come next:
Who are we talking about and why they are wanted in Spain?
This case involves the former Catalan president, Carles Puigdemont, and former ministers Toni Comín, Clara Ponsatí and Lluís Puig. They were all members of the 2017 Catalan government, the one that organized an independence referendum in October 2017 without Spain's permission and made a subsequent declaration of independence.
While some of their colleagues in cabinet stayed in Catalonia and were jailed for over three years until pardoned for their role in the 2017 independence push, these four politicians went to Belgium in exile. Spain wants their extradition on misuse of public funds and disobedience charges.
Why haven't they been extradited?
Because judiciaries in several countries including Belgium, Germany, Scotland and Italy refused their extradition on the terms the Spanish Supreme Court wanted in some cases, and because Spain's judges withdrew the European arrest warrants in other cases, in order to avoid a likely refusal.
So then, why are the cases still open?
Belgium refused to extradite Lluís Puig in their final decision in January 2021, but two months later, Spanish Supreme Court judge Pablo Llarena asked the European Court of Justice whether the arguments used to reject the extradition were lawful – these included saying Spain's Supreme Court is not the appropriate authority in the case and that handing him in would pose a risk to Puig's fundamental right to a fair trial. Therefore, while Puig is not now facing an extradition request, Llarena intends to issue a new one and that's why he asked the EU court about it.
In parallel, Belgium has not ruled yet on Spain's third attempt to extradite Puigdemont, Comín and Ponsatí – after two failures in December 2017 and July 2018 – because it put their cases on hold after they gained immunity when they were elected MEPs after the 2019 European election.
OK, so Puigdemont, Comín and Ponsatí are safe as long as they are MEPs, right?
No, not really. Judges in Madrid requested that the EU parliament suspend their immunity due to their ongoing judicial case and MEPs agreed to this request in March 2021. But, Puigdemont's defense team appealed the decision, arguing irregularities.
At the minute, the MEPs provisionally still have their immunity, but the European Court of Justice will say in the near future whether they can keep that immunity or not – if so, not only would their extradition cases likely remain on hold, but their defenses have suggested they may even be able to set foot in Catalonia again.
I think I'm still following! So, what happened today? The EU court answered the questions posed by Llarena in March 2021, is that it?
Yes! They took their time… What the EU court said, without explicitly referring to any country, is that, in principle, Belgium cannot deny an extradition request on the grounds that they believe Spain's Supreme Court is not the appropriate court to try Puig – it also applies to the others –, as they did.
There's a 'but' to make things easy, right?
Indeed. So Belgium cannot make the same argument as before, unless they provide better grounding. Actually, on a sole condition: the EU court would accept it if Belgium was able to prove with objective and accurate data that there is a real risk of infringement to the fundamental right to a fair trial for Puig and the others, "on account of systemic or generalized deficiencies in the operation of the judicial system of the issuing Member State or deficiencies affecting the judicial protection of an objectively identifiable group of persons to which the person concerned belongs."
Hmm?
That is, if Belgium proves that Spain is consistently affecting the right to a fair trial for the Catalan independence leaders or campaigners, as some have interpreted. Whether Belgium will try to do that is not for me to answer!
Could the UN Working Group on Arbitrary Detention report calling for the release of the leaders who did not leave the country and ended up in jail work as evidence?
Belgium used that report to argue that Puig's fundamental rights could be at risk if extradited. But while Luxembourg judges say it can be taken into account, they suggest the UN working group's report is not enough.
I see. So, what may happen now?
After everyone digests this not-100%-crystal-clear ruling, it is quite reasonable to think that in the coming days or weeks Spain's magistrate Llarena will issue a new European arrest warrant for Puig, on misuse of public funds and disobedience charges – maybe also for aggravated public disorder, as the public prosecutor has request. This is the crime that has replaced the sedition, stripped from the penal code some weeks ago.
This way, both Llarena and the rest of us will find out if Belgium will now act differently after the recent ruling, which is the key thing now.
But can the Supreme Court issue a new arrest warrant if Belgium has already said 'no'?
According to the EU court ruling today, yes, they can, as long as it's proportionate and does not infringe on Puig's fundamental rights.
Fair enough. And what about the rest?
Llarena is expected to wait until a Luxembourg decision on their immunity comes out in the near future. If judges decide to scrap their privileges as MEPs, Llarena may withdraw his extradition requests and issue new ones with Spain's updated criminal code. And if their immunity is kept for procedural issues, the Spanish magistrate will not sit still and do nothing – he may ask for a new immunity waiver.
Cool, I am now ready to follow this case from now on! Although I may need to re-read this in the next move...