Spanish court drops Puigdemont's extradition
Supreme Court withdraws European Arrest Warrants against former president and five other politicians abroad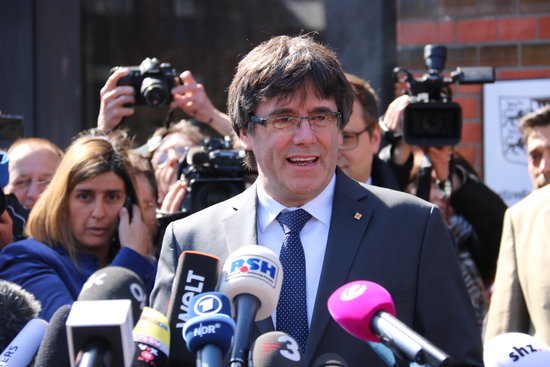 Spain's Supreme Court has withdrawn all the European Arrest Warrants against pro-independence leaders abroad, including former Catalan president Carles Puigdemont.
Spanish judge Pablo Llarena decided not to pursue the extradition of Puigdemont after the German court of Schleswig-Holstein rejected to surrender him for rebellion.
While Germany accepted to extradite the former president for misuse of public funds, Llarena rejected it, as Puigdemont could then have only been judged for this lesser offence.
Llarena pulled back EAW against five politicians seeking refuge abroad: Toni Comín, Meritxell Serret and Lluís Puig, three former ministers in Brussels; Clara Ponsatí, another former minister who was expected to attend a hearing on her extradition request on July 30 in Scotland; as well as Marta Rovira, the secretary general of ERC party, in Switzerland.
The Supreme Court is prosecuting 13 pro-independence leaders for rebellion, nine of which are incarcerated in Catalonia. Yet four of them are at the moment out of his reach abroad, including Puigdemont.
Catalan leaders are prosecuted for their role in the political roadmap that led to a referendum and a declaration of independence last October, all deemed illegal by Spain.
The extradition of Puigdemont for misuse of public funds would have led to a seemingly contradictory situation in which some politicians would face up to 30 years in jail for rebellion, while their leader Puigdemont would face a maximum of 5 years for misuse of funds.
Puigdemont to travel back to Belgium
Following Llarena's decision, the former president plans to travel back to Belgium, where he was temporarily residing before being arrested last March in Germany while he was traveling.
According to sources close to Puigdemont, he will not move back to Waterloo immediately, but will instead wait "a few days."
From now on, Puigdemont and all pro-independence leaders abroad will be free to move around European countries. If they come back to Spain, they risk being arrested and sent to pre-trial jail.
Lawyer expected decision
Speaking shortly after news of Llarena's decision came out, Jaume Alonso-Cuevillas, Puigdemont's lawyer, jokingly said: "I've lost my client."
The attorney says he expected a "phased" rejection of all criminal charges after the Schleswig-Holstein court ruled out extraditing the pro-independence leader for rebellion.