UN group renews call for release of Catalan leaders despite Spain's criticism
United Nations' Working Group on Arbitrary Detention insists seven pro-independence leaders should be freed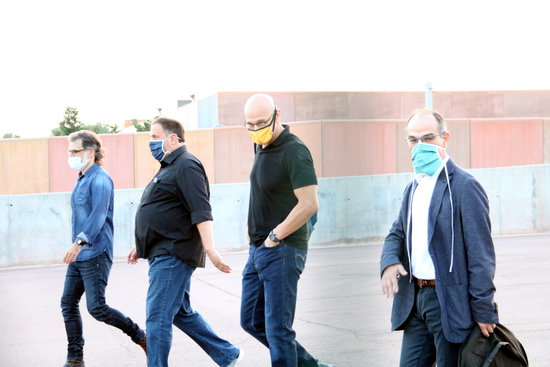 The United Nations Working Group on Arbitrary Detentions has renewed its calls for the release of Catalan independence leaders, in prison for almost three years, thereby dismissing Spain's appeal.
"No action taken to implement the opinion," reads the group's latest assessment of arbitrary detentions presented to the Human Rights Council.
In May 2019, the panel issued a first opinion calling for the immediate release of three imprisoned leaders: activists Jordi Sànchez and Jordi Cuixart, and former Catalan vice president Oriol Junqueras. The group later accepted a petition to condemn the detention of four more politicians: former ministers Josep Rull, Dolors Bassa, Joaquim Forn, and Raül Romeva.
Following Catalonia's push for independence in October 2017, including a referendum held in defiance of a judicial ban, Spain responded by sacking the Catalan government and sending its members and other independence leaders to prison.
Almost a year ago, nine Catalan leaders were convicted to prison for the crime of sedition, with former vice president Junqueras getting the harshest sentence of 13 years behind bars.
Spain accuses group of 'conflict of interest'
The Spanish government reacted to the United Nations' report by criticizing some of the group's members for having a "conflict of interest" for their alleged ties to Ben Emmerson, the lawyer who is taking the case of jailed Catalan leaders to international courts and human rights watchdogs.
Emmerson dismissed Spain's criticism and defended himself: "I have never met (or spoken) to any of the current members of [the group]. Two of them were formerly UN Special Rapporteurs at the same time as I was. Our staff members collaborated on joint letters, but I never dealt directly with either of them."