Health department against holding company Christmas parties
Government intends to oblige public to show ID along with Covid passport in establishments where certificates are necessary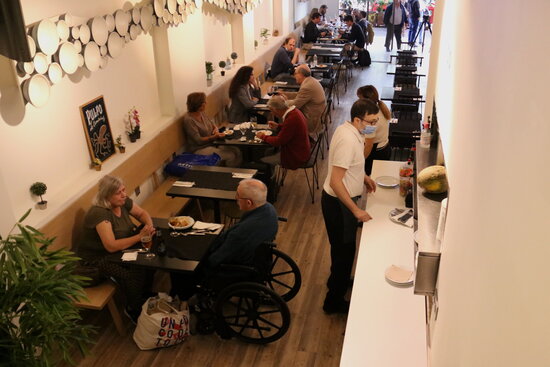 The Catalan health department is advising the public to not organize or attend Christmas company dinners, taking into account the increasingly big impact of the Covid-19 sixth wave.
In an interview with Tv3 public broadcaster on Friday, health minister Josep Maria Argimon said that such gatherings should "clearly" be avoided, as authorities believe that transmissions will continue growing for at least the coming ten days, especially after the two bank holidays earlier this week.
Yet, he also said he is not opposing Christmas family dinners and that no limits on gatherings will be imposed again.
Catalonia has extended the same restrictions for two more weeks, until Christmas Eve, beginning this Friday – indeed, the minister suggested that at least some of these measures will continue for more weeks, because he said in the near future the obligation to have the Covid-19 certificate in certain establishments will have to be proved by also showing the ID.
At the moment, a Covid certificate demonstrating proof of vaccination, recovery from the virus, or a recent negative test is required to enter bars, restaurants, gyms, nightclubs, care homes, or attend events in hotels and restaurants with indoor dance floors.
Yet, according to Argimon, children between 5 and 11 will not have to show their Covid passport at least in the coming weeks, since rollout for this age group will only begin next Wednesday – bookings will open either Monday or Tuesday.
As for the booster shots, he said the priority now is to reach everyone above the age of 60 and added that in mid-January, third doses will begin to be administered to people between 50 and 59.
Argimon also took for granted that all adult population will be eligible to receive the third dose in the coming months.
Booster shots are being given to those between 60 and 69, those 70 and over, immunocompromised people, care home residents, and anyone who received the Janssen vaccine.
Covid-19 transmissions up but restrictions not tightened
Many key Covid-19 indicators are worsening as the sixth wave of the pandemic continues to grip Catalonia.
For more on the sixth wave of coronavirus in Catalonia, including Covid certificate FAQs, travel rules, the Omicron variant and forecast for Christmas, take a listen to our recent podcast below.
The number of people hospitalized due to the virus has increased by 226 people over the past week, from 713 to 939, an increase of 30%.
Equally, the number of patients requiring intensive care has risen in tandem, from 165 to 214 in the same time period, a jump of a third.
The IA14, indicating the number of positive cases seen over the past fortnight per 100,000 population, has also increased significantly in recent weeks.
The past seven days have seen the incidence rate jump from 258 to 367. Just one month ago, this metric stood at around 63, showing a rise of almost 500% since early November.
Catalan News has published a full guide on how to get the certificates and where they are required, and another story on the measures in force.