Covid-19 vaccine rollout progress in Catalonia: graph updated weekly
On December 27, 2020, 89-year-old Josefa Pérez became first resident to receive a dose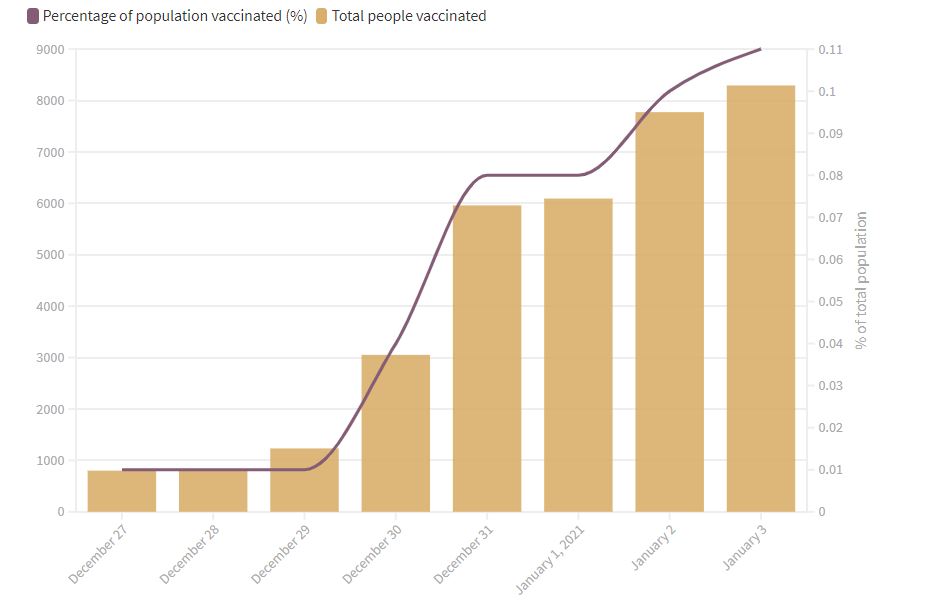 * From June 28, 2022, the Catalan public health system only updates Covid figures every Tuesday.
The Covid-19 vaccine rollout began on December 27, 2020, with a Pfizer-BioNTech dose given to 89-year-old care home resident Josefa Pérez.
That got the ball rolling on a scheme that initially prioritized care home users and workers, healthcare staff, and people with severe disabilities living at home before eventually being offered to the general population 5 and over.
Around 80% of the population has had the initial Covid-19 vaccination cycle and just under 50% has been boostered.
How can I get vaccinated in Catalonia if I do not have public health coverage?
Anyone who is registered in a municipal 'padró' census is entitled to at least basic CatSalut public health coverage, which includes Covid care and vaccinations.
You can apply for a health card here. Once you have received a CIP number, you can request access to La Meva Salut, the website and app from which medical records – including vaccination certificates – can be downloaded and health queries can be made. You will also be able to book vaccination appointments online. Vaccinations are only administered through the public health system.
To see the weekly pandemic figures, including cases and deaths, check out this page.
To read more Catalan News coverage of the coronavirus outbreak in Catalonia, see here.
The following graphs show how the rollout has evolved in Catalonia since the first dose. All figures are provided by the Catalan health department and are updated weekly.
Latest graph update: January 10, 2023, 10:56 CET
Overall vaccination rate - updated until June 21, 2022
Number of people given first doses, booster shots, and fully immunized - updated until June 21, 2022
Covid-19 vaccination progress in top priority groups - updated until June 21, 2022
New vaccinations per day (first, second, and third doses) - updated until Mar 24, 2022
Covid-19 data errors and changes
On June 27, 2021 the health department informed that the vaccination data for the previous day could not be updated, and would be added to the June 28 update in the June 27 figures.
The Catalan health department did not update data on November 13, 2021 due to "technical issues."
Data shared on January 24, 2022, shows that health authorities recorded up to 111,111 vaccines administered on January 23, 2022. However, the figure represents doses given during the two days of the weekend, and not only just for Sunday.
On March 17, 2022, the graph on Covid-19 vaccination progress in top priority groups showed 0% of primary care, hospital workers, and essential workers vaccinated. This is due to a change by health authorities grouping several priority groups together.
As of June 21, 2022, vaccination rates among the entire population, vaccination rates per priority groups, or doses administered are no longer updated.