60 to 69 age group can already get booster shots as vaccination centers reopen
Catalonia doing better than northern Europe but officials warn of worsening Covid figures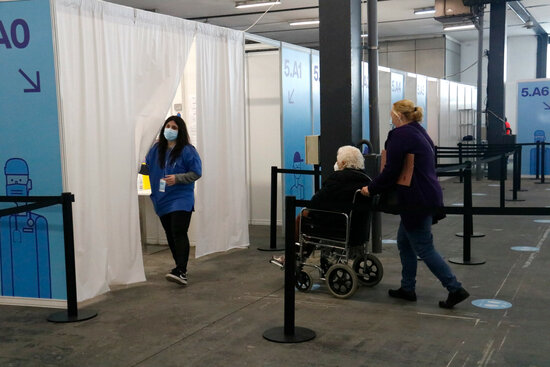 Many vaccination centers across Catalonia will reopen as they foresee an increase in appointment requests after offering boosters to more residents. The Catalan health service, CatSalut, will reopen up to 30 centers in places such as Vic and Manresa, in central Catalonia, but also in the northern city of Figueres as well as in the south of the territory.
People between the ages of 60 and 69 can now get booster shots. The online system to book an appointment is currently only open to those over 65, which should receive a text message. Residents 60 and above, who are also eligible, can go to vaccination sites to get an additional jab, but will not be able to book an appointment only for the time being.
You can find all information on where and how to get a vaccination appointment here. Getting a jab without an appointment is also possible.
Those over 60 who received AstraZeneca or Janssen will be able to get a booster jab three months after the last dose, while those who were vaccinated with Pfizer or Moderna will have to wait a minimum of six months between the second and the booster shots.
Catalonia has been giving third doses to over 70s, immunocompromised people, care home residents, and anyone who received the Janssen vaccine since September 17, 2021.
Health authorities are studying when to give boosters jabs to people between the ages of 40 to 59.
Residents who were fully-vaccinated outside of Catalonia, and now reside in the territory, will have to wait until their age group is eligible to receive the booster jab, but authorities have confirmed that they will be able to receive it.
Public health secretary Carmen Cabezas said that all of the booster shots will be Pfizer or Moderna and that previous vaccines will not determine the kind of third dose received. If using Moderna, however, health workers will only administer half-a-dose as it has a higher amount of mRNA than Pfizer.
"Third doses are contributing to have better health conditions in Spain compared to northern European countries," said secretary Cabezas.
Weather is also a key factor as the "south is warmer" and people spend more time outdoors but authorities are paying attention to Covid figures as they continue to worsen.
Catalan health minister Josep Maria Argimon expects Covid cases to continue rising for another two weeks at least. On Wednesday, it was also reported that the Omicron Covid-19 variant is already present in Catalonia as it has been detected in wastewater.
Mandatory Covid-19 passport
A Covid-19 certificate will be required in bars, restaurants, gyms, sports centers and to visit elderly care homes in Catalonia from midnight on Thursday.
The extension of the restriction already in place in nightclubs was postponed on Friday 26, only a few hours after coming into force as the La Meva Salut website crashed after hundreds of thousands of people attempted to download certificates en masse.
Craywinckel asked "citizens to help other residents who cannot [access La Meva Salut] to download the Covid-19 certificate." It is also possible to get a printed copy at any vaccination point, but not at primary care centers (CAP).
Non-European visitors will be allowed to show their national Covid certificates if they were valid for entry into Spain, despite not having a QR code that local establishments can scan.
Unvaccinated people in ICUs
The sixth wave, as said by Cabezas, "is increasing Covid cases but does not have a huge impact on ICUs as previous Covid waves."
The senior health official said that "unvaccinated people over 50 are 3.2 times more likely to be hospitalized and 6.2 times more probable to end up in an ICU," as opposed to vaccinated residents.
People under 50 who are vaccinated have 2.3 times more chances of being hospitalized and a 4.2 more risk of requiring ICU care compared to those who are vaccinated.