Covid-19 certificates: how to get them and where they are required in Catalonia
Passes are no longer mandatory to enter establishments in Catalonia such as bars, restaurants, and nightclubs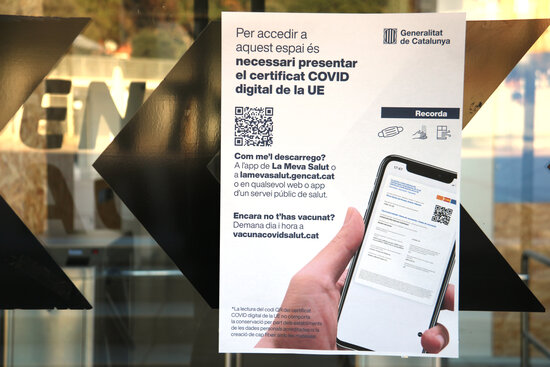 The EU Covid-19 certificate has been in operation since July 1, 2021, and it is currently only needed for travel as it is no longer required for entry into bars, restaurants, sports centers, care homes or nightclubs in Catalonia.
Here's a guide to the basics of the certificates – do not hesitate to contact Catalan News on social media or via email at catalannews@acn.cat for any questions not covered in this article, as it will be useful for us to expand this story.
Last updated on February 22, 2022, at 6:00 pm CET.
What kind of certificates are accepted in Catalonia?
Valid certificates are those proving full vaccination against Covid, a negative PCR or antigen test, or recovery after contracting the virus and testing positive with a PCR or, as of February 22, 2022, an antigen test performed by a professional. Recovery-based certificates can be retroactively issued for antigen tests dating from October 1, 2021.
Are only EU Covid certificates accepted?
No, the Covid certificates issued in the EU are not the only ones accepted. The Catalan government accepts certificates "issued by a public health service" that confirms any of the three situations above.
Talking to Catalan News, the health authorities refer to a list of 24 non-EU countries and territories who have joined the EU digital Covid certificate system, meaning their documents are also accepted in Catalonia and the rest of the EU, and vice versa: Albania, Andorra, Armenia, Switzerland, Faroe Islands, Georgia, Israel, Iceland, Liechtenstein, Moldova, Monaco, Morocco, New Zealand, North Macedonia, Norway, Panama, San Marino, Serbia, Singapore, Togo, Turkey, Ukraine, the United Kingdom, and The Vatican.
The same sources say that "Catalonia facilitates the EU covid digital vaccination certificate to all residents in Catalonia that have been vaccinated in another country" also add that they follow the EU general guidelines, which state that those with jabs approved by WHO but not the EU will also need a negative PCR to enter the Union.
Catalan public health official Montse Martínez said in an interview with radio station Rac 1 on November 26 that those with passes not issued by the EU will have to show their certificate from their home country and their ID, that way they will be also valid. Yet, Catalan News understand this only applies to the establishments in the country requiring it, not necessarily for traveling.
Do they expire?
Yes – the expiry date of each certificate is indicated on the certificate itself. The pass for those who have been fully vaccinated is valid for 9 months.
The recovery one lasts six months, meaning that if not vaccinated half a year after having the virus, you will not have a certificate covering you.
As for the pass showing a negative test, it lasts 72 hours if it is with a PCR test and 48 hours if it is from an antigen test.
Where can I get the vaccine?
You can find all information on where and how to get a vaccination appointment here. Getting a jab without an appointment is also possible.
What places can I undergo a Covid test in order to get the certificate?
You can get a Covid-19 test any time in any of these centers.
Additionally, if you feel like you need to get a test for health reasons – such as feeling symptoms or if you're a close contact of someone who tested positive – then you can also get a test in any public health center or hospital.
Where will I be required to show one of these certificates?
Certificates will be needed to enter Spain by air or sea. As of November 21, arrivals from any EU/EEA country will require to show such Covid passport, as well as the vast majority of the remaining countries in the world. For an updated guide, check this website.
If you travel abroad, they are also very likely to be needed. Check out this official EU website for information on the requirements in each EU member state and also this Spanish government website with updated information worldwide per country.
How can I get the certificate if I've been vaccinated in Catalonia, tested negative, or recovered from Covid?
If you are in the Catalan public health system and own a health card (CatSalut or TSI), you have to enter the La Meva Salut app or website and you will be able to download the certificate there.
If you're not in the public health system but eligible, the fastest way is to register in the system – but if not eligible to access public health here but you still managed to be vaccinated in Catalonia, you may have a hard time getting your pass as authorities often struggle to provide it in this case. Here is our explainer on ways to get around it.
What if I'm not registered on La Meva Salut?
In this case, you can still download your EU Digital Certificate on the Vacunacovid CatSalut portal. You will still have to be registered in Catalonia's public health system and have a medical card, however.
If I live in Catalonia but was vaccinated somewhere else, will I be able to get an EU Covid certificate?
Yes. In this scenario, you'll have to go to your local primary care center (CAP) with documentation showing your vaccination and ID. The document must include all the information required for registration and must be validated by a healthcare professional. This will also only be possible if you've been vaccinated with a jab that is approved by the World Health Organization (WHO).
Can I get my certificate printed?
Yes, for those who require assistance if they have no knowledge of acquiring a digital certificate, it is possible to get yours printed at your local primary care center (CAP).
Can I have the certificate of vaccination if I only got one dose?
Yes, but only if you got the Janssen vaccine, which requires only one jab, or if you got the virus and then got only one dose (something only possible at least two months after getting the virus). Your certificate will say 1/1, but if it does not, check with your nearest primary care center – otherwise, another dose will be needed so that the document is valid.
Can I travel abroad if I got only one dose after getting Covid?
Catalan health public official Montse Martínez said on November 26 that in the case of the US, they require a second dose even if the individual has been infected, as do the UK and Canada.
How can I check if a certificate is valid?
If you want to check your EU Covid passport or are a business obliged to verify your customers' passes, you can use the website: https://verificacovid.gencat.cat/.
Are only the digital certificates valid?
No, you can show your certificate on your phone but also its printed version, as long as it shows the QR code if it is a pass issued in the EU.