Hospitalizations due to Covid up 30% in the last week
Over 200 further people have required medical care from coronavirus, with ICU patients also up by a third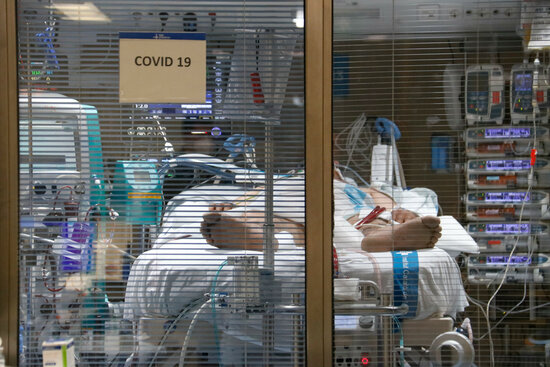 Many key Covid-19 indicators are worsening as the sixth wave of the pandemic continues to grip Catalonia.
The number of people hospitalized due to the virus has increased by 211 people over the past week, from 694 to 905, an increase of 30%.
Equally, the number of patients requiring intensive care has risen in tandem, from 148 to 198 in the same time period, a jump of some 33%.
The IA14, indicating the number of positive cases seen over the past fortnight per 100,000 population, has also increased significantly in recent weeks.
The past seven days have seen the incidence rate jump from 258 to 374. Just one month ago, this metric stood at around 63, showing a rise of almost 500% since early November.
The transmission rate, currently 1.33, has remained quite stable over the past month barring a slight increase in mid-November when a high of 1.56 was seen on November 15.
Catalonia's outbreak risk is now approaching 500 (489 as of December 8), having grown from 341 one week ago and from 228 two weeks ago.
An outbreak risk of above 100 is considered to be 'high' risk and authorities deem anything above 200 'very high' risk. It is calculated using an iEPG index, which is found by multiplying the average spread of the virus over the past seven days by the cumulative incidence over the past two weeks.
Podcast
For more on the sixth wave of coronavirus in Catalonia, including Covid certificate FAQs, travel rules, the Omicron variant and forecast for Christmas, take a listen to our recent podcast below.
New case profile in 6th wave
Most of the new cases and hospitalizations during this 6th wave of the pandemic tend to be among the unvaccinated population.
Catalan health department figures on those who required hospitalization due to the virus in November show that 9.5 of 100,000 unvaccinated inhabitants aged 12 or more had spent time in ICUs last month – a figure that dropped to 2.3 among the vaccinated.
The difference is even wider for those aged 50 and older, who are six times more likely to end up in ICUs if they refuse to get a jab – 27.2 of every 100,000 unvaccinated inhabitants in this age range needed ICU care, far more than the 4.4 per 100,000 vaccinated in the same age range.
The trend is similar among those in regular hospital beds in November. There were 2.3 times more unvaccinated people in hospitals, a figure that rose to 3.2 times more for those aged 50 and above.
As for ages, the trend in the sixth wave in Catalonia is clear: children under 12, who have not yet been eligible to get the vaccine, have the highest transmission rates.
As of December 5, the average incidence rate over 14 days (IA14) was 374.77 per 100,000 people, but it was almost twice as high among the 0-9 age group (618). Among 10- to 19-year-olds, which includes children who are still excluded from the rollout, there was an incidence rate of 422.
Covid-19 vaccines have already been approved for children aged 5 and above, and administration of the jabs is expected to begin next week.
In December, Spain will receive over 1.3 million doses of the paediatric vaccine, and another two million in January 2022.
Vaccination campaign
As of December 8, 2021, 6,093,577 residents have been given the first dose of the vaccine, 76.9% of the total population. Out of those, 5,302,675 have also been administered a second dose (67% of the total population). 5,982,230 residents are considered to be fully immunized (75.3%).
Under 65s who have already had the virus are only required to have the first dose, and others have received a single-dose jab. Therefore, the % of two doses administered and % fully immunized do not match.
Third doses have also been approved for some population groups, and Catalonia has been giving them to elderly care home residents since September 17.
Booster shots will be given to those between 60 and 69, those 70 and over, immunocompromised people, care home residents, and anyone who received the Janssen vaccine.
As of December 8, 2021, Catalonia has administered 871,300 booster shots to these groups.