Catalonia and Spain face arduous task of solving independence issue from polar opposite standpoints
Talks joined by both presidents and ministers to begin on Wednesday with Catalans calling for referendum and Spain denying it as 2023 looms on horizon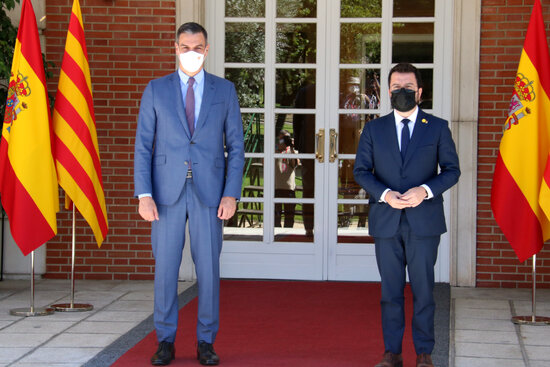 In December 1935, the not-yet British premier Winston Churchill visited Barcelona. Instead of commenting on current affairs, he asked local journalists about the political situation in Catalonia.
"The separatists have always been a minority," answered a reporter for the conservative, Spanish-language Noticiero Universal daily.
The then Catalan president, Lluís Companys, declared the Catalan state a year earlier and was jailed by Spain as a result.
Churchill's questioning is evidence that the Catalan independence issue has been a headache for Madrid from time immemorial – the conflict was brought to the fore in the 1930s before peaking yet again in 2017.
Both pushes for a split from Spain ended similarly: the suspension of self-rule and imprisonment of Catalan cabinet members.
Now both administrations in Catalonia and Spain have the most arduous task ahead: finding a way out of an old political conflict before it escalates once again.
Both governments have always been at odds, and while 51.1% of Catalans voted for pro-independence parties in the last election, Spain has never backed a split or allowed for a negotiated referendum – despite 75% of those asked in the most recent poll believing that they have the right to vote on the matter.
On Wednesday afternoon at around 4.30 pm both cabinets will begin talks to solve the issue in Barcelona, after an attempt in February 2020 that was cut short due to the pandemic and discrepancies amongst the Catalan government coalition partners.
Participants: Spanish president's attendance confirmed, Junts out
Unlike in 2020, now both executives are led by parties that prioritize dialogue with each other after Esquerra prevailed over Junts in the February election – while the former thinks sitting at a negotiating table is the only way out, the latter is skeptical and believes another push like the one that saw a non-authorized referendum in 2017 needs to be planned.
"Making a referendum inevitable, in my opinion, is a completely indispensable democratic commitment. I will not rest until it becomes a reality," said Catalan president Aragonès.
He will attend the first meeting, along with business minister, Roger Torrent, as well as presidency minister Laura Vilagrà, both of Esquerra.
Catalan vice president Jordi Puigneró, party secretary-general Jordi Sànchez, party vice president Jordi Turull, and congressional spokesperson Míriam Nogueras were set to attend as Junts representatives, but Aragonès rejected their presence alleging that only government and not party officials should meet with Spanish authorities.
Subsequently, Junts announced they would not change the people they had chosen for the talks, therefore for now they will not take part in the procedure.
Aragonès has repeatedly urged Spanish president Pedro Sánchez to also attend, and on Monday, the Socialist leader confirmed he would participate in the talks.
Both Sánchez and Aragonès will meet at around 3 pm, around an hour before the meeting between delegations, to set the rules of the talks. Then, both will attend the beginning of the talks and will leave soon afterwards.
Spain's presidency minister, Félix Bolaños; territorial policy minister, Isabel Rodríguez; culture minister, Miquel Iceta; transport minister, Raquel Sánchez; second vice president, Yolanda Díaz; and universities minister, Manuel Castells, were appointed by the Spanish side, along Pedro Sánchez. Díaz and Castells were appointed by junior coalition partner Unidas Podemos, while the rest are Socialists.
Yet, after it was revealed Junts would not attend, Madrid decided that Raquel Sánchez and Manuel Castells would not take part, so that the number of participants per side was more balanced.
Duration of the talks: no deadline, but 2023 on horizon
In February 2020, both executives agreed to meet once a month, something that never happened. This fresh attempt to launch a space for dialogue is also thought to include regular talks.
Neither of the sides has set a deadline for the talks, but 2023 is widely regarded as the crucial point to see whether negotiations have been successful.
Far-left CUP supports the Catalan cabinet from the opposition, but only on one condition: in 2023, the talks with Spain have to be reviewed to decide whether it is worth continuing to hold them.
A Spanish election will take place by November 2023, which may change the composition of the cabinet in Madrid – so, having delivered an outcome before the poll may be on the cards.
Topics to be discussed: right to vote, 'reconciliation'
The ultimate aim of the delegation led by Aragonès is unitary: a Scotland-like referendum on independence that is accepted by Spain and an amnesty for everyone facing judicial procedures for the independence push in the 2010s, including the return of former president Carles Puigdemont from exile.
As for the government in Madrid, they would like to discuss "reconciliation" between Catalonia and Spain. Minister Miquel Iceta said on Monday that if the negotiations exclusively revolve around a referendum and amnesty, "they will be short and unsuccessful." His government wants to discuss the fight against Covid-19, the economic recovery, European funds, and tackling the 46 proposals Puigdemont handed former Spanish head Mariano Rajoy in 2016 – such as social and tax policies and the conflict of authorities in certain pieces of legislation.
The only thing both sides agree on is that the independence issue is a "political conflict" that needs to be resolved.