9 pro-independence leaders convicted to 9 to 13 years in jail for sedition
2017 referendum top officials also found guilty of misuse of funds; three other politicians won't be imprisoned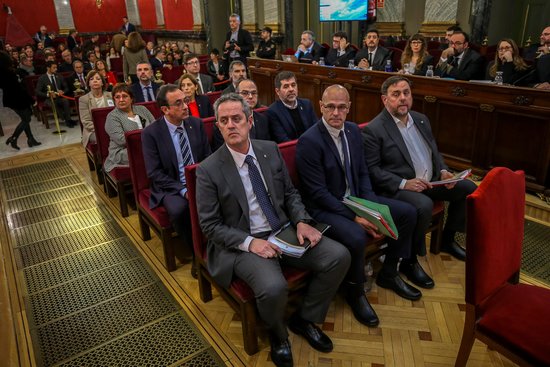 Nine pro-independence leaders have been convicted to between 9 and 13 years in jail, found guilty of sedition and in some cases misuse of funds.
The Supreme Court convicted former vice president Oriol Junqueras to 13 years behind bars, with former ministers Jordi Turull, Raül Romeva and Dolors Bassa getting a 12-year sentence. They were all found guilty of sedition and misuse of funds for their role in the 2017 referendum push.
The former parliament speaker, Carme Forcadell, was sentenced to 11 and a half years for sedition. Former ministers Joaquim Forn and Josep Rull were convincted of the same time, getting 10 and a half years each, with leading activists Jordi Sànchez and Jordi Cuixart being sentenced to 9 years each, also for sedition.
They are all also barred from office for as many years, and their joint sentence adds up to some 99.5 years in jail.
The Supreme Court has also found the only three officials in the dock but not in provisional detention during the Catalan trial guilty, but only for disobedience, which will bring no imprisonment. Carles Mundó, Santi Vila and Meritxell Borràs got a 60,000-euro fine.
You can find the complete sentences for each of the 12 convicted leaders here.
On the spot protests began just minutes after the judges announced the ruling, with several key Barcelona avenues and street being blocked. Three hours later, at 1pm, pro-independence Tsunami Democràtic group called campaigners to protest at Barcelona's airport.
The leaders have spoken out in response to the verdict, and despite the "injustice" remain optimistic of coming back stronger.
Shortly after announcing the verdict, the Supreme Court resumed its effort to extradite Carles Puigdemont, issuing a new European Arrest Warrant for the former Catalan president exiled in Belgium.
Political reactions to the verdict
Major political figures in Catalonia and Spain also spoke out in reaction to the verdict.
Catalan president Quim Torra appeared surrounded by his ministers and other pro-independence figures to condemn the prison sentences as "an act of vengeance, not of justice".
Torra announced his plans to speak before the Catalan parliament in the coming days, and also called for a meeting with Spain's acting president Pedro Sánchez and King Felipe VI.
Meanwhile, Sánchez defended the verdict and pledged to "guarantee security, coexistence, and respect to democratic legality."