Puigdemont, Comín, and Ponsatí lose immunity once again after new European court ruling
Former Catalan president and his lawyer say that the decision confirms the suspension of arrest warrants against exiled independence leaders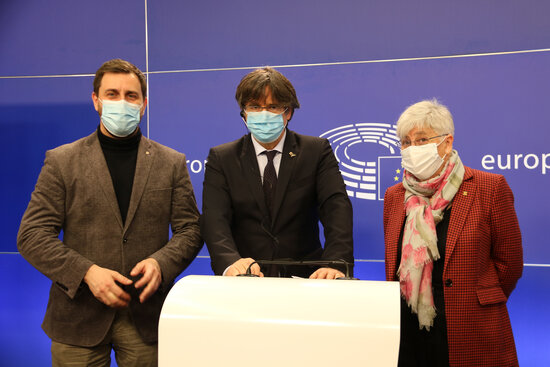 Exiled Catalan politicians Carles Puigdemont, Toni Comín, and Clara Ponsatí have been stripped of their parliamentary immunity after the European General Court rejected the provisional ruling restoring those privileges in early June.
Former Catalan president Puigdemont and his two colleagues, all of whom were elected in the European election as members of the pro-independence Junts per Catalunya party, were stripped of their parliamentary rights last March after a majority of fellow MEPs in the chamber voted in favour of doing so, before then having them restored by a provisional Court of Justice ruling in June.
Spain has attempted to have the former officials of the Catalan government extradited numerous times to try them for the 2017 independence push, but have so far failed to do so.
The General European Court has now withdrawn the immunity of the Catalan politicians because it believes they have not "proven with a sufficient degree of probability" that they could be arrested.
in fact, the former Catalan president claimed on Friday that the ruling confirms the suspension of the arrest warrants against him and his colleagues.
In a tweet, Puigdemont called on the media and public to "read the decision of the General European Court in-depth," which he says confirms their suspension.
El relat de certa premsa espanyola torna a ser el mateix que en situacions precedents. Una mica de til·la i, sobretot, que es llegeixin a fons la decisió del TGUE. Les euroordres estan suspeses. https://t.co/gu6EHXa0vF

— Carles Puigdemont (@KRLS) July 30, 2021
In the same vein, Toni Comín assured that the MEPs are "calm and satisfied" after the announcement, saying that they "won" as the court has found that there are no active arrest warrants. According to the Junts MEP, this will grant them precautionary measures if arrest warrants are reactivated.
The Luxembourg court added that Puigdemont, Comín, and Ponsatí maintain parliamentary protection to go to the plenary sessions of the European Parliament in Strasbourg.
The rejection of the precautionary measures is part of a lawsuit filed by Junts MEPs against the European Parliament for the suspension of immunity in March.
All three allege irregularities during the request of the Spanish Supreme Court to reactivate their arrest warrants.
The European General Court will analyze the merits of the lawsuit in the coming months, but in the meantime, all three will be left without immunity.
Speaking after the EU parliament voted to strip him of his immunity in March, Puigdemont said he regretted the implications the decision would have for European democracy. "We've lost our immunity but the European Parliament has lost much more. It's clearly political persecution," he said.
In the vote to lift Puigdemont's immunity, 400 MEPs sided in favour of doing so, 248 were against it, and 45 representatives abstained.