One month in lockdown: how it unfolded in Catalonia
Thousands of lives are lost, hundreds of thousands out of work, while the world is confined to their homes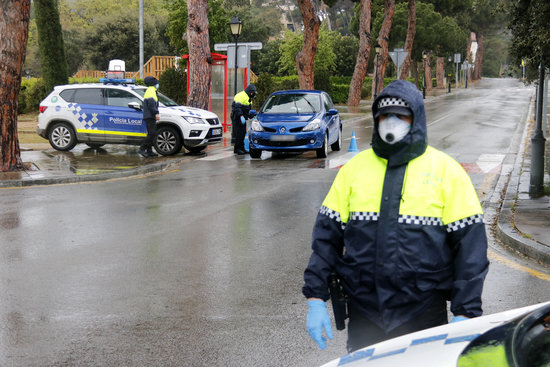 The state of alarm due to the coronavirus crisis has now been in place for a month, ever since Spanish president Pedro Sánchez formally declared the strong measures aimed at slowing down the spread of the deadly Covid-19 virus in mid-March.
Since then, the state of alarm has been extended twice, and is currently in place until April 26, although the Spanish government says a further extension is likely. This is only the second time since the transition to democracy in the 1970s that a state of alarm has been declared in Spain.
Such a move gives the authorities the ability to severely restrict the free movement of people, as well as taking any measures necessary to ensure the supply of basic goods and necessities.
The exceptional state of society has affected Catalonia hugely, in all areas of life. People are either out of work temporarily, with hundreds of thousands affected by temporary layoffs, working from home, where they are likely spending 99% of their time, or else working in essential services with heightened pressure, and in many cases, stretched resources.
At the latest count, there are over 650,000 people in Catalonia affected by the Spanish government's temporary redundancies programme, taken up by more than 89,000 different companies. Trade unions warn that around a million workers could be dismissed due to the crisis.
Calls for tighter lockdown measures
With all this in mind, the Catalan government has repeatedly called for even tighter lockdown measures across the country to prevent the further spread of the disease, often in their daily press conferences informing people of the latest updates.
Quim Torra has made such statements in extraordinary Catalan parliament sessions held via video link. Both he and vice president Pere Aragonès are just some of the high profile politicians who have contracted the Covid-19 coronavirus in the last month.
The Catalan authorities have called for lockdowns similar to that seen in Igualada and some surrounding towns, after a large cluster of positive Covid-19 cases was discovered on March 12. For three and a half weeks, around 70,000 people were unable to leave home. The breakout was revealed to have come from a communal lunch held in late February with 80 people attending, many of whom workers at Igualada Hospital.
Health services
At the beginning of the state of alarm, 715 people had tested positive for Covid-19 in Catalonia. That figure now stands at over 34,000. By March 14, eight people had lost their lives from the disease, while that count has now surpassed 3,500.
Early in the emergency, private healthcare centers were brought into the public sphere, to combat the threat of the health service collapsing. Added to that, various field hospitals have been set up across the country, in places such as sports centers, hotels, and the Fira Barcelona congress hall.
These temporary care units have provided a huge increase in intensive care unit capacity. Added to this, 1,200 new people have joined the workforce in health centers, either as new hirees, students, or volunteers.
The Catalan government has announced they will soon launch a programme of mass testing of the population for the Covid-19 disease, which will initially span a period of six weeks but with the possibility of this being extended and expanded if necessary. They are also providing one free face mask to all residents, in a scheme where people can pick them up at pharmacies using their CatSalut public health services card.
The coronavirus has reached around 70% of elderly care homes, too, claiming hundreds of lives. Authorities are working on separating infected residents from those non affected. The Ascad association that represents care workers have questioned the official figures on fatalities in these facilities, saying that the actual number of deaths in elderly care homes is "at least" 50% higher than what has been officially reported.
Society
As people are only allowed to leave home to buy food, healthcare products, or go to hospital or work, this has led to empty streets and a huge reduction in traffic. Up to 75% fewer vehicles were recorded on roads on the second Monday of the lockdown, while on weekends this figure rose to almost 95%.
As a result of the massively reduced traffic seen on streets, Barcelona's air quality began to drastically improve. Tests done with air quality readings from 2020 before March 14 showed a 64% reduction in pollution in the air of the metropolitan area of the Catalan capital.
Early in the state of alarm, land borders were closed to all passengers barring those transporting goods, or entering as Spanish nationals or residents.
All education was halted in Catalonia a day before the official declaration of the state of alarm, a move affecting 1.8 million students and around 100,000 teachers. Some classes have been done online, but the question of exams remains up in the air. For now at least, the university entrance exams have been postponed to dates in July, but it remains to be seen whether these will be moved again.
Cultural activities paused
Culture too has been turned on its head. The future of Catalonia's hugely popular summer music festivals are up in the air. Primavera Sound are determined to celebrate their 20th anniversary either way, pushing their dates back to August, at least for now.
With the world confined to home, people have been working out new ways to keep everybody entertained. The Covid Art Museum is a virtual art gallery aimed at giving visibility to artists drawing inspiration from their isolation.
Initiatives such as the Yo Me Quedo En Casa Festival ("I'm Staying At Home Festival") and the Cuarentena Fest ("Quarantine Fest") have offered people some live music streamed directly to everyone's homes, and perhaps even more importantly, a shared community experience at a time they hard practically impossible to come by.