First day of land border controls to fight coronavirus
Few incidents were reported at Catalonia's northern border, as entry is restricted to Spanish nationals, residents, and goods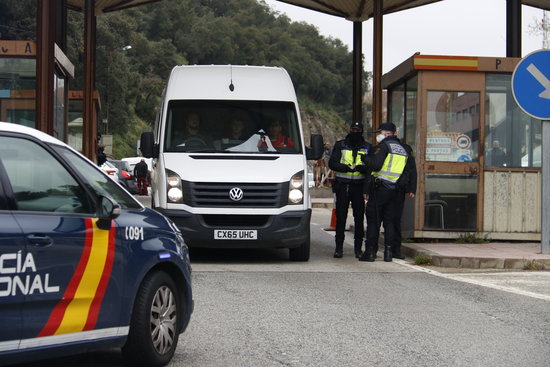 Tuesday began with police controls at Spain's land borders, with only Spanish nationals, residents, some special cases, and goods allowed to cross the frontier.
The measure brought in at midnight saw police turn some vehicles away, although things were generally quiet at the border frontier between la Jonquera and Pertús.
The controls did not extend to the borders with Andorra, while the borders at ports and airports remain open.
Yet, when Spain's interior minister Fernando Grande-Marlaska announced the measure on Monday, he did not rule out closing sea and air borders if it becomes necessary.
The minister repeated this message in a radio interview on Tuesday, and added that it is "reasonable and probable" to expect the state of alarm in Spain to be extended.
When announcing the measure on Monday, the minister said: "Our purpose is to flatten the curve of people infected with the virus, that is our main objective."
Measure allowed by Schengen Agreement
The measure, which will remain in force as long as the health crisis lasts, is allowed under article 28 of the Schengen Agreement that abolished border controls in the EU.
Article 28 of the treaty ensuring the free movement of people within the union, allows EU member states to restore border controls in "exceptional" situations.
The Catalan government welcomed the decision to restore land border controls, but it also said that the move does not go far enough.
The authorities had petitioned Madrid to decree that people in Catalonia stay at home, but Pedro Sánchez's government refused, arguing that any response must be global.
EU borders closure
On Tuesday, March 17, leaders of the 27 EU member states gave the green light to the European Commission proposal to ban entry into the European Union for 30 days.
The heads of state and government thus guarantee to temporarily restrict "non-essential travel" in order to stop the spread of the coronavirus.
The measure, however, does not affect the transport of goods, for which "fast lanes" are offered. The endorsement of the 27 to the measure was announced by President of the European Council Charles Michel after a video conference between the heads of state and EU government members.
The entry restriction passed by the 27 does not affect foreign citizens with residence or family permits in the union, nor diplomats and staff "essential" in fighting the coronavirus, such as doctors, experts or researchers.
The entry ban does not affect the UK as well, which is currently in the transition period from leaving the bloc.