Pressure on government over elderly care homes continues
Minister admits they were "not prepared" and Barcelona mayor calls for urgent action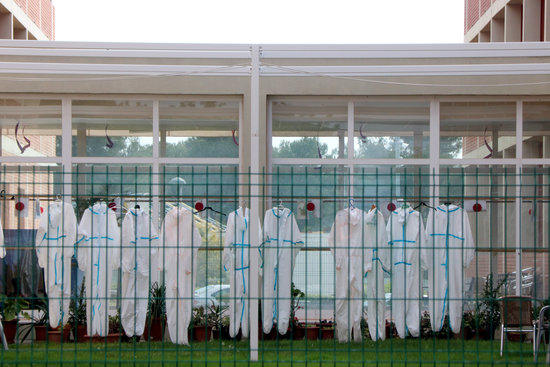 It is clear that the coronavirus pandemic has hit elderly care homes particularly hard.
The government has come under pressure for their response, with issues surrounding lack of staff, lack of action, and lack of accurate statistics.
The Catalan president Quim Torra admitted last week that the government could have done better at reporting the situation and that a lack of clarity had led to "social alarm" and a "certain anguish."
The Minister for Labor, Social Affairs and Families, Chakir el Homrani, also accepted there had been shortcomings.
"We were not prepared for this situation. We have to be clear and honest," Homrani said in a parliamentary appearance via video link on Thursday.
He admitted his department were not prepared to deal with the pandemic, despite everyone working incredibly hard.
The minister said that the model of residences for older people that Catalonia had opted for was "that they were homes, not hospitals" but that Covid-19 would "redefine" this.
Powers transferred
Responsibility for care homes, which normally falls under the remit of Homrani's department, has now been transferred temporarily to the health department, as revealed in the government's daily press conference on Wednesday.
Homrani said that he encouraged the transfer of powers, describing the decision as "necessary" and "good for residents."
Barcelona mayor urges health department to act
The mayor of Barcelona, Ada Colau, also welcomed the change in management of care homes, hoping that it will lead to an "unblocking" of the current situation.
On Wednesday, Colau asked the health authorities to start the mass transfer of care home residents at once. "This does not mean 100 people a week, but 100 people a day," she said, adding that there were already more than 800 elderly people with symptoms living in care homes.
Colau specified that 15 care homes in particular needed urgent action, and said that there were 660 beds available in sports centers and hotels, as well as four empty care homes that have been disinfected.
"Not suitable places"
Catalan health minister Alba Vergés addressed Colau's demands during an interview with Catalan TV station TV3. She claimed that sports centers "are not suitable places" for elderly care home residents, given that many have underlying illnesses, are very dependent, or suffer from dementia.
During Thursday's government press conference Vergés said that some 450 care home residents had already been relocated. She emphasized that the transfers had to be done "meticulously" and that each care home brought its own challenges.
Care homes in Catalonia
Catalonia has 1,073 public and private elderly care homes in total, home to 64,093 residents.
As of April 11, 342 care homes have confirmed coronavirus cases and another 430 have residents showing symptoms. A total of 1,663 elderly care home residents who tested positive for Covid-19 have died.