Coronavirus in Catalonia: weekly figures explained in graphs
See how pandemic has evolved since February 25, 2020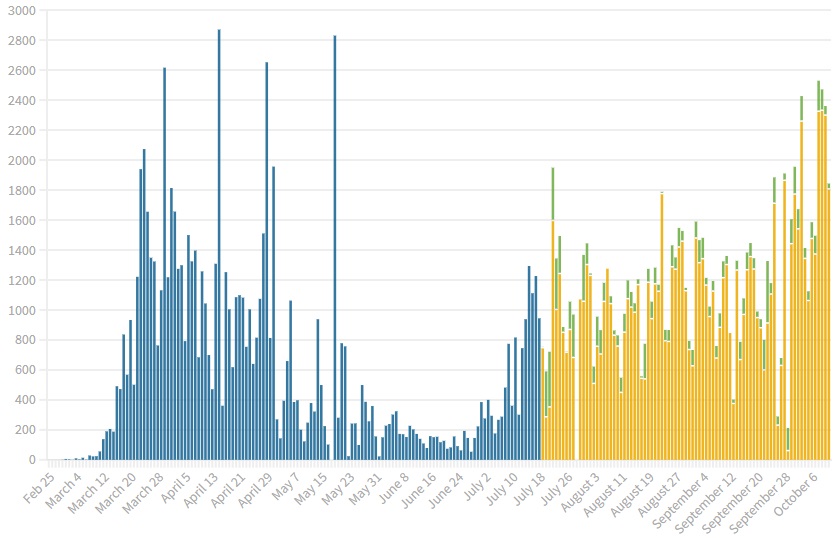 *Article last updated on March 7, 2023. Weekly updates will only resume if the pandemic worsens.
Not long after February 25, 2020, when health authorities broke the news that a person in Catalonia had tested positive for Covid-19, there was a steep and swift increase in cases and deaths, though these have decreased and stabilized significantly.
Official figures released every Tuesday on this website show that there were 1,168 Covid-19 cases reported from February 27, 2023 to March 5, 2023.
Anyone who is registered in a municipal 'padró' census in Catalonia is entitled to at least basic CatSalut public health coverage, which includes Covid care and vaccinations.
You can apply for a health card here. Once you have received a CIP number, you can request access to La Meva Salut, the website and app from which medical records – including vaccination certificates – can be downloaded and health queries can be made. You will also be able to book vaccination appointments online. Vaccinations are only administered through the public health system.
To read more Catalan News coverage of the coronavirus outbreak in Catalonia, see here.
New Covid-19 cases per week
Covid-19 cases per 100,000 inhabitants per week
Hospitalized patients and ICU patients from July 29, 2020
Vaccination rate per age group
Covid-19 deaths per week - updated until January 22, 2023
Overall Covid cases in Catalonia - updated until June 21, 2022
Overall number of Covid-related deaths (in hospitals and total) - updated until June 21, 2022
Outbreak risk (over 100 is high) and transmission rate (over 1 concerns authorities) - updated until June 21, 2022
Number of cases per 100,000 inhabitants in last 14 days - updated until June 21, 2022
Percentage of population vaccinated - updated until June 21, 2022
Number of people given first and third doses and fully immunized - updated until June 21, 2022
Covid-19 vaccination progress in top priority groups - updated until June 21, 2022
Number of people diagnosed per day - updated until Mar 24, 2022
Number of confirmed and suspected Covid-19 deaths per day (at hospitals until May 19, 2020, hospitals and other health centers from May 20, 2020, and elsewhere since August 5, 2020) - updated until Mar 24, 2022
New vaccinations per day - updated until Mar 24, 2022
Covid-19 data errors and changes
On May 18, 2020, an error was detected in the system of gathering data of confirmed Covid-19 cases. Once this error was corrected, the total number of confirmed cases went down by 3,293 on May 18, bringing the then-total cases down to 60,148.
The following day, 6,385 overall deaths in medical centers were reported, some 229 less than the 24 hours previous, suggesting that figures were also being adjusted in fatalities. However, no explanation was given for the difference in the official daily briefing of the latest Covid-19 figures.
From May 20, the deaths in medical centers have been merged to include those from hospitals and other kinds of health centers, prompting a surge of 156 that day.
On July 30, the health department changed the way in which information is released. It no longer shares overall figures on the number of people who have been in serious condition or total patient discharges since the beginning of the pandemic, but rather it provides information on the total number of people that are currently hospitalized or in ICUs.
165 Covid-related deaths over the weekend of January 23 to January 24 were announced by funeral homes on January 25, 2021. Due to a system error, these cases were not added to the death tolls for the corresponding days but that of January 25.
On June 16, 2021, the total number of cases decreased due to a decision not to count 5,898 positive antibody tests as they were taken from people who had already received one dose of the vaccine.
On June 27, 2021 the health department informed that the vaccination data for the previous day could not be updated, and would be added to the June 28 update in the June 27 figures.
The Catalan health department did not update data on November 13, 2021 due to "technical issues."
Data shared on January 24, 2022, shows that health authorities recorded up to 111,111 vaccines administered on January 23, 2022. However, the figure represents doses given during the two days of the weekend, and not only just for Sunday.
On March 17, 2022, the graph on Covid-19 vaccination progress in top priority groups showed 0% of primary care, hospital workers, and essential workers vaccinated. This is due to a change by health authorities grouping several priority groups together.
As of June 21, 2022, overall Covid-19 cases since the beginning of the pandemic (2,668,391 on June 20) are no longer updated, nor are overall Covid deaths in medical centers and those reported by funeral homes (27,636 people), the transmission rate and outbreak risk, the two-week incidence rate, vaccination rates among the entire population, vaccination rates per priority groups, or doses administered.