Life under coronavirus lockdown: week 1
What has life in Catalonia been like since a state of alarm was declared on March 14?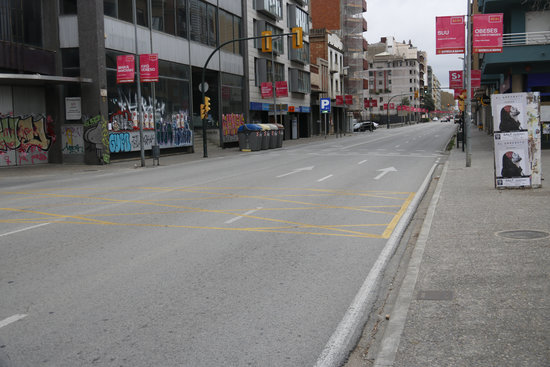 As is no longer news to anyone, all non-essential shops in Catalonia and the rest of Spain have been closed, as have schools, parks, and museums.
This has been the case since March 14, when Spanish president Pedro Sánchez declared a state of alarm in response to the ongoing coronavirus public health crisis that, at the time of writing, has already seen over 1,000 deaths in Spain and has surpassed the 100-mark in Catalonia.
Social distancing to stop contagion
In an attempt to halt the spread of the disease and reduce some of the pressure that has been put on the health system - which authorities say is on the brink of collapse - everyone must stay home except to buy food or other basic necessities, seek medical assistance, or go to work - if they are not yet working from home or not working at all.
Catalonia's streets are much emptier than usual, and while there are still a few people out and about here and there, once-bustling places are now eerily quiet as almost everyone is at home these days.
Public transport in the Barcelona area, for example, has seen a 75-90% reduction in demand and traffic has gone down by over 50%, while the Catalan government has said there have been no fatal road accidents in the past 12 days.
Aside from the public health crisis, people haven't had the need to move around as much as before seeing as all educational centers - from primary schools to universities - have suspended their classes, forcing those with small children to learn to adapt their daily routines at home, while some universities have taken to the Internet to attempt to bypass the crisis by going online.
Senior citizen centers, cultural centers, and museums as well as famous landmarks - including the Sagrada Família! - have also been closed off to the public these days too, meaning that practically everyone's daily lives have been changed.
Volunteer schemes
As a response to the exceptional situation in Catalonia and beyond, some people have gotten creative and volunteer schemes have sprung up to assist those in need, including groups who deliver groceries to society's most vulnerable people.
Manel Tort, who is behind a network that came together in Barcelona's Paral·lel and Poble-sec area to bring food to the elderly or people with health conditions, excitedly explains his idea's success: "The response to the scheme has been spectacular. Last night, if I'm not wrong, there were already 270 volunteers in the neighborhood that had signed up."
Authorities respond to crisis
Meanwhile, Catalan and Spanish authorities continue to attempt to tackle the ongoing public health crisis - not without their own disagreements concerning imposing a total lockdown, the re-centralization of the distribution process or confiscation of face masks.
Police have also been fining people disobeying orders to stay home to ensure all state of alarm measures are obeyed, and yes, that does include someone who was caught out walking a goat.