Health system at 'risk of collapse next week'
Retired and student doctors and nurses called to join effort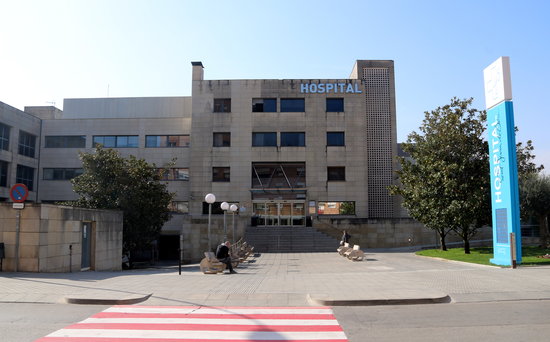 "Without total confinement," the Catalan health system will suffer "maximum stress this weekend, and collapse next week," warned government spokeswoman Meritxell Budó on Thursday afternoon.
During a videolink press conference, Budó asked the Spanish state for "drastic measures" to prevent such a scenario.
Budó also reported that some cases are already being referred to the private healthcare system, which has come under government control following the declaration of a state of alarm.
President Quim Torra gave an interview with the BBC today in which he too warned of a collapse of the health services too.
"[The Spanish government] says it's preferable to keep airports and ports etc. open, and we think this is not the best solution," he explained, warning of "critical moments" to come.
He went on to say that his biggest worry was with the health services and their capabilities, and foresaw stressful moments ahead for them.
Doctors and nurses, young and old
Catalan health minister Alba Vergés made a call for 1,500 retired healthcare professionals under 70 to return to their former places of work and join efforts to deal with the coronavirus pandemic.
Vergés said her department was also calling upon at least 400 doctors who graduated last year, but hadn't found permanent positions, to start working immediately.
She warned that in the coming weeks the health system will have to "cope with an escalation in the demand for covid-19 care, which will greatly strain organizations and professionals."
1,700 final year nursing students and 970 final year medical students will also join the effort, performing tasks suited to their level of expertise and training.
Vergés also emphasized that the only way to slow the growth of cases is to confine yourself at home and to comply with all social distancing measures to break the chains of virus transmission.
Army deployment row
"Less disinfecting and more closing ports, airports and railways."
That was Catalan interior minister Miquel Buch's thoughts on the deployment of the Spanish army in Catalonia.
President Quim Torra first called for Spain's support in shutting down major transport infrastructure last Friday, but those demands were rejected, with Fernando Simón, Spain's health emergency director, arguing that confining regions and territories is not yet "worthwhile." According to Simón, the measures implemented with the state of alarm already have a similar effect.

Instead, the Spanish army carried out disinfection at the port of Barcelona and at El Prat airport on Thursday, the first actions of the armed forces in Catalonia since the declaration of a state of alarm.
Buch lamented that the Spanish executive had not sent official information to the Catalan government regarding the deployment of the army in Catalonia, and criticized the fact that he had learned about them disinfecting the port and airport through the media.