Walking the goat not an excuse for leaving the house, say police
Some 3,000 charged in Barcelona for unjustified breaking of confinement, while authorities prepare to stop people going to second homes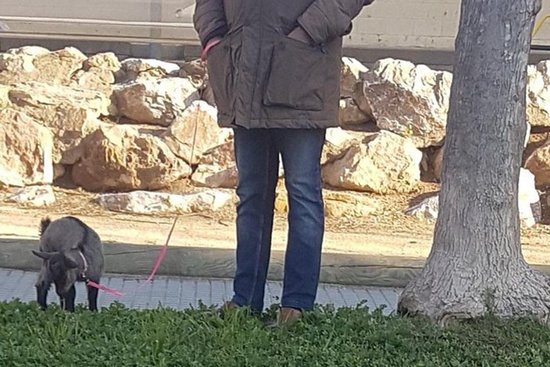 "Nor canaries, nor Vietnamese pigs, nor goats like this one we saw today in Palafrugell are an excuse to go onto the street and break the confinement." This was the message the Catalan police posted with a photo of a man walking a goat this week, as the public was told to stay home after hundreds have been charged with flouting coronavirus restrictions.
In Barcelona, for example, by Thursday local police had charged 2,391 people out on the city's streets with no good reason, while another 9,715 people had received an official warning. It seems to be a growing problem, as only a day earlier the total number of people charged in the city for breaking the confinement was less than a thousand.
Since the state of alarm was declared last weekend, all people in Spain are obliged to remain home as part of the restrictions to halt the spread of coronavirus, and leaving the house is only allowed if it is to go shopping, to go to a pharmacy or health center, or to the workplace in the case of essential workers, such as health professionals.
Commenting on the "crafty" excuse of taking a goat out so as to get around the restrictions, a high ranking Catalan police officer told Catalunya Ràdio earlier this week that the police had charged over 140 people for flouting the general confinement, although he also said the "vast majority of people" are complying with the directive to remain indoors.
There have also been some more serious incidents surrounding the restrictions, such as one that took place in the seaside town of Castelldefels on Monday night, when Catalan police at a checkpoint decided to arrest two men after they at first resisted being identified and then, say the police, became aggressive.
Fining homeless people "surreal," says foundation
At the same time, the Arrels Foundation, which helps people in Barcelona who sleep on the streets, complained that police in the city have charged homeless people who have nowhere to go to self-isolate. According to the organization on Thursday, there are at least four cases of homeless people being charged, which Arrels described as "surreal."
Meanwhile, the first full weekend under the restrictions poses a challenge for the authorities in preventing people decamping to their second residence or holiday home elsewhere in Catalonia. On Thursday, Catalan president Quim Torra appealed to the public not to go to their second homes to avoid putting undue pressure on county hospitals.
For those people who do not heed the warning, the Catalan police are preparing to set up various checkpoints to make sure that people driving on main roads have a good reason for doing so. The coronavirus restrictions also dictate that only one person can travel in each vehicle, with fines of between 600 and 30,000 euros for breaking the directives.