JxCat parliament speaker rejects ERC's government deal 'ultimatums'
Laura Borràs says she will block far-right from saying "things that can't at all be said in Parliament"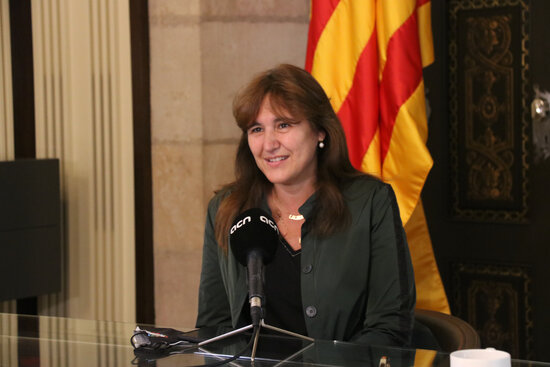 Catalonia held an election on February 14. But almost two months later, the main contenders for forming a new government — pro-independence parties Esquerra Republicana (ERC) with 33 MPs and Junts per Catalunya (JxCat) with 32 — are yet to reach a new coalition agreement.
And with three and a half weeks to go before an automatic snap election will be called on May 26 if these parties fail to strike a deal, parliament speaker Laura Borràs, of JxCat, believes ERC's "ultimatums" only add undue pressure to the negotiation process.
Having ERC set a strict time frame is "not the most convenient" way to proceed, Borràs told the Catalan News Agency — May 26 should be the latest date by which to reach a "solid and robust deal," rather than May 1 as ERC had initially stated.
Independence roadmap
One of the main points of contention between current government partners ERC and JxCat throughout the last term was not the need for a Catalan republic, but rather how to achieve it, with Borràs' party taking a more hardline approach and the left-wing party favoring dialogue with Spain in the form of a negotiation table.
"We must consider what we will do when things don't go the way people think they will," Borràs said, arguing that this should be done sooner rather than later. The CUP-ERC deal states they will decide whether to continue talks with Spain on the independence issue in 2023.
The parliament speaker is steadfast in her belief that Catalonia should be break free from Spain despite the possible consequences: "Whatever the Spanish state wants to do with us, they will be able to do that because they have the rule of force and we prefer to have the force of the reason."
Parliamentary debates and the far-right
Far-right Vox had its breakthrough moment in Catalan politics in February, winning 11 seats and entering the chamber for the first time ever.
Although a majority of parties have already agreed to a cordon sanitaire, with the Socialists, ERC, JxCat, CUP, and CatECP refusing to work or cooperate with the ultranationalist, Eurosceptic, economically liberal, and anti-immigration party, Borràs has also stressed that she would prevent Vox MPs from saying "things that can't at all be said in Parliament."