Election result: Both Socialists and Esquerra win 33 seats as pro-indy bloc retains majority
JxCat win 32 seats, far-right enter parliament for first time and anti-capitalists CUP could be kingmakers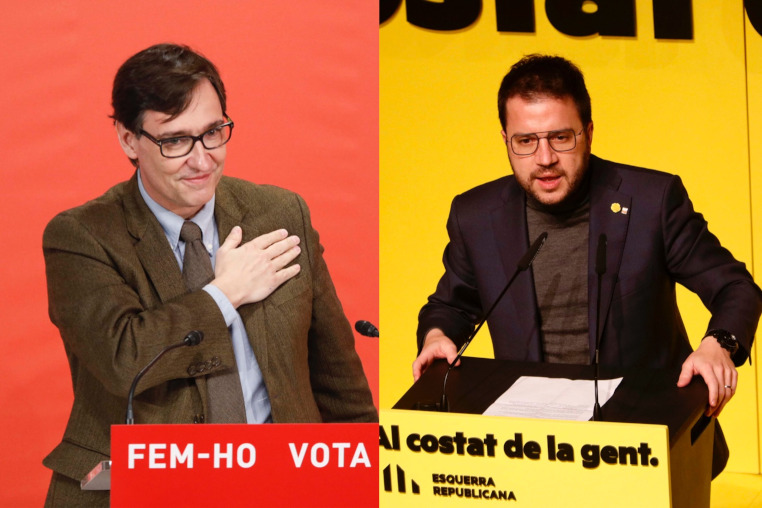 The Socialists have edged victory in the 2021 Catalan election after an incredibly tight count that saw them emerge with 23.02% of the votes, just ahead of pro-independence parties Esquerra (ERC) on 21.31% and Junts per Catalunya (JxCat) on 20.06%.
In terms of number of seats it was even tighter, with 33 MPs being elected for both the Socialists and ERC, and JxCat just one behind with 32, with 99.79% of the votes counted.
The Socialists, against Catalan independence and with Spain's former health minister Salvador Illa as their pick for president, almost doubled their representation in the chamber, surging from 17 seats in 2017.
Pro-independence majority
Pro-independence parties retained a majority in the 135-member chamber on a day that saw a record low turnout of 53.55%. The anti-capitalist CUP won 6.68% of the vote, surging from 4 seats to 9, meaning a total of 74 MPs in favor of a Catalan republic, 4 more than in 2017.
Pro-independence parties also won more than 50% of the votes for the first time.
Far right breakthough
The far right has entered the Catalan parliament for the first time with Vox gaining 11 seats and 7.69% of the vote.
Ultranationalist, Eurosceptic, economically liberal and anti-immigration, the party born from a schism in the traditional conservative People's Party (PP) outperformed their right-wing rivals who were only able to win 3 seats (down from 4), and 3.85% of the vote (down from 4.24%). That marks a historic low for PP, one of the two major parties in Spanish politics.
Cs' vote collapses
The biggest losers of the night were Ciudadanos. The unionist party, the largest in the last parliament with 36 seats, saw their vote collapse spectacularly from 25.35% to 5.57%, winning just 6 seats.
Voters abandoned them in favor of the Socialists on the left and in favor of Vox on the right.
The only party non-aligned on the independence issue, the left-wing Catalunya-En Comú Podem maintained their 8 seats in parliament.
How the 2021 parliament compares to 2017