Parliament rejects Pere Aragonès' presidential bid in the first round of voting
Esquerra's candidate will have a second chance on Tuesday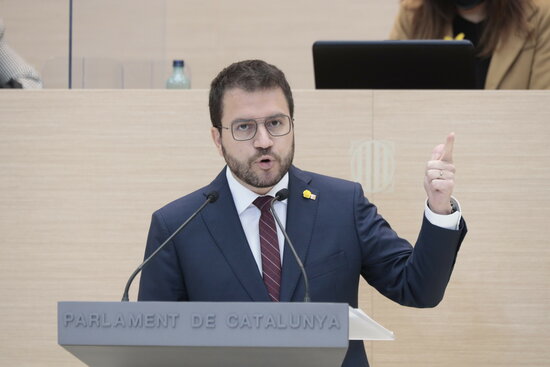 Pere Aragonès will have to wait at least a few days more to become the next president of Catalonia.
In the first round of voting on his bid for the head of government, only his party, Esquerra Republicana, and far-left CUP backed him, summing up only 42 MPs.
The Socialists, far-right Vox, left-wing En Comú Podem, unionist Ciudadanos and the People's Party rejected his bid as expected, totalling 61 MPs.
Fellow pro-independence Junts per Catalunya abstained, and if Aragonès wants to succeed on Tuesday in the second round of voting, he will have to persuade his current senior coalition partner in government to exchange roles for the coming term.
Talks between Junts and Esquerra will continue in the meantime, but the chances that they reach a deal in the coming hours are slim – especially as the former suggested Aragonès to put on hold his bid until a positive outcome of their conversations, but the ERC candidate rejected this.
A lack of agreement by May 26 would mean an automatic snap election in Catalonia.
Aragonès' presidency bid speech
In a left-leaning speech on Friday to MPs to persuade them to vote yes to his presidency bid, Pere Aragonès highlighted the strong left-wing majority of deputies from various parties in the chamber.
"I imagine a country that's fully aware that without equality there's no freedom. Where fraternity is inseparable from economic freedom. A feminist, ecologist, and pro-European country," he said in his candidacy speech.
He pledged to spend €700m within 100 days on those most affected by the impact of the Covid-19 pandemic, make kindergartens for children up to three years old "free and universal," create better working conditions for health professionals, and offer more attention to care for elderly people.
He also spoke about the agreement reached with the far-left CUP party for their support, including spending 25% of health department's budget on primary care, considering a universal basic income, and reviewing police protocols.
Additionally, he agreed to hold a vote of confidence on his legislature in 2023, as well as reviewing the approach of engaging in dialogue with Spain over the political conflict in the same year.
Aragonès thanked CUP's "generosity and willingness to reach an agreement," and also addressed JxCat, saying that they share "the goal of dealing with the social emergency, economic reconstruction, and solving the conflict with Spain."
Abstention from Junts
His bid was doomed to fail ever since Junts per Catalunya announced on Thursday night they would be abstaining in the vote, preventing Aragonès from reaching a majority of yeses to be named the new head of government.
Otherwise, with their support and the formation of a new coalition government with their pro-independence allies, ERC's figurehead could have been named as the new Catalan president today.
JxCat withheld their support as the two parties had not reached a satisfactory agreement. Specifically, Junts wants to see a more detailed path toward achieving independence built on the fact that the independence camp surpassed 50% of the vote share for the first time in the last election.
As well, they want Carles Puigdemont's Council for the Republic group as a central piece toward establishing the foundations of a new state, whereas ERC view this group as merely playing a role in a wider platform with the same aim.
Talks will continue between the parties, with a second round of voting scheduled for Tuesday, March 30. If there is no deal in place and Aragonès fails again in his bid, the chamber has until May 26 to appoint a new head of government, otherwise another snap election will be automatically called.