Junts per Catalunya: reviving 2017 'confrontational' independence push
With party leader Puigdemont in exile, Laura Borràs could become first female Catalan president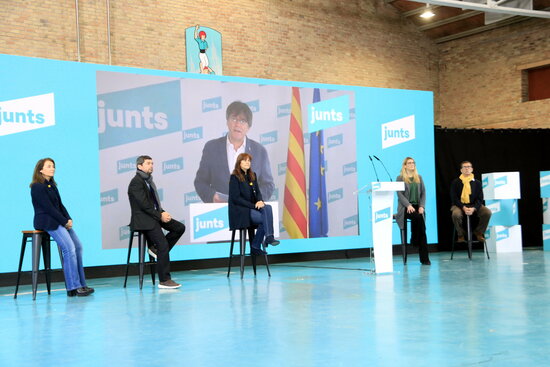 Junts per Catalunya (JxCat) are a pro-independence party led by former Catalan president Carles Puigdemont that avoids left-wing or right-wing labels. They are, however, a splinter group of the successors to the old center-right force that once dominated Catalan politics.

Their presidential candidate is Laura Borràs, who could become the first woman in history to lead a Catalan government, following a succession of 131 men. But, unusually, Borràs isn't top of the party list for the election: Puigdemont is running as the number one candidate despite living in exile in Belgium since the fallout from the 2017 independence push.

Junts per Catalunya, which means Together for Catalonia, was officially founded as a political party in July, following a split with PDeCAT, but the name was also used for the umbrella group led by Puigdemont that won 34 seats in the 2017 Catalan elections.

That Junts per Catalunya grouping was the largest pro-independence force in the last parliament. They formed a coalition government with Esquerra (ERC) and held the presidency until Quim Torra's disqualification from office, which prompted the upcoming vote.

A repeat of the JxCat-ERC coalition may prove difficult this time around, as the relationship between the two parties has deteriorated significantly over the last couple of years, with various discrepancies over how best to engage with Spain.

Junts per Catalunya are a liberal, pro-European formation, and favor what they call "peaceful confrontation" in dealings with Spain, along the lines of the 2017 independence referendum, held in defiance of Spanish court bans.

They will likely receive votes from supporters of the old center-right nationalist Convergència (CDC) party that ruled Catalonia for many years following the return to democracy in the late 1970s. Many of the current JxCat top brass are former members of the CDC, including most of the jailed JxCat leaders and Puigdemont himself.

In what is set to be an unpredictable election, polls say JxCat are likely to win 32-34 seats (Catalan CEO poll) or 20-27 seats (Spanish CIS poll), placing them as the second or third largest party respectively, with the top spot within reach.

Election manifesto

In their 2021 election manifesto, Junts per Catalunya outlined their 50 principal measures for government. Top of that list is a "new way to manage the Covid-19 pandemic, which reinforces prevention and which allows the maximum possible amount of economic activity."

Issues around independence feature prominently including an "Amnesty Law for the nearly 3,000 victims of reprisals" over the political conflict between Catalonia and Spain, and an "appeal for European bodies to be involved in an agreed and binding referendum, if pro-independence parties gain more than 50% of the votes."

The JxCat campaign slogan is 'Junts per fer. Junts per ser,' which translates as 'Together to do. Together to be.'

Campaign trail

On the campaign trail, the party has been arguing for an independent Catalan republic. If Spain does not agree to a new referendum, JxCat want to push ahead with a unilateral declaration of independence, with Laura Borràs saying "there is no alternative." She has also criticized other pro-independence parties CUP and Esquerra for "not working" to make independence a reality, with or without negotiations with Spain.

At times during the campaign, Borràs has seemed to change tack slightly, saying on February 3 that JxCat's goal, if pro-independence parties garner 50% of the votes, is not to activate or declare a republic, but to be "in a position to defend it when it does happen."

On February 9, however, she said that she would reactivate 2017's unilateral declaration of independence if a majority in parliament were in favor of independence, even if they had earned less than 50% of the popular vote.

The party's pick for president has come under fire during the campaign over an ongoing corruption investigation for allegedly awarding irregular public contracts while she presided over the Institute of Catalan Letters. Borràs fervently maintains her innocence and claims she's the victim of Spanish repression. Borràs says other parties, such as the far left pro-independence CUP must "decide whether they side with Spanish injustice or Catalan democracy."

Despite being the larger of the two governing parties in the last term, there was concern that JxCat would find themselves on the sidelines for one of the campaign's headline events. When talk emerged of a possible head-to-head debate between Pere Aragonès and Salvador Illa, Borràs quickly proposed a three-way alternative, posing the question to her election rivals: "Gentlemen of the ERC and PSC [Socialists], do you want to make it a threesome?"