Esquerra Republicana: seeking independence through dialogue
Left-wing party hopes to remain in power after February 14 election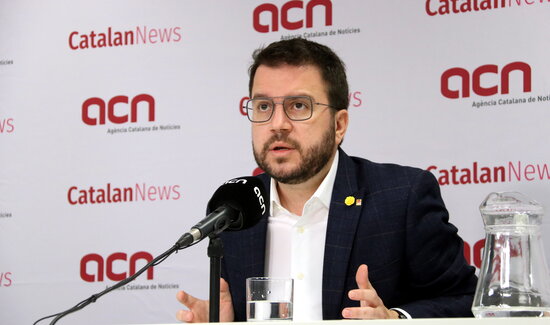 Founded 90 years ago by the likes of Francesc Macià and Lluís Companys, prominent figures during the Second Spanish Republic, Esquerra Republicana (ERC) is easily the oldest party running in Catalonia's February 14 election. The party is left-wing, pro-independence, pro-EU, and against the monarchy.
Their presidential candidate, Pere Aragonès, is the current vice president but has been acting as the head of the government since September. Aragonès became Catalonia's interim president after former president Quim Torra, of coalition partner Junts per Catalunya (JxCat), was barred from office for disobedience for hanging signs in solidarity with the jailed independence leaders on public buildings during an electoral period.
Another one of Esquerra's most prominent figures is party president Oriol Junqueras, who was the vice president under former president Carles Puigdemont during the 2017 push for independence and who is currently serving a 13-year sentence for sedition. Like the other eight imprisoned referendum organizers, Junqueras was recently granted leave privileges, once again, and has been able to attend campaign events.
Wielding influence in Spanish and Catalan politics
ERC has gone from being a smaller party in Spanish politics to a relatively stronger one following the November 2019 snap general election, providing crucial congressional support for Spain's first-ever left-wing coalition executive in exchange for talks between the Spanish and Catalan governments on the independence issue—something harshly criticized by their pro-independence allies, who are wary of dialogue with Spain.
The left-wing force has been in power in Catalonia since 2015 alongside JxCat. Since December 2017, which is when the first election after the independence referendum deemed illegal by Spain was held, ERC has 32 seats in parliament, behind JxCat's 34 and Ciudadanos' 36.
But beyond Esquerra's central role in the independence issue, the party describes itself as "progressive" and has backed a number of social initiatives during this last term, including the rent cap law approved last September.
Will the republicans remain in power?
Polls predict Esquerra will be one of the election's strongest contenders, with them winning 30 to 35 seats depending on the source—Catalonia's CEO survey suggests they will obtain somewhat better results than Spain's CIS, which posits the Socialists will be victorious.
Yet, while these surveys portray ERC as on course to outdo their pro-independence rivals, they will likely still need each other to form a government. Ongoing disagreements with their current government partner JxCat, who is in favor of "peaceful confrontation" with Spain, make a future coalition difficult, but not impossible.
Aragonès has expressed his willingness to possibly seek left-wing alliances beyond the independence bloc but has also stressed that his party would never reach an agreement with the Socialists.
ERC's rallying points
Claiming to be "next to the people", Esquerra Republicana has an 8-point electoral program that begins with them "forcing" Spain to recognize Catalonia's right to self-determination and an amnesty for the jailed independence leaders.
The party also claims to seek economic and social reconstruction, following the devastation left in the pandemic's wake, as the foundation for a new republic, as well as to strengthen the welfare state and promote social justice, fight corruption, transition towards a greener future, promote Catalan language and culture, protect women's and LGBT rights, and fight the rise of the far-right.