Laura Borràs, a 'daughter' of the independence referendum, elected Parliament speaker
Junts per Catalunya's MP backed by 65 out of 135 MPs as her stint could be interrupted if disqualified as a result of her open corruption case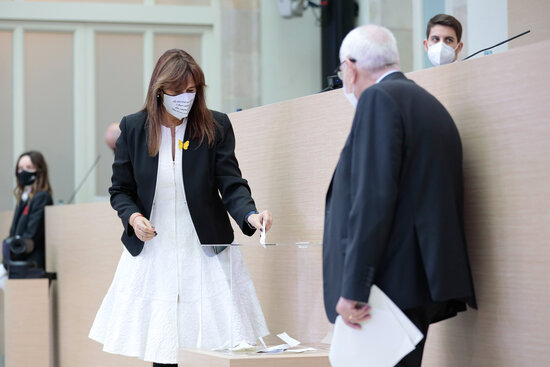 Laura Borràs will be the parliament speaker for the new term that began on Friday, the 13th such institution since its restoration in 1980.
She was elected by 64 votes in favour out of 135, with 50 MPs voting for the Socialist candidate, Eva Granados.
Thus, Borràs has become the third woman to hold the post after Núria de Gispert and Carme Forcadell - the latter of whom is currently serving a decade-long prison sentence for allowing a referendum bill be passed in parliament in 2017 and for her role in the independence push.
The vote to select the speaker had to be repeated after no candidate garnered a majority of seats – 11 MPs voted far-right Vox's Maria García Fuster and 8 to left-wing En Comú Podem's Joan Carles Gallego, while 8 more voted blank in the first vote.