Covid-19 booster shot appointments open to over 30s
Health officials recorded over 188,000 new coronavirus cases in the last week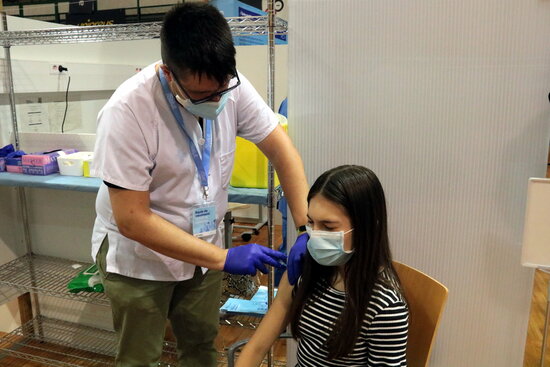 Appointments for Covid-19 booster shots have opened up to people over the age of 30.
You can find all information on where and how to get a vaccination appointment here.
On Thursday, authorities decided to approve booster jabs for anyone over 18 after a public health committee meeting, a group comprised of the Spanish health ministry and representatives from all of the regions.
Authorities approved a new protocol and the waiting period to get the additional dose was reduced from six to five months after the initial vaccination cycle.
The vaccine rollout began in Catalonia on December 27, 2020. As of January 12, 2022, 6,391,155 residents have been given the first dose of the vaccine, 80.8% of the total population. Out of those, 5,540,487 have also been administered a second dose (70.1% of the total population). 6,122,935 residents are considered to be fully immunized (77%).
Booster shots are already being given to those aged 40 to 49, people between 50 and 59, for those between 60 and 69, those 70 and over, immunocompromised people, care home residents, and anyone who received the Janssen vaccine. On December 16, authorities also approved them for residents in their 50s and those who had AstraZeneca at least three months ago, regardless of their age.
As of January 12, 2022, Catalonia has administered 2,414,126 third doses (30.8%). Official data show that 33.8% of residents have received a booster shot (which includes those who had a third jab plus people who only got one jab in the initial vaccination series and then received a booster, their second shot).
Overall Covid-19 figures in Catalonia
As of January 12, 2022, official figures, released daily on this website, state there have been 1,623,781 confirmed Covid-19 cases (PCR tests and others including antibody tests).
On April 15, 2020, the Catalan health department began taking into account information on deaths declared by funeral homes on coronavirus-related fatalities, not only at hospitals, but also at care homes, other health centers, homes, and other places.
Following these criteria, as of January 12, 2022, a total of 24,974 people with or suspected to have had the virus have died since the beginning of the outbreak according to funeral homes.