Booster shots approved for people 50 and older
Spain and regional governments agree to extend measure to over 40s after older age groups get additional jabs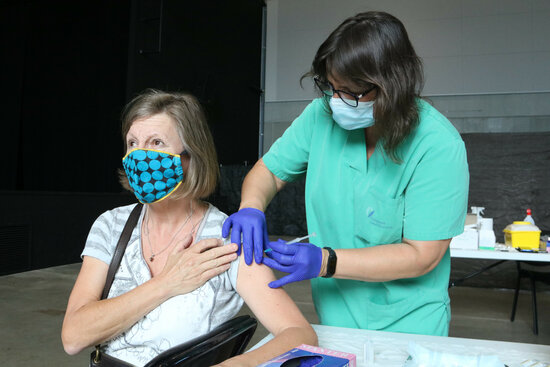 Booster shots have been approved for people 50 and older and will be administered six months after receiving the second dose of an mRNA vaccine — that is, Pfizer or Moderna — or three months after a viral vector AstraZeneca one.
The measure was agreed on by Spain's Public Health Committee, made up of representatives from the Spanish and regional governments, who on Thursday also decided to extend boosters to over 40s once over 50s have received them.
In addition to this, the Public Health Committee has also greenlighted third doses for people under the age of 60 who were vaccinated with AstraZeneca. These are mainly essential workers, such as teachers or doctors, who were prioritized at the beginning of the inoculation campaign, and for many of them, three months have already lapsed since receiving their second doses.
The booster vaccination rollout has been picking up speed in Spain ahead of the holiday season as cases have been on the rise. Around 50,000 cases have been reported in Catalonia in the last two weeks.
Up until now, booster shots have been given to people over 60, immunocompromised people, care home residents, and anyone who received the Janssen vaccine.
Vaccine rollout in Catalonia
On Wednesday, children between the ages of 5 and 11 began to receive first doses of the pediatric Pfizer vaccine. With the approval of the vaccine for kids, an additional 565,000 of Catalonia's 7.7 million residents became eligible for it.
As of December 15, 2021, 6,123,934 residents have been given the first dose of the vaccine, 77.3% of the total population. Out of those, 5,345,729 have also been administered a second dose (67.6% of the total population). 6,006,119 residents are considered to be fully immunized (75.6%) and 1,169,839 have had booster shots.