Should Barcelona's migrant detention center reopen?
After state of alarm closure, many are calling on CIE to remain shut for good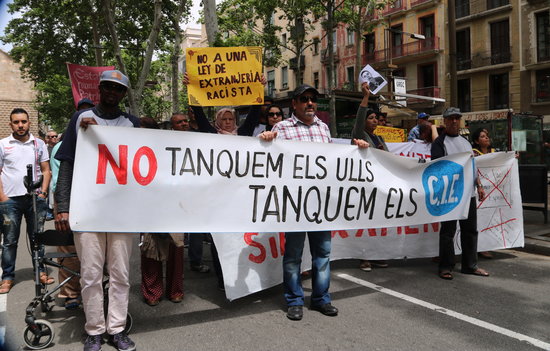 As of 1985, the year that saw Spain pass its first immigration law as it prepared for accession into the European Community, foreigners who do not have their residency status in order or who have lost it for whatever reason can be sent back to their countries of origin.
While some people are turned back right away at the border, others are sometimes deported after being held in detention centers (known as 'CIEs' in both Spanish and Catalan) run by Spain's Policía Nacional for up to 60 days, although not everybody who is detained will end up being sent away.
"We feel like they treat us like we're not people and they get rid of our rights," laments Papalaye of the Union of Street Vendors outside the 'Top Manta' clothing store that he and his colleagues have set up in Barcelona's central Raval neighborhood to sell their designs.
"But when it comes to Europeans, they can travel whenever and wherever they like," Papalaye argues, conceding that the coronavirus lockdown may have helped some appreciate what it feels like for irregular migrants to not be allowed to move around freely.
Last year Spain deported 11,153 people out of the 37,890 non-EU nationals ordered to leave, and while it is tricky to come across exact figures due to the opaqueness with which this practice is carried out, there is no doubt that many deportees resided in Catalonia and were forced to leave after a stay at the Barcelona detention center hidden away in the Zona Franca industrial district.
"Whenever someone you know has been missing for a few days, maybe they're up to something else but a lot of the time you'll be told they're in a detention center," says Papa Laye. "Where will they end up? We don't know."
Detention centers closed during health crisis
Barcelona's CIE let its last detainees out on March 19 – in fact, during the state of alarm, all of Spain's migrant detention centers were shut as border closures forced deportations to a halt.
Shrouded in secrecy that has permitted few outside observers inside their walls except for a handful of NGOs, grassroots groups and human rights organizations have long called for the permanent closure of Barcelona's CIE and others as well as for the mass regularization of irregular migrants, most recently with the #Regularizaciónya campaign.
Citing human rights violations and irregularities like the detention of minors, a lack of interpreters, and deficient legal and or medical assistance, activists and former detainees argue conditions are often worse than in prisons despite the fact that not having residency is an administrative, not criminal, offense.
"Tanquem els CIE itself here in Barcelona was set up actually following the death of a man named Idrissa Diallo in 2012," explains activist Maya Thomas-Davis of the grassroots organization she participates in, the name of which means 'Let's close the CIEs' in English. "This man died following multiple requests for medical assistance which were ignored and he is not the only person."
Barcelona and Catalan authorities against the CIE
Local Barcelona authorities under mayor Ada Colau have called for the CIE's closure on multiple occasions, most recently in a joint letter sent to Spanish interior minister Fernando Grande-Marlaska with the Valencia city council.
"Over these past weeks that migrant detention centers have been closed, there have been no incidents," says Marc Serra of the Barcelona city council, "so we believe that these closures should be able to be extended."
Certain members of the Catalan government as well as parliament speaker Roger Torrent and Catalan ombudsman Rafael Ribó, who described CIEs as "the instruments that least respect the rights of the European Union," also strongly disagree with their use.
And yet, despite this all, it doesn't seem likely that Barcelona's migrant detention center will be closing its doors permanently any time soon as Spain and other EU countries have consistently defended their use. In fact, when the Barcelona CIE reopens it is actually set to begin to house women too after years of only housing men – before they were sent miles away to centers in Madrid or Valencia.
But heightened awareness of institutional racism and other structural inequities, thanks in no small part to the now global Black Lives Matter movement, could very well lead to even more people demanding detention centers be closed once and for all.