Racism accusations as fruit harvesters sleep rough in Lleida
With backdrop of Black Lives Matter, activists and seasonal workers denounce situation happening every year but aggravated by Covid-19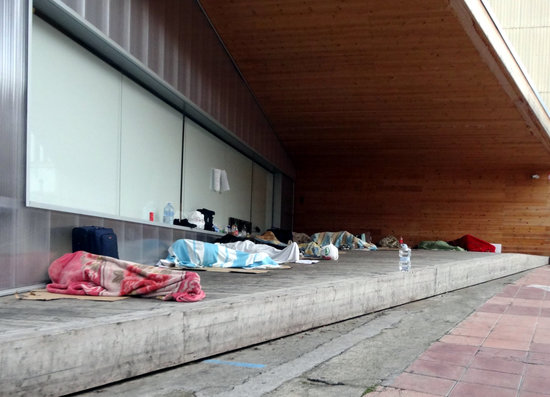 In late May, activist Nogay Ndiaye forced everybody's gaze back to an uncomfortable truth happening every year: some 200 seasonal workers travel to the Catalan city of Lleida, where they spend the days picking fruit in fields, but then spend their nights on the streets.
Western Catalonia is economically strong, especially in agriculture, and this year, despite AS Monaco footballer Keita Balde's offer to pay for their accommodation in advance, many landlords and hotels have refused to house them.
"We're talking about houses, hotels, and hostels that would prefer to stay closed than accommodate black people. This is the biggest insult that can be given to a person," said Ndiaye talking to the press on June 1.
The federation of hotel owners in Lleida denies racism and argues that due to the health crisis, most establishments are closed.
Temporary accommodations
Soon after Ndiaye's comments, three hotels offered 110 rooms for seasonal workers.
Also Keita Balde had some success in his quest to house a number of fruit pickers, as on June 1 it was made public that around 60 of the workers would be able to stay at a building he had rented.
Earlier than other years, the local council in Lleida has opened a site in a local exhibition center to host up to 122 people. It will be open until mid-September, like normal, but the facilities have also drawn criticism.
The lodge has showers, dining room, cloakroom and camping beds.
While managing the situation this year, aggravated by Covid-19, the local council is also planning ahead.
"We're already looking ahead to next year and looking for alternative plans to change the current model," said Sandra Castro, a Lleida councilor.
Precarious working conditions
Homelessness and precarious working conditions have long been a problem among seasonal workers, the civic group Plataforma Fruit amb Justícia Social argues.
They say the net salary might be as low as 5 euros per hour, and workers say the situation is more dangerous for them during the pandemic. Some 50 such workers have been isolated due to the risk of getting the disease in Seròs.
"This has to end, we're living in the 21st century, slavery is over and we are not anybody's slaves," said Serigne Mamadou, a seasonal worker. "We are here to work, but we have to be able to do it hygienically," he added, referring also to the concerns about Covid-19.
Demonstrations
With the backdrop of the Black Lives Matter movement spreading globally, a protest was held in Lleida on Friday to denounce this problem that arises every June.
On Sunday morning, simultaneous protests against racism were held, including Lleida, where around 600 people, including Nogay Ndiaye, focused not only on George Floyd, but also in the seasonal workers who often have to sleep rough.