Catalonia to hold its first climate action summit
Public, private and third sector organizations to get together in Barcelona to agree on concrete measures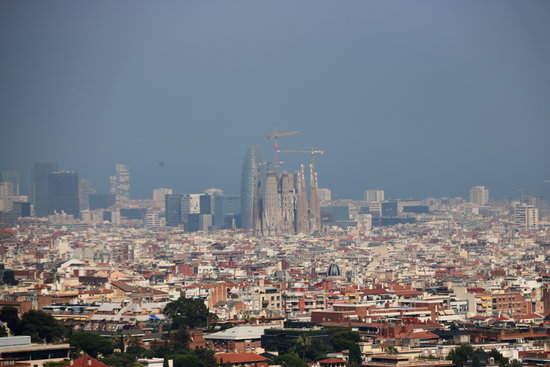 Barcelona will hold the first Catalan climate action summit ever on Friday in which public, private, and third sector organizations will get together with the aim of agreeing upon concrete environmental measures.
The summit, organized by Damià Calvet's Catalan Ministry for Territory and Sustainability and presided over by Catalan president Quim Torra, will take place at the National Catalan Theater at 11:30 and will attempt to address 6 global issues and around 100 sectoral ones.
"We intend to seek the commitment of companies, organizations, associations – concrete commitments to combat climate change," Calvet affirmed ahead of the event on Thursday.
Climate change in Catalonia
Following in the footsteps of other executives, the Catalan government formally declared a climate emergency on May 14, 2019 with the aim of achieving the goals laid down by the 2017 climate change law.
Catalonia, like the rest of the world, has also been hit by the negative effects of the global climate emergency over the past years. According to the Catalan Meteorological Service, for example, temperatures have gotten a quarter of a degree Celsius warmer over the past decade and precipitation has decreased 1.4% over the same period.
Higher temperatures worldwide invariably lead to the melting of the polar ice caps, which in turn lead to an increase in sea levels – in L'Estartit, in the Costa Brava area of northern Catalonia, they have gone up 3.3 meters since 2010.
Climate movement groups protest summit
Environmental groups including Fridays for Future, Moviment per la Justícia Climàtica, Extinction Rebellion, or Families for Future, among others, have called for a protest that is supposed to take place outside the National Theater of Catalonia building as the summit is taking place because they were not asked to participate in it and they believe their demands have not been considered.
"They 'forgot' to invite us, but they will not quiet us. We call for stronger and immediate action," reads a Tweet by the Barcelona branch of Extinction Rebellion, Rebel·lió o Extinció BCN.
DEMÀ, Cimera Climàtica Catalana (11h) al Teatre Nacional de Catalunya.

Han "oblidat" convidar-nos 🤭 però no ens faran callar. 🤐🤨 Reclamem accions contundents i immediates. 💚✊@QuimTorraiPla @damiacalvet
És hora de deixar de fer comèdia davant l'#EmergènciaClimàtica 🎭 pic.twitter.com/jtTzD46Gf9

— Rebel·lió o Extinció BCN (@XRBarcelona) January 16, 2020
Pollution in the Catalan Capital
Barcelona's local environmental policies have been in the eye of the storm lately, with many criticizing the measures backed by Ada Colau's city council for either being too extreme or insufficient.
On January 1, months after the EU announced that it would sue Spain for excessive pollution levels in Barcelona and Madrid, the Catalan capital instated a low emissions zone restricting the access of highly polluting vehicles to almost all of the city and some surrounding towns in a move estimated to affect 50,000 cars.
The council stirred debate once again a week later when local councilor Eloi Badia suggested that flights between Barcelona and Madrid be scrapped in favor of train travel: "We think emitting CO2 is not necessary when there is an alternative train link."
Barcelona's El Prat airport set a new record last year by hitting the 52.6 million passenger mark – 5% more than in 2018 – which has also accompanied talk of constructing a third runway.
The airport expansion, furthermore, would possibly encroach upon the surrounding natural reserve and while backed by Aena, the Spanish airport operator, and the Chamber of Commerce, it is not celebrated by all: the city council and environmental groups such as Ecologistes en Acció have already expressed their discontent with the proposal given the state of the already declared climate emergency.